This article was originally published on this site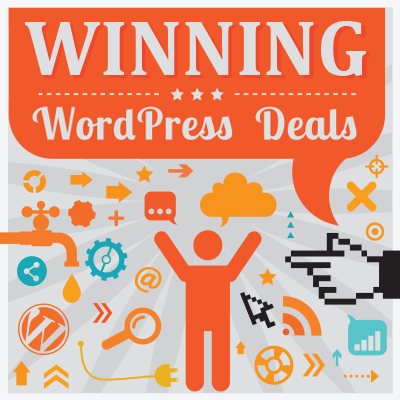 The core version of WordPress was designed with search engines in mind. WordPress helps search engines crawl your content and offers SEO-friendly features such as permalinks, however it does lack support for sitemaps and rich snippets.
Launched in 2009, rich snippets allow you to display more information about your web pages on Google. This can lead to higher click-throughs as more relevant data is displayed to search engine users. Google now refers to rich snippets as rich results; however most people still continue to use the term rich snippets.
In this article I would like to show you what we at WinnningWP consider to be the best rich snippet plugins available for WordPress.
The Benefits of Rich Snippets (Rich Results)
A search engine snippet typically displays the title of a web page, the URL, and a description. The date of publication is frequently displayed too.

Rich snippets allow Google to pull additional information from the structured data of a web page.
You can display visual aids and information such as telephone numbers, addresses, product price, number of reviews, image thumbnails, and more.
Here at WinningWP, rich snippets are used to display eye-catching star ratings for our theme and plugin reviews.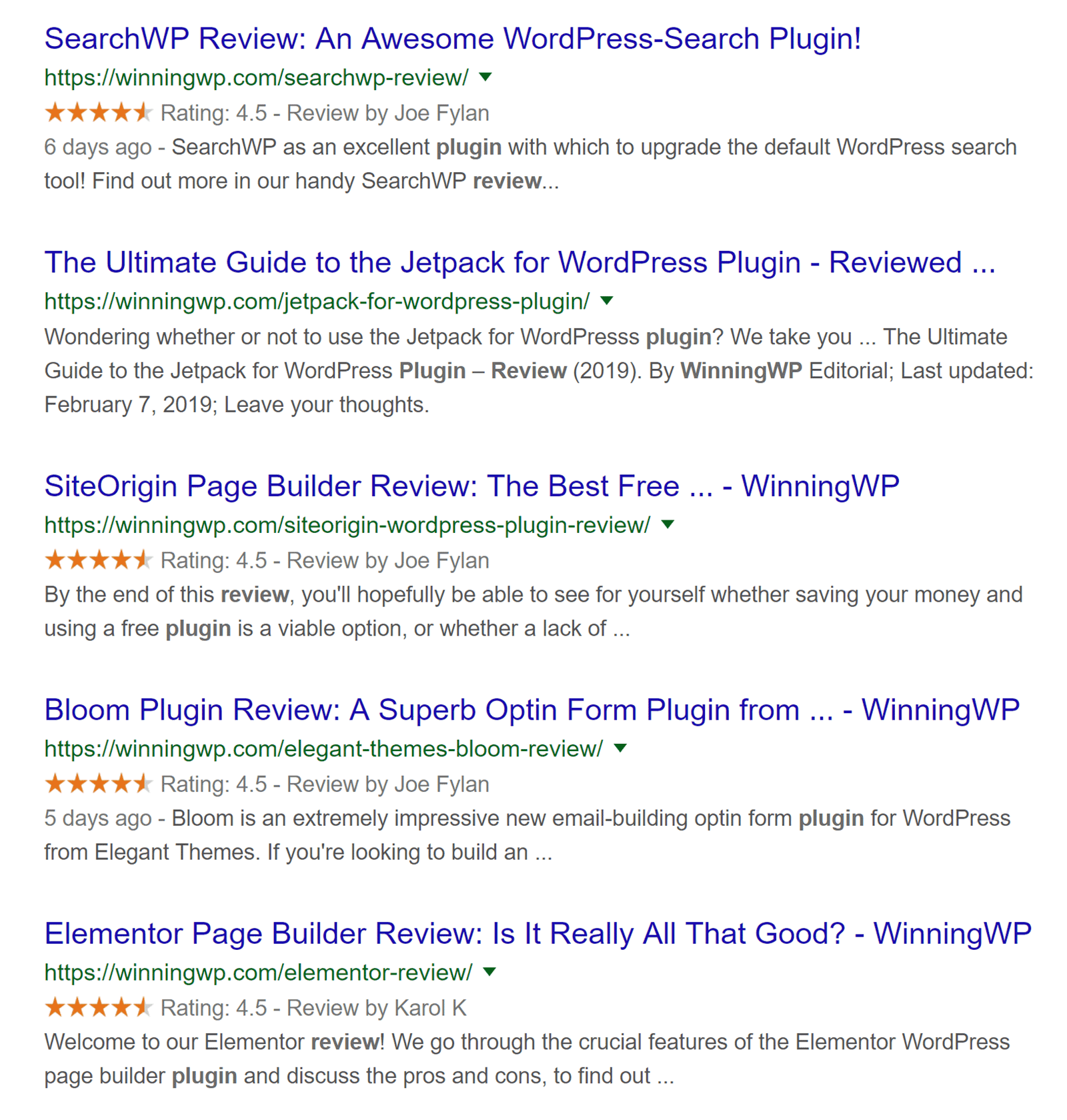 Google also enhances search results for videos from the WinningWP YouTube channel by displaying image thumbnails for each video.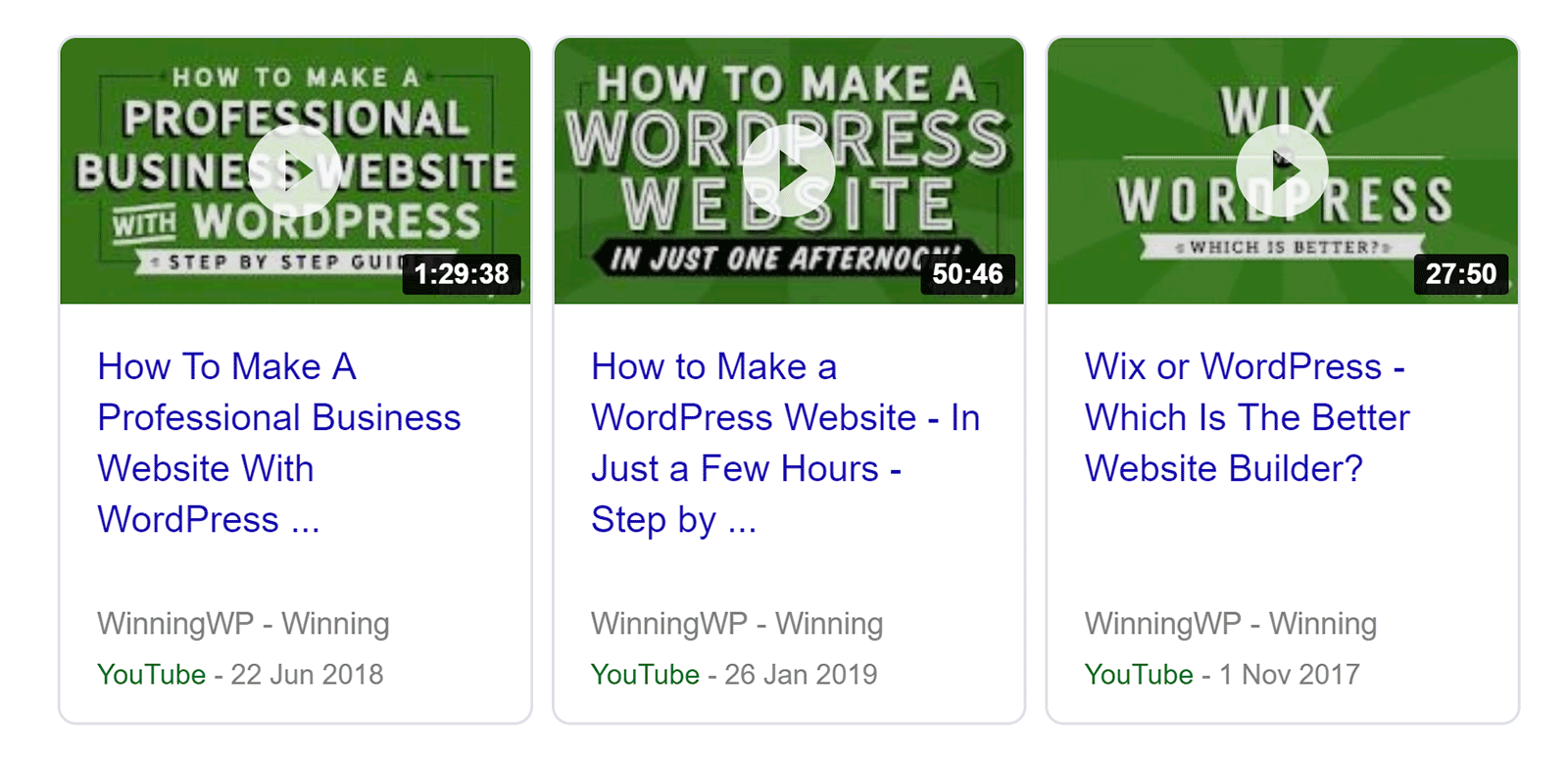 Rich snippets have no direct effect on search engine rankings, however by utilising rich snippets you can make your search results stand out and increase click-throughs to your web pages. Additionally, since more information is displayed to search visitors in the SERPS (Search Engine Results Pages), your website bounce rate should be lower as search results are more relevant.
In 2011 Google collaborated with Yahoo! and Microsoft (Bing) to create Schema.org. The goal was to "create, maintain, and promote schemas for structured data on the Internet" (Yandex joined Schema.org later). In other words, Google wanted their rich snippets feature to evolve and be supported by all major search engines.
Three different markup formats are supported by Google: JSON-LD, Microdata, and RDFa. These formats are also supported by Bing, Yahoo!, and Yandex.
The WordPress plugins below will modify the markup on your website so that search engines display rich snippets for your pages.
Once a plugin has been installed, you can use a tool such as the Google Structured Data Testing Tool to verify that everything is working correctly. You should also find Google's Structured Data Markup Helper useful.
All In One Schema Rich Snippets (FREE / $79+ Per Year)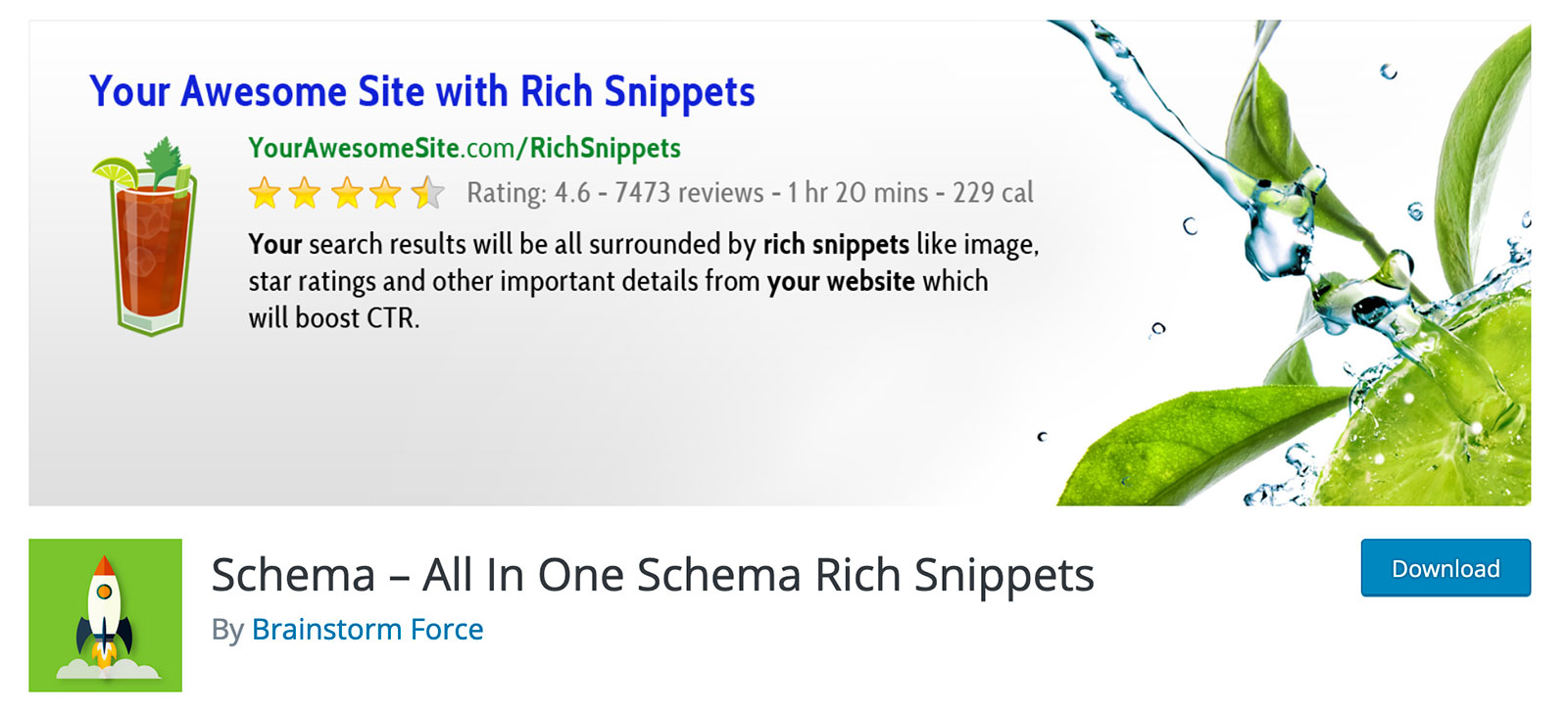 All In One Schema Rich Snippets is a rich snippets WordPress plugin that supports nine types of schema: Reviews, events, people, products, recipes, software applications, videos, articles, and services.
You can change the strings for each type of schema and in the customisation tab you can change the look and feel of your rich snippets box. WooCommerce is supported by the plugin too.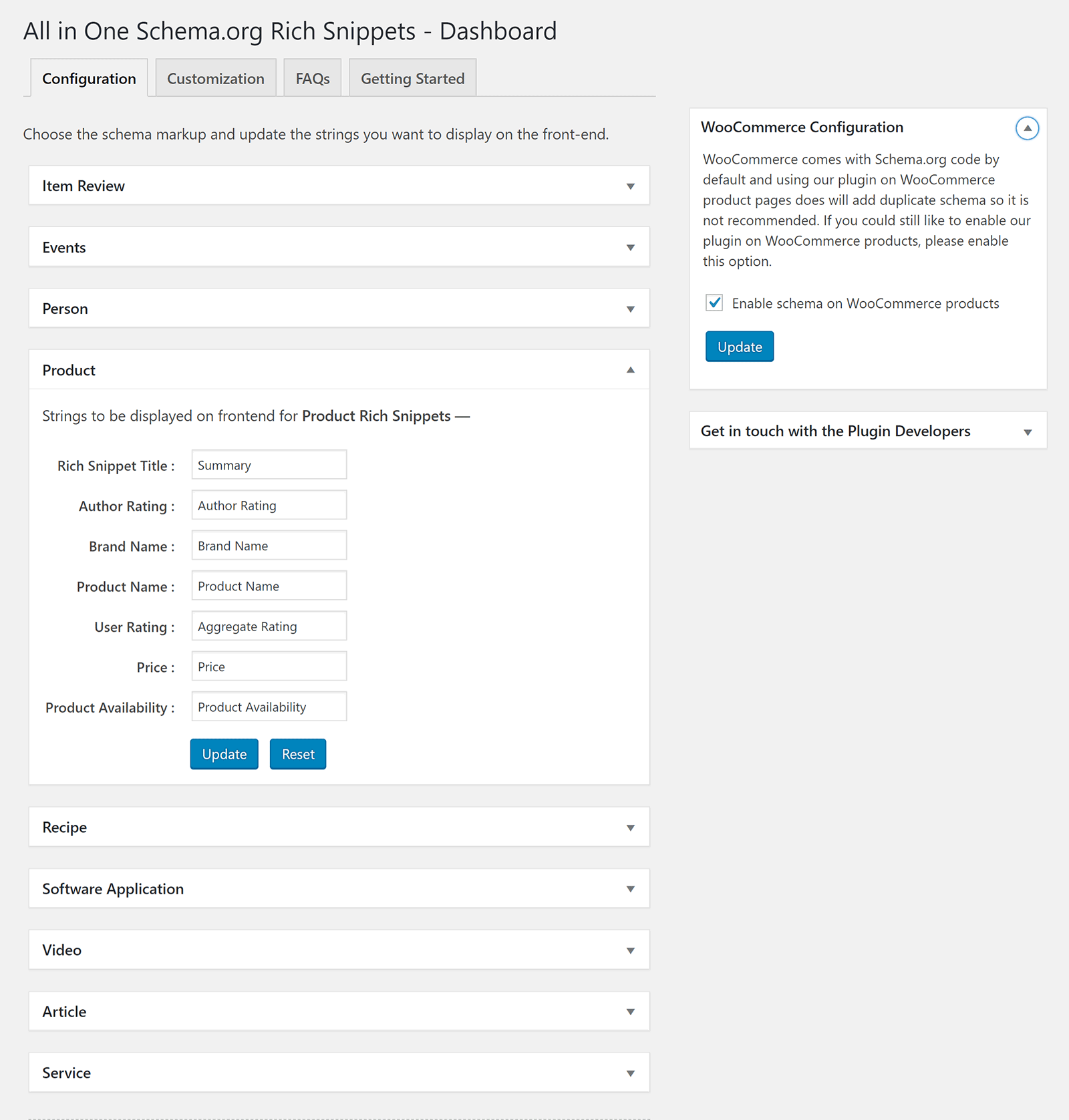 You can configure rich snippets underneath your posts and pages in the plugin's configuration box. All you need to do is select the type of schema that your content belongs to and then fill in the blanks.
Schema Pro is available from $79 per year. This version automates the process of configuring the markup of pages and offers advanced features such as targeting rules and custom fields.
The pro version also adds support for Yoast SEO, Advanced Custom Fields, and Pods.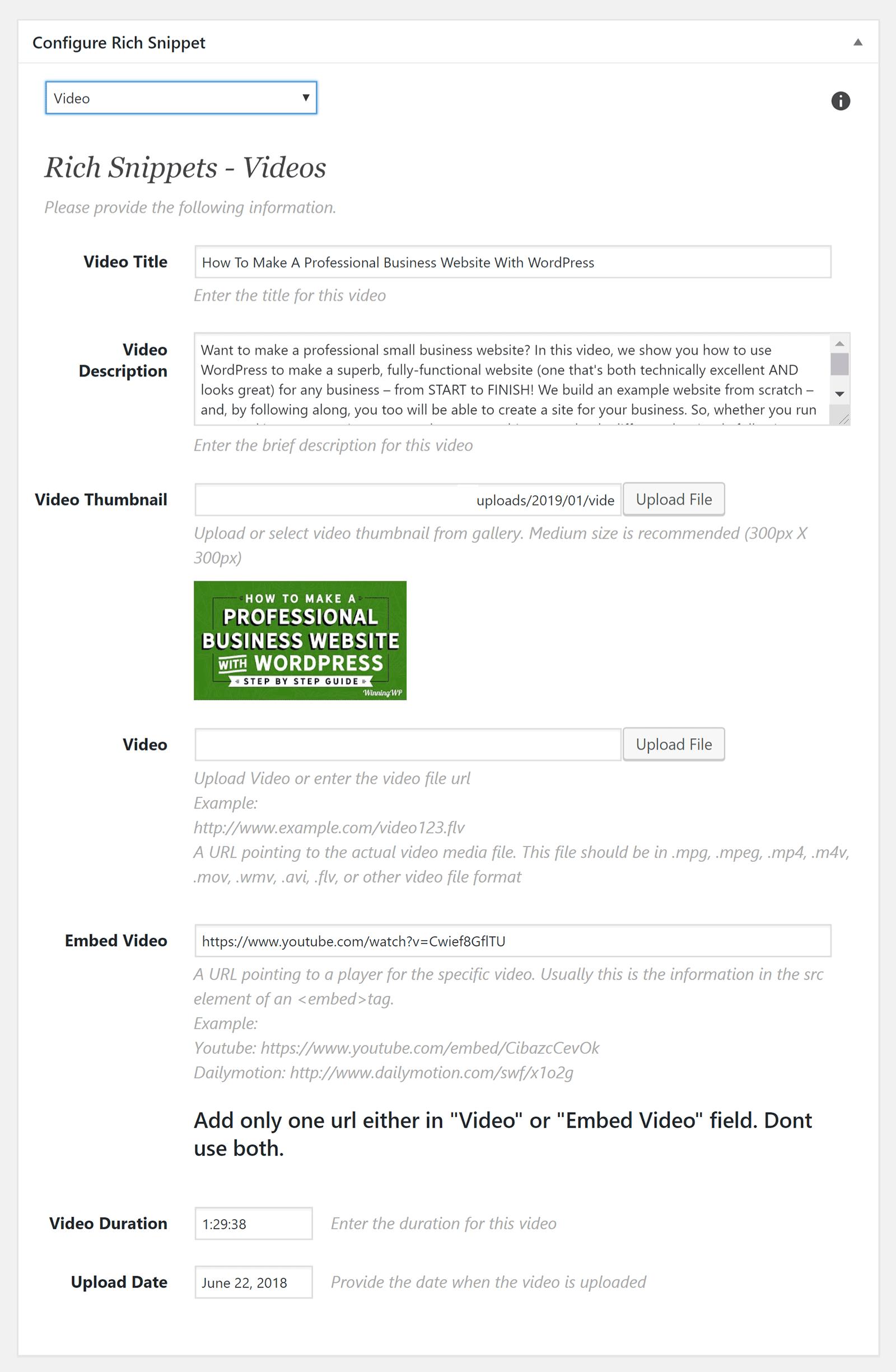 With a simple settings area and support for nine schema types, All In One Schema Rich Snippets is an easy solution to recommend.
Those of you who have many pages on your website will benefit from upgrading to the pro version so that markup can be created automatically for all pages on your website.
WP Product Review (FREE / £57+ Per Year)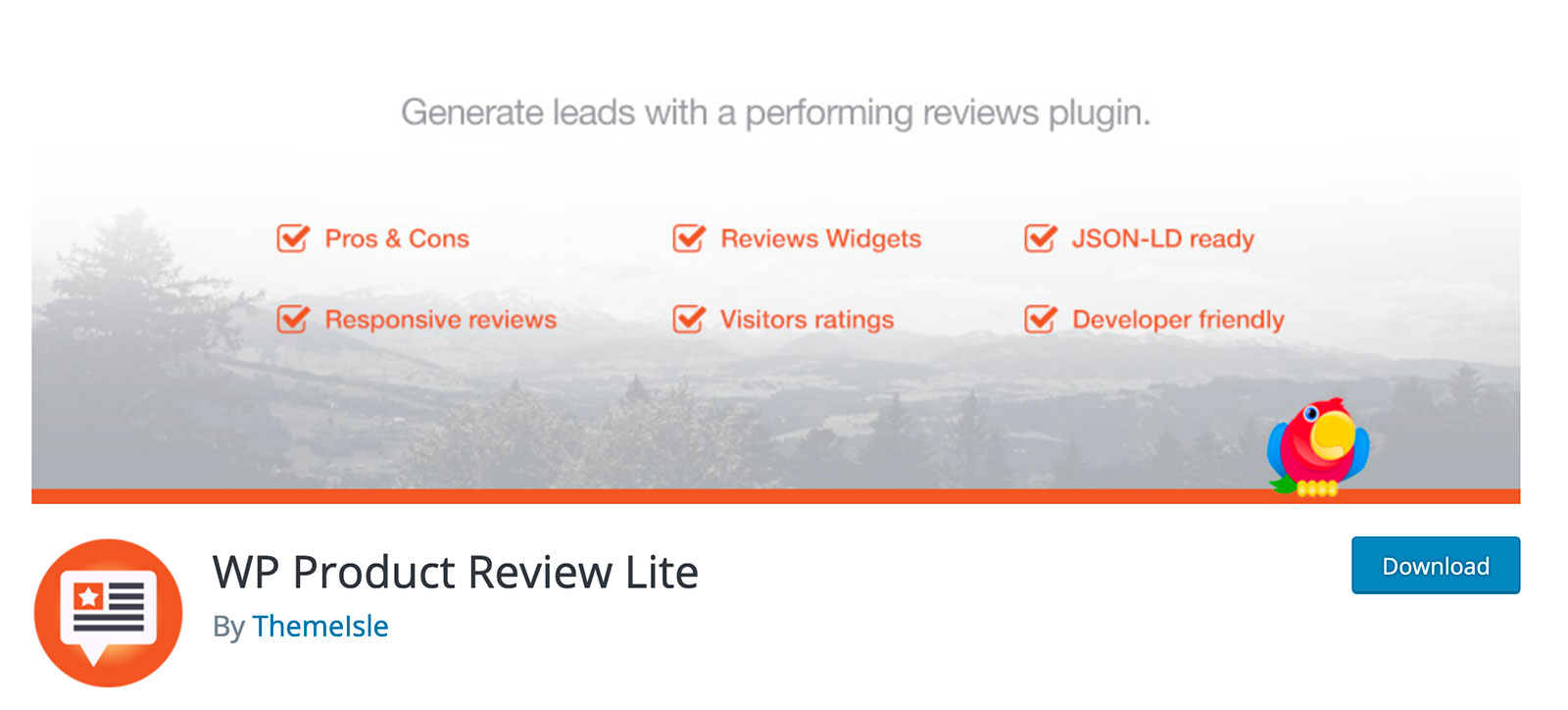 WP Product Review is a WordPress review plugin that offers many features to enhance your reviews, however it also has support for rich snippets.
Once you have installed the plugin you will see an option underneath posts and pages that asks whether the content is a review. When you select yes, you will be able to add information about your product such as the product title, product name, product price, and an associated affiliate link.
You can score each product in a number of ways. For example, if you were reviewing a television you could grade it according to its sound, picture quality, build quality, and value.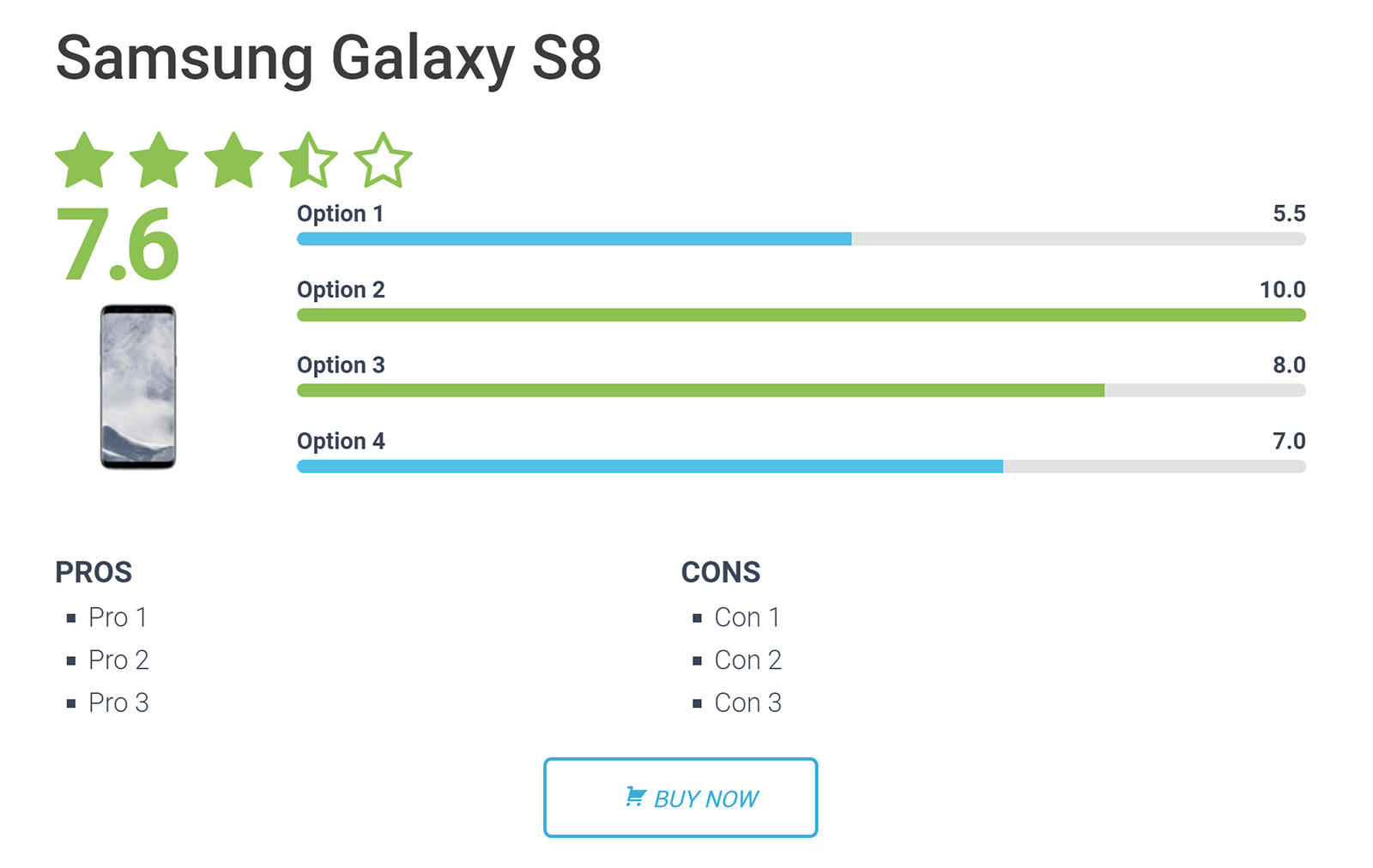 In the main settings area you can customise the main review box. You can adjust settings such as colours, typography, the buy button, fonts, and more.
Make sure you enable rich snippets in the general settings. Once enabled, the plugin will pull markup data from the review information you entered for each product.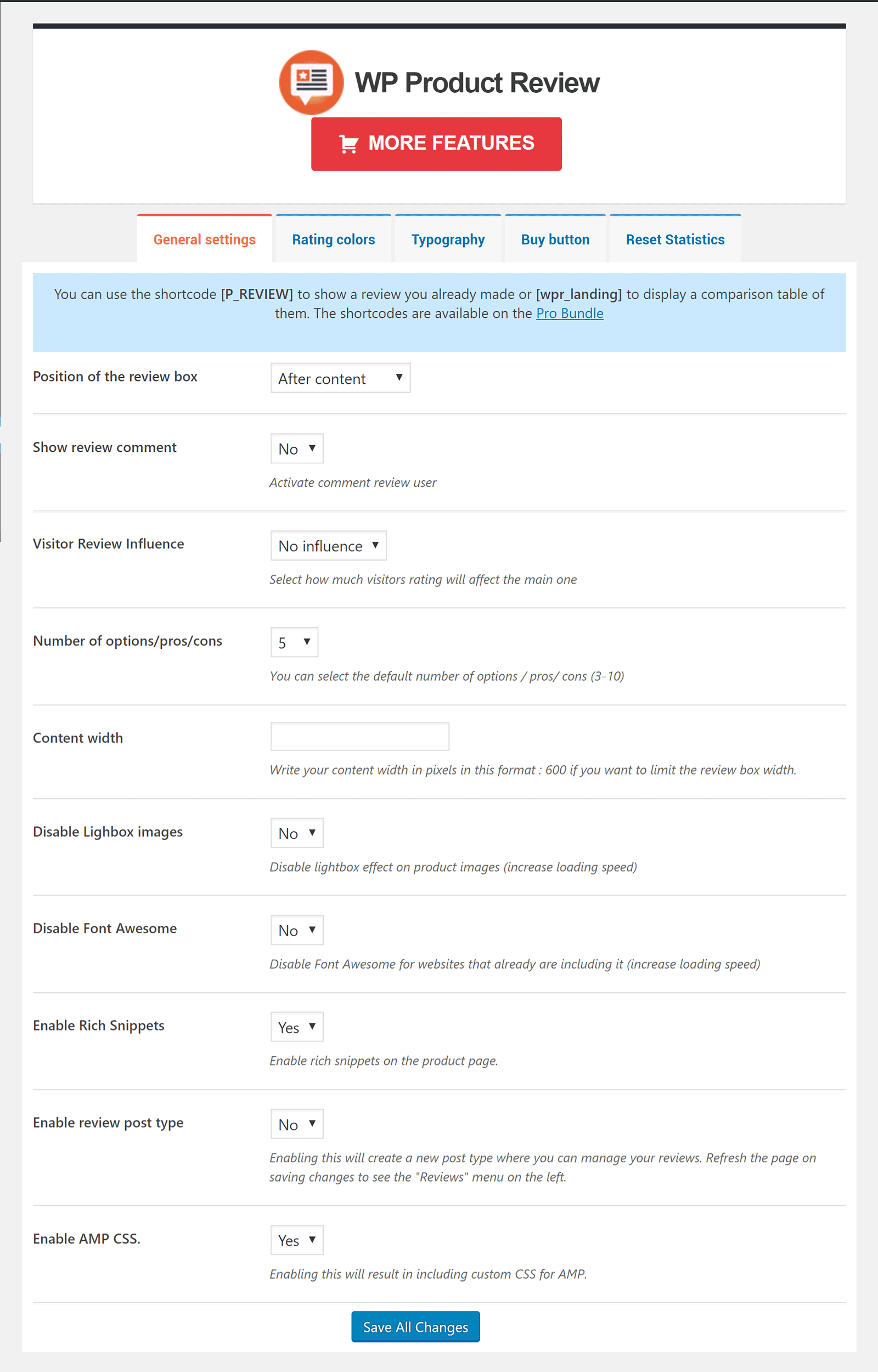 Everything in WP Product Review was designed to increase engagement and increase affiliate commissions. The premium version of WP Product Review takes this to the next level. Retailing from £57 per year, it adds features such as shortcodes, custom rating icons, comparison tables, Amazon integration, and more.
The main downside to WP Product Review is that it only adds rich snippet support for reviews. If you want rich snippet support for many different schema types, you should look at an alternative solution.
Schema App Structured Data (FREE / $30+ Per Month)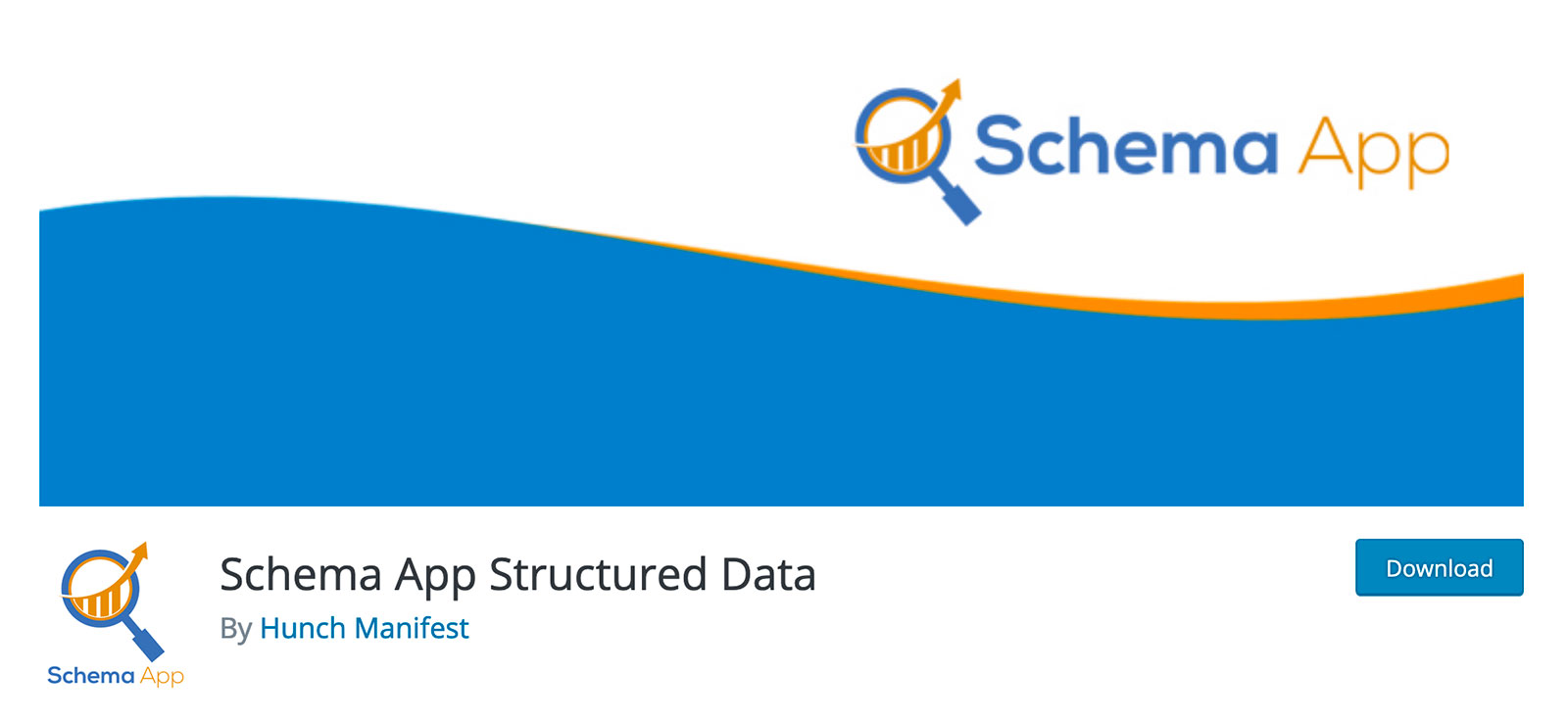 Schema App Structured Data is a useful WordPress plugin that creates Schema.org markup for your posts, pages, categories, and other WordPress pages.
It creates markup automatically, therefore you do not have to enter additional information for each page on your website.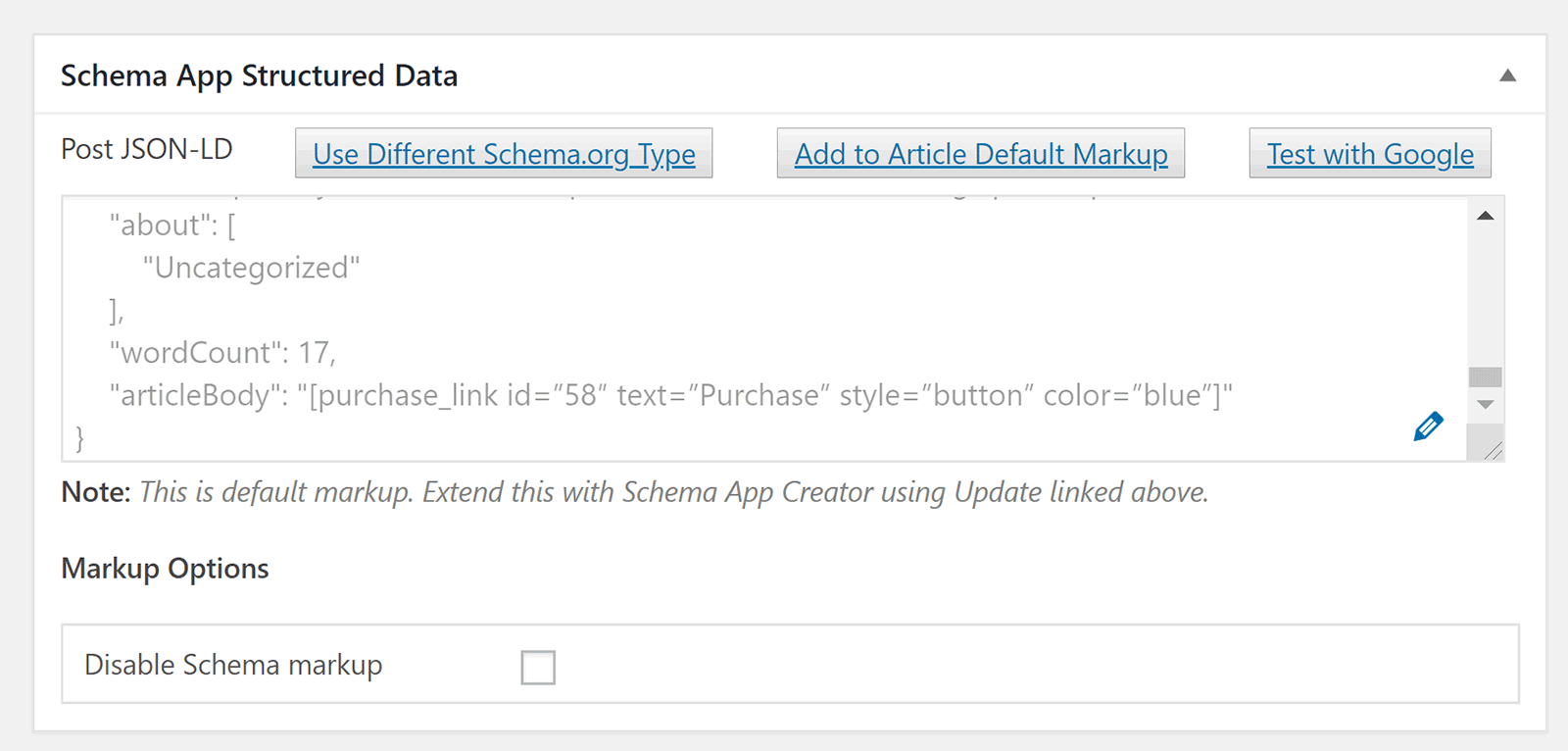 In the settings area you can state whether you are an organisation or a person and add your publisher name and logo. Markup code can be added in the header or footer and you can define the default schema type for posts and pages.
The schema types available are blog posting, article, live blog posting, news article, report, scholarly article, medical scholarly article, social media posting, discussion forum posting, tech article, and API reference.
The plugin also lets you decide whether certain meta information is shown or not.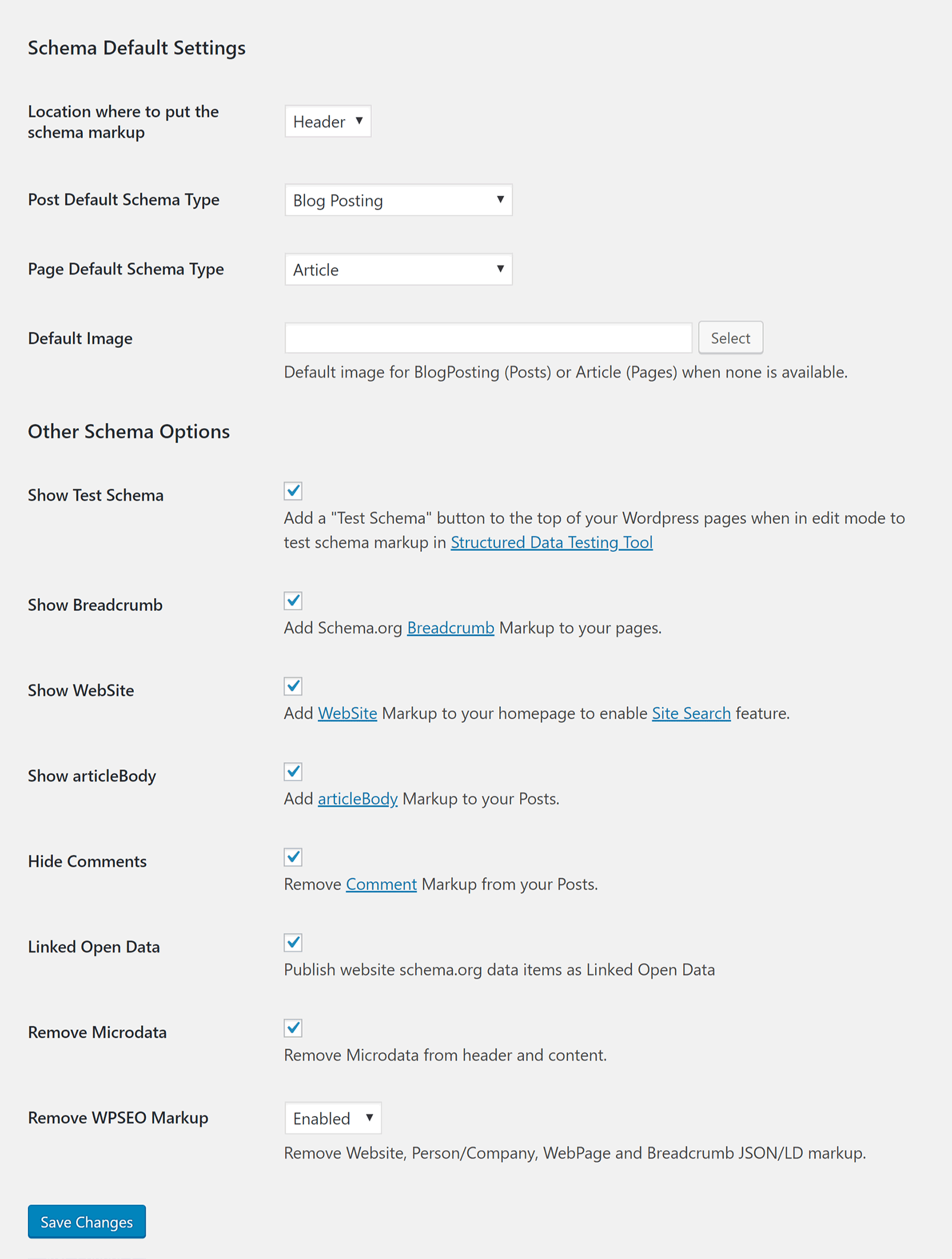 It is not required to sign up to the developer's Schema App website in order to use Schema App Structured Data, however doing so unlocks many additional features such as WooCommerce support, Google tag manager, and an option to view your competitor's schema markup.
With pricing starting from $30 per month, the premium Schema App service may not be for everyone, though I can recommend the free version as the way it creates markup automatically for pages is superb.
WP SEO Structured Data Schema (FREE / $49+)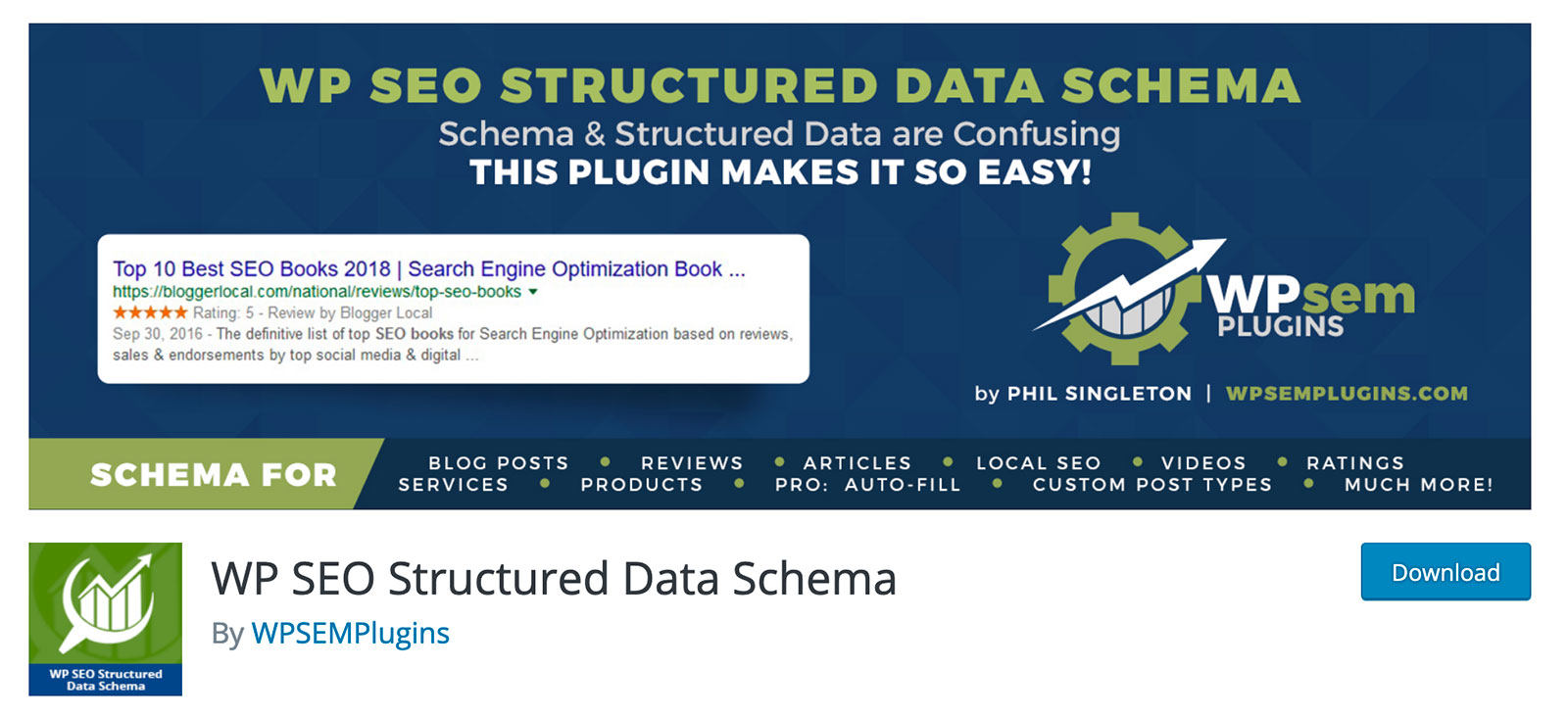 WP SEO Structured Data Schema is a popular rich snippets WordPress plugin that gives you a high level of control over rich snippets.
The free version of the plugin supports 11 schema types: Organisations, local businesses, news articles, blog postings, events, products, videos, services, reviews, aggregate ratings, and restaurants.
Underneath your posts and pages you will see a box where you can configure rich snippets for your content. Each schema has a unique set of fields. For example, reviews have fields for ratings, products have fields for price and URLs, and videos have fields for thumbnails and video duration.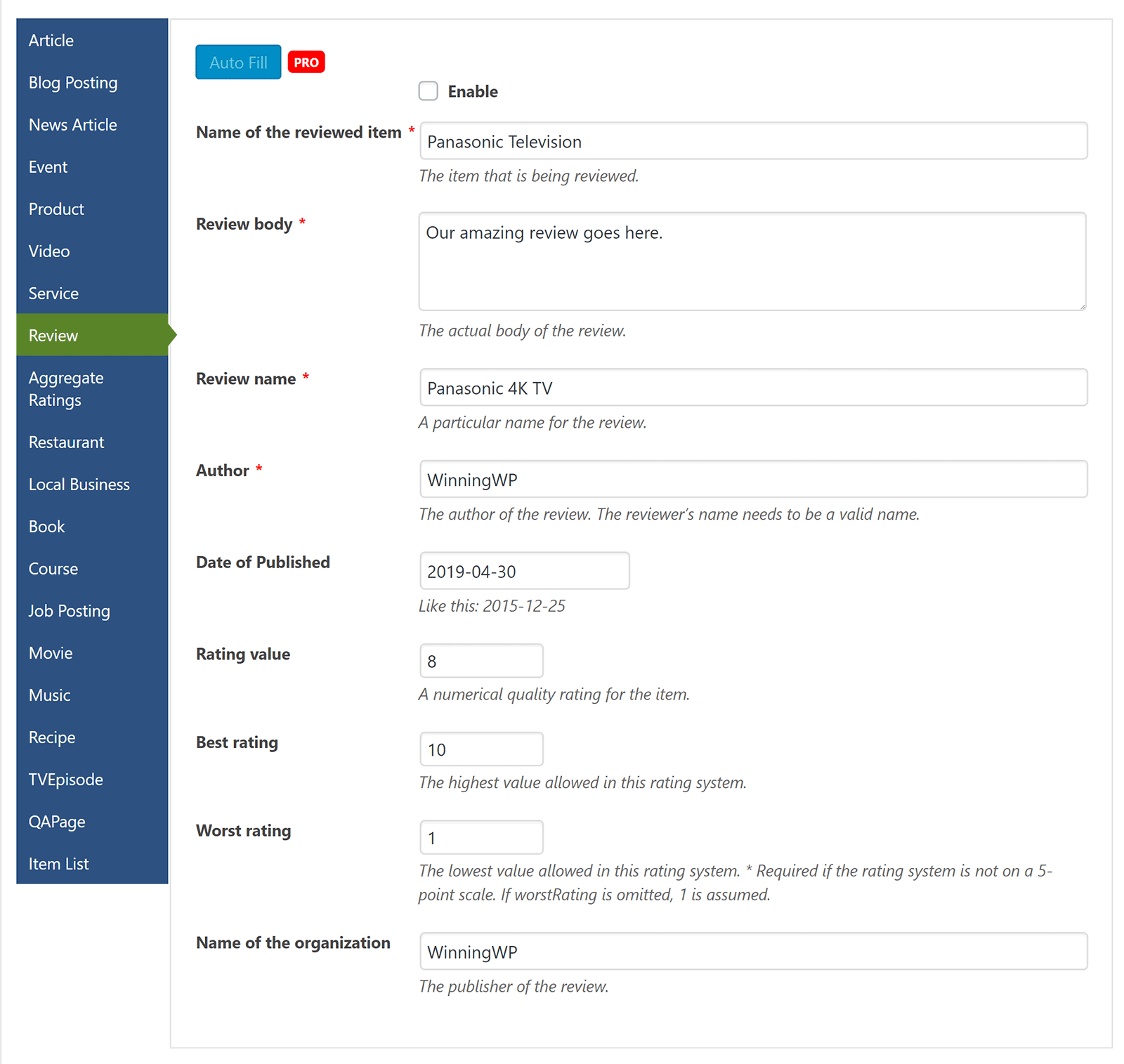 In the plugin settings area you can define the type of website you have and set common settings such as your website URL and address. The information you enter here will be applied to all your content.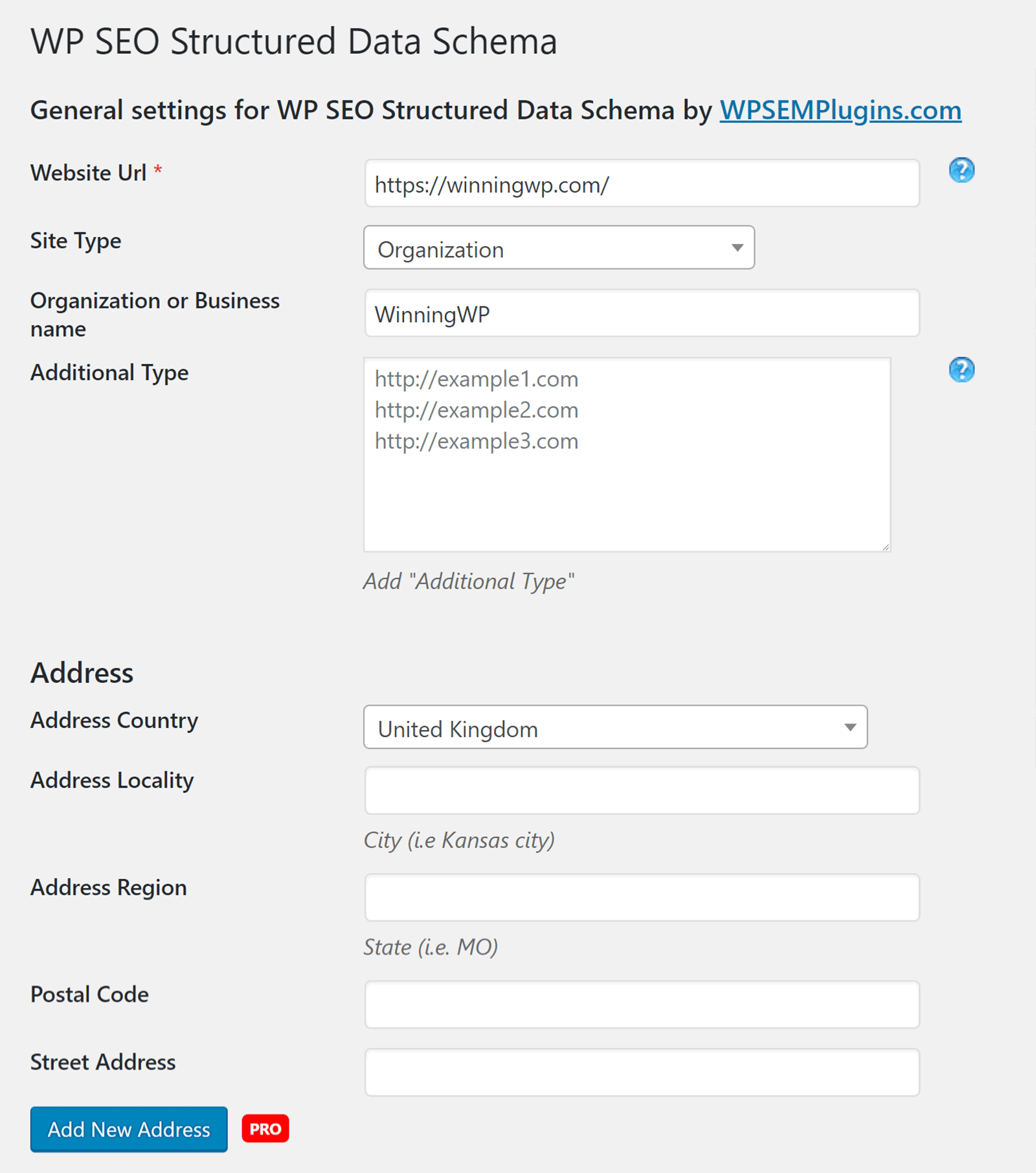 Other information such as your company logo, social media profiles, and contact information, can also be entered. Search engines sometimes use this information when someone searches for your website.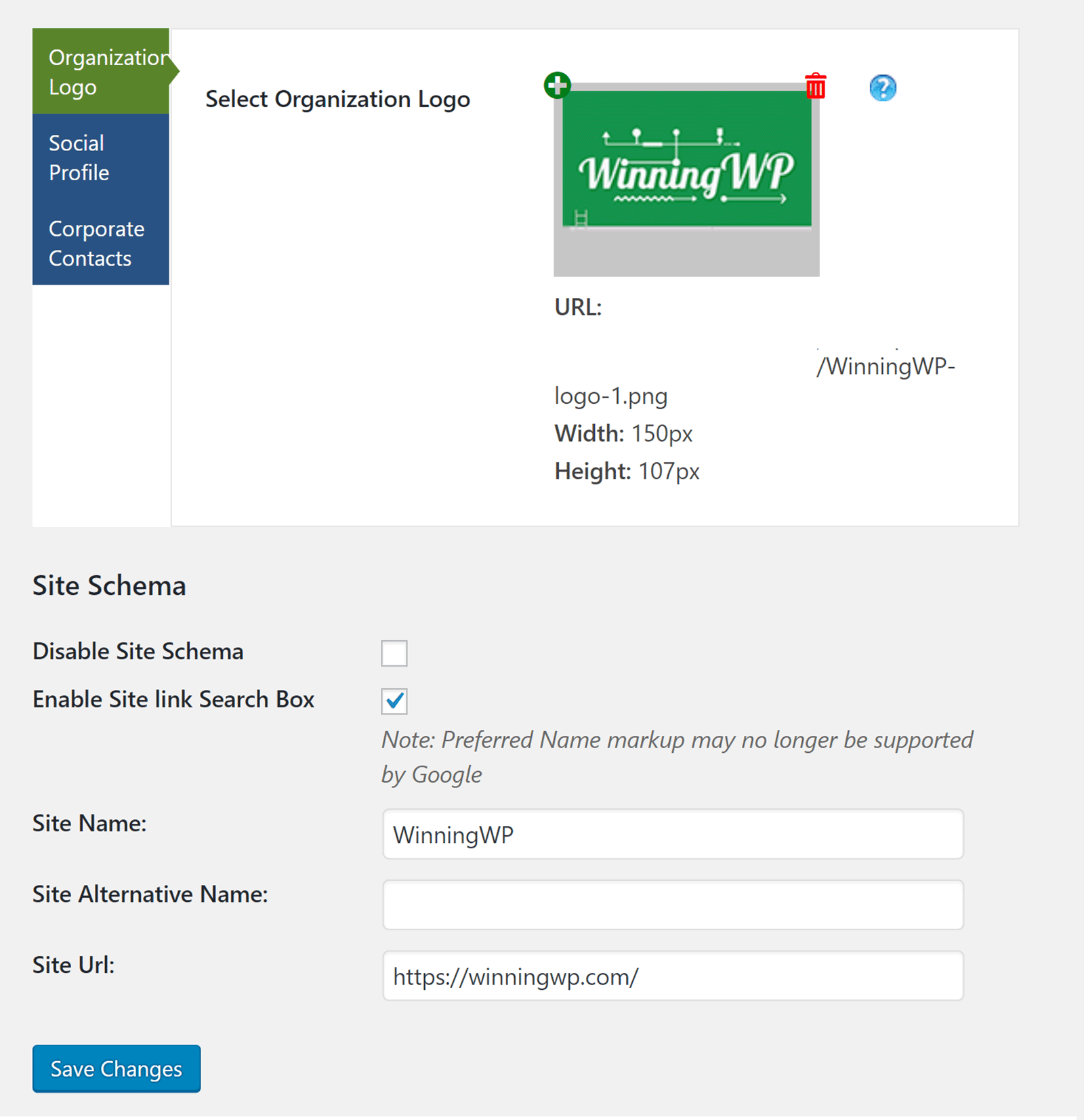 The premium version of WP SEO Structured Data Schema retails from $49. Upgrading adds support for custom post types and the ability to auto-populate fields from existing data in your content and from publisher settings.
This version also adds several more schema types: Books, courses, job postings, movies, music, recipes, TV episodes, courses, and Q and A pages.
With support for 11 schema types out of the box and several more if you upgrade, WP SEO Structured Data Schema is without doubt one of the most versatile rich snippet solutions available for WordPress.
Schema & Structured Data for WP & AMP (FREE)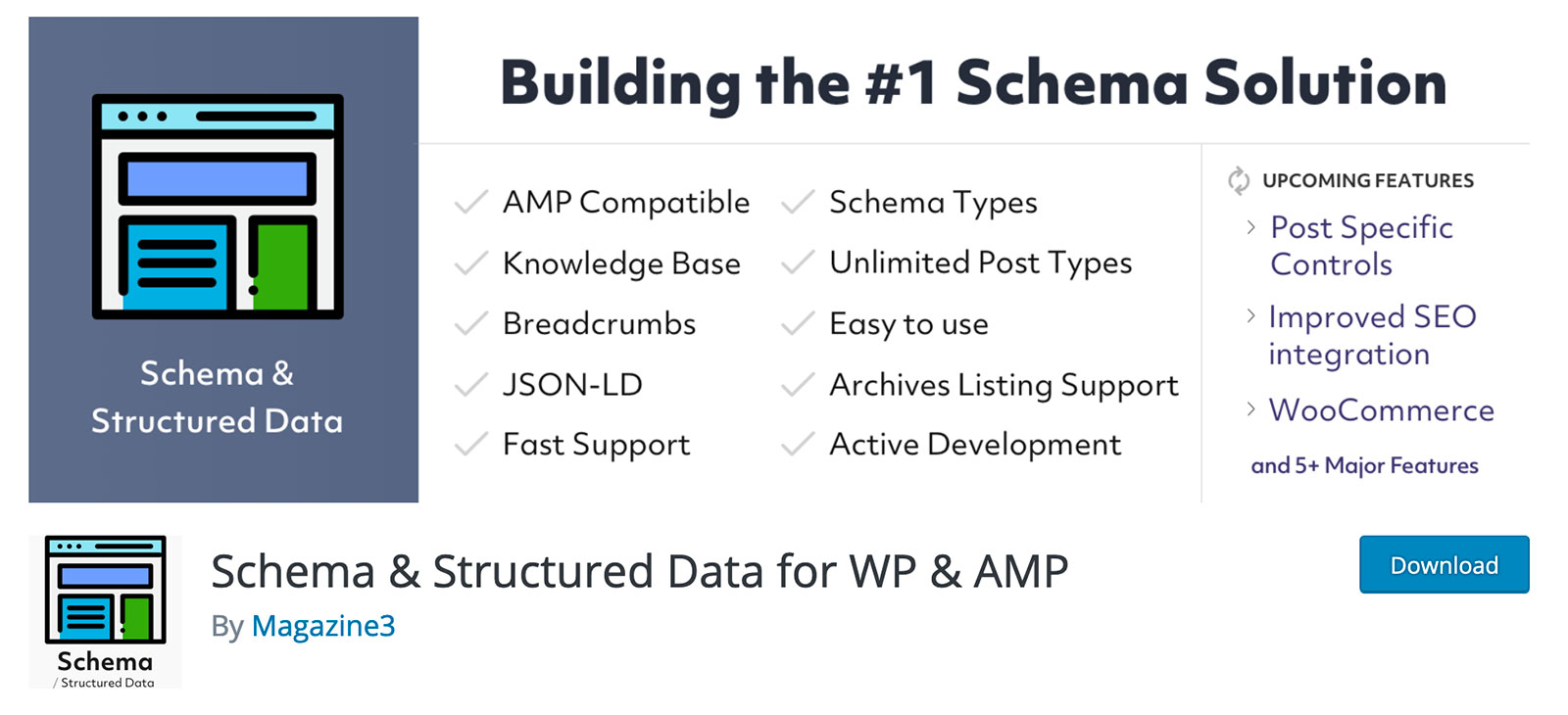 Schema & Structured Data for WP & AMP is a fantastic rich snippets WordPress plugin that follows Schema.org guidelines to markup your pages. It supports unlimited custom post types and has full support for Google AMP.
The plugin allows you to configure up to 16 different schema types. The first thing you need to do is select the schema you want to enable.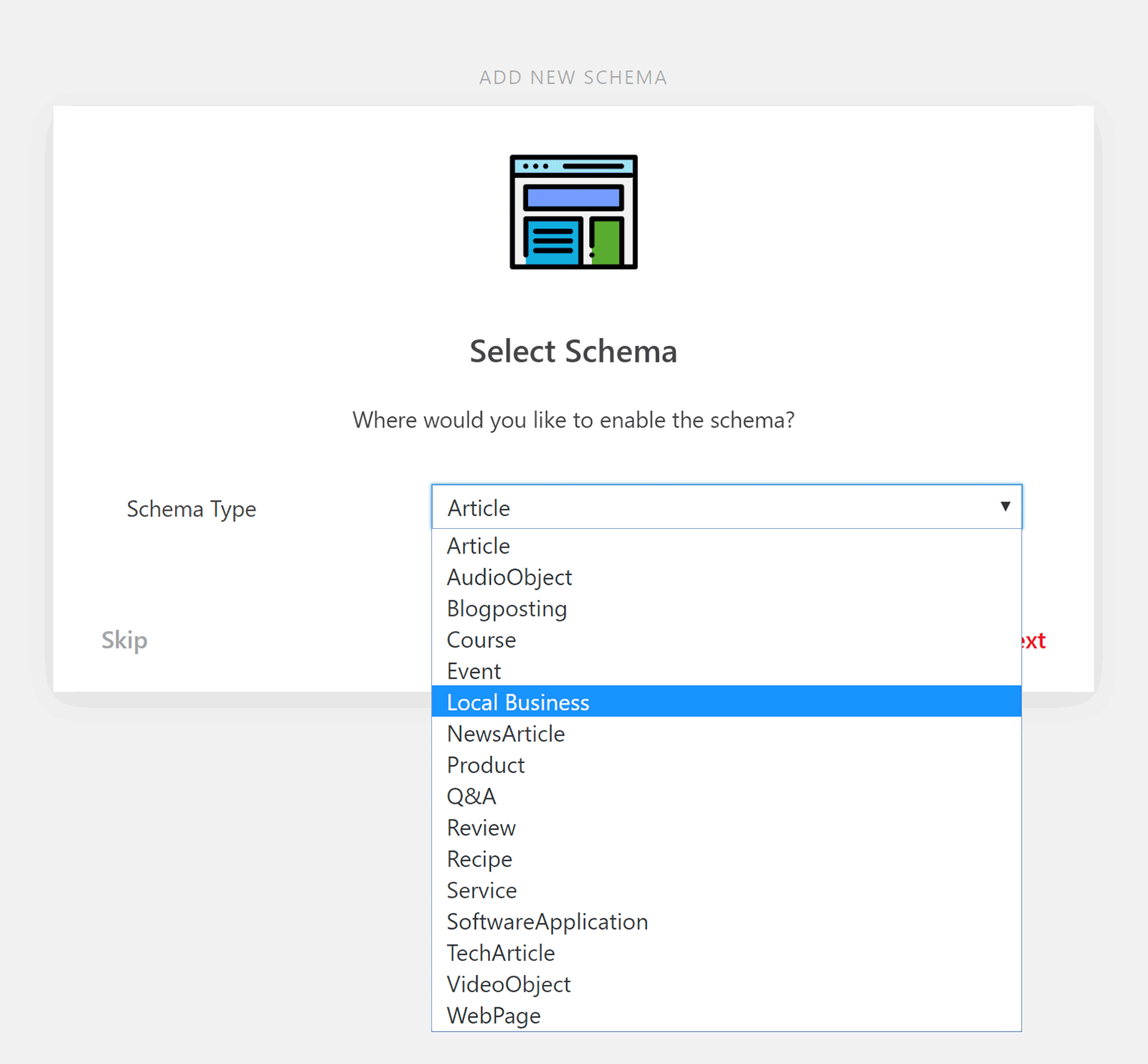 On the next page you can configure each schema type. There is a large selection of fields for each type to help you customise everything the way you want.
Once a schema has been configured, you will be taken to a placement page where you can define when the schema type is used. You can restrict schema types to specific post types, categories, post formats, taxonomies, page templates, and more. If you like, you can use multipe conditions for displaying a particular schema.
Once you have went through this process, you can assign the schema to any custom post type you wish. You can, of course, go back and modify settings at any time.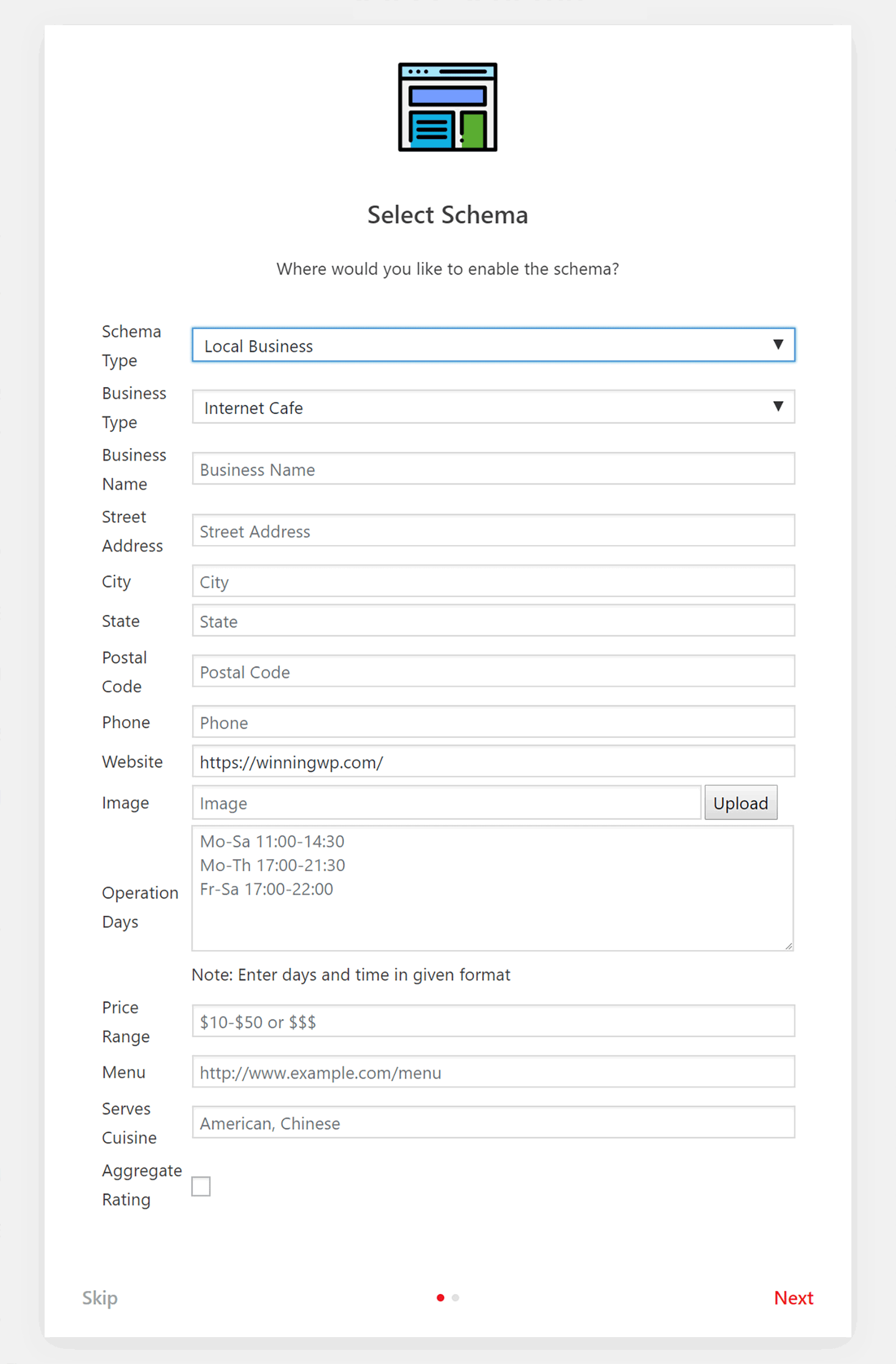 Schema & Structured Data for WP & AMP offers many useful settings. Important website pages can be defined for search engines and there are options for knowledge graph, AMP, social media profiles, and more.
Plugin settings can be imported and exported and there are migration tools available to help you migrate from other rich snippets and SEO related plugins. You can also add support for popular WordPress plugins such as WooCommerce, kk Star Ratings, The Events Calendar, and Yoast SEO.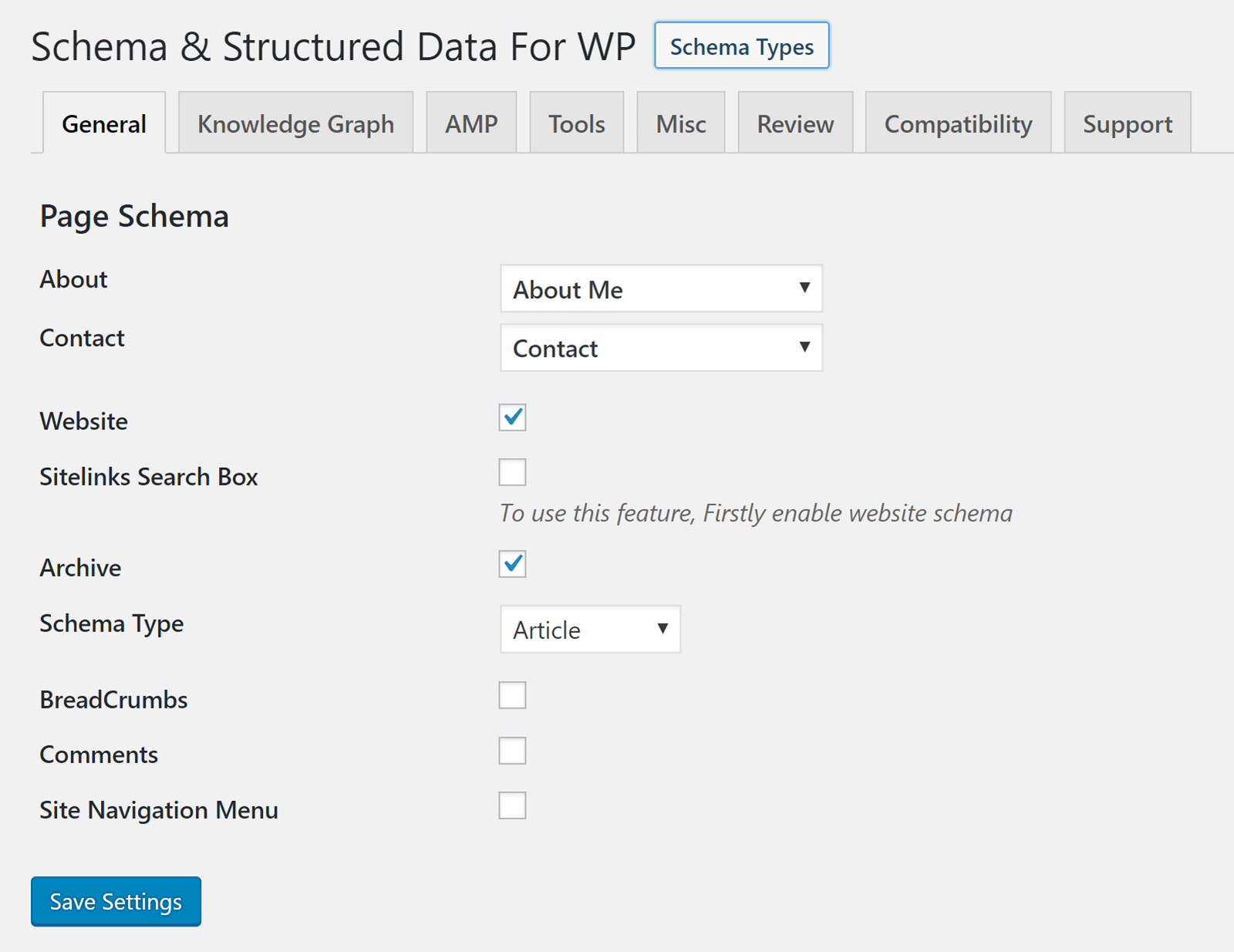 Despite Schema & Structured Data for WP & AMP being one of the most versatile rich snippets solutions available online, it is 100% free to use. There is no premium version available so you will not find any features or settings that are restricted in the plugin.
It's a great solution and one which is easy to recommend.
SNIP: Structured Data Plugin for WordPress ($92)

Retailing on CodeCanyon for $92, SNIP: Structured Data Plugin for WordPress is a premium rich snippet and structured data WordPress plugin that has support for the Gutenberg editor and for WooCommerce.
It boasts a feature called global snippets which allows you to create one schema and apply it automatically to all posts, pages, or custom post types. Rules can be defined so that you have complete control over which schema is applied to content and when.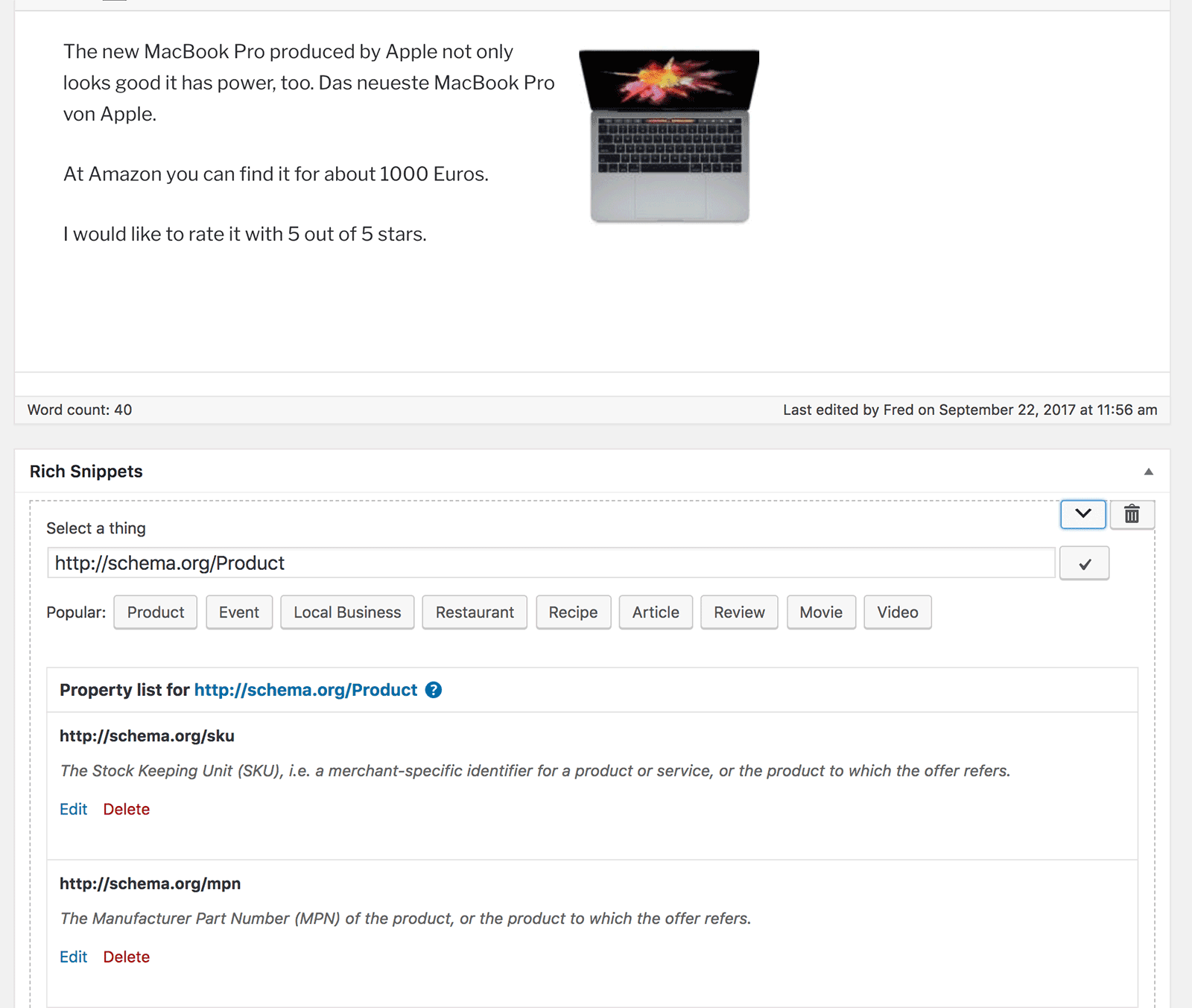 More than 800 schema types are supported. Essentially, every schema type listed on Schema.org is available.
The plugin has support for custom fields and can also be extended via hooks.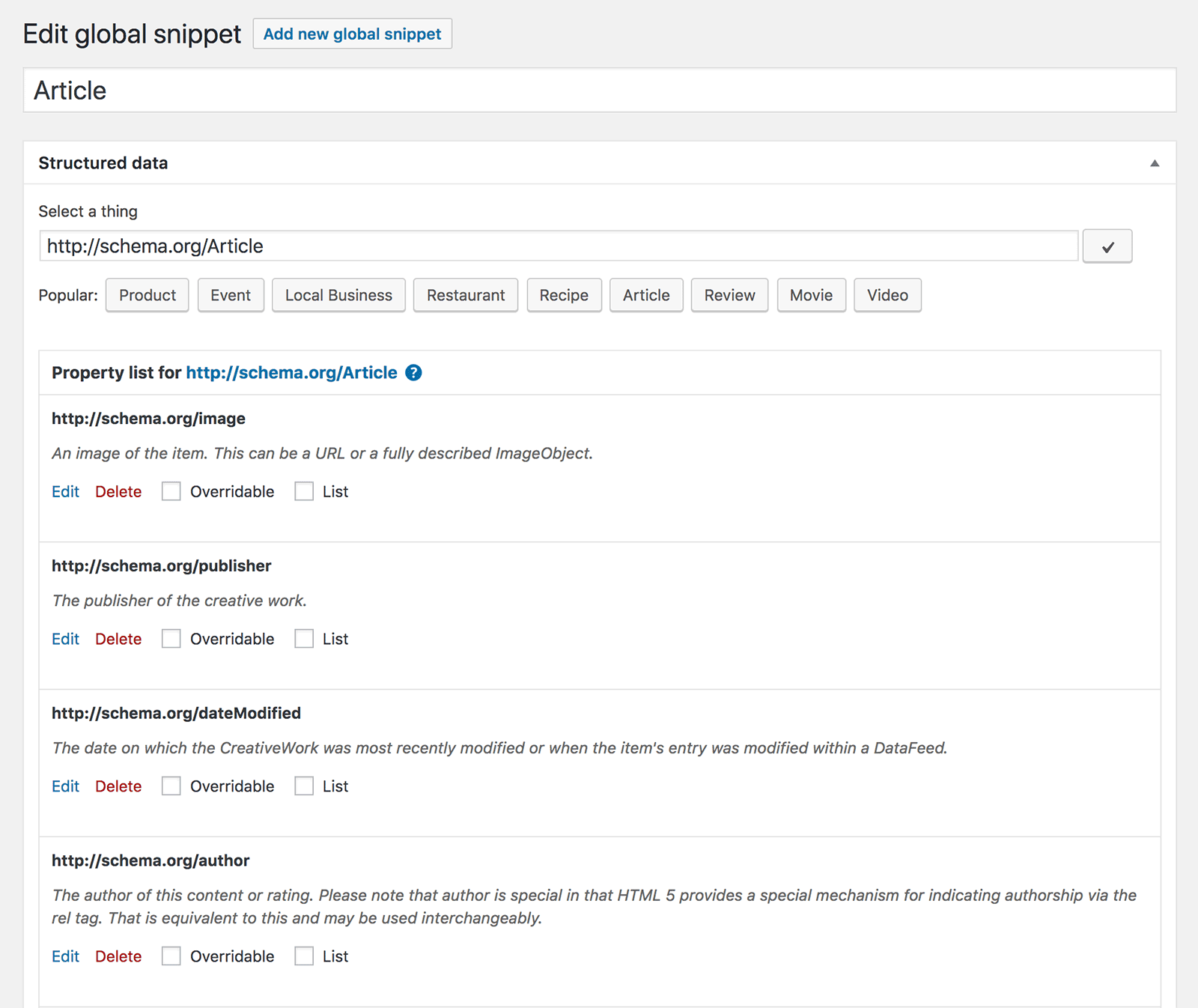 SNIP: Structured Data Plugin for WordPress is a flexible solution that supports every type of schema available online. Those of you are willing to pay to have the best snippet solution for your website or business should take a closer look.
Honourable Mentions
During our testing we always come across good solutions that just fall short of making our final list.
One such solution is WP Review by MyThemeShop. It is primarily a review WordPress plugin, however it has fantastic support for rich snippets.
Brin Wilson, founder of WinningWP, tested the pro version of WP Review extensively. He found the plugin a little frustrating to use and did not like the fact it could only be used if you connect to MyThemeShop using another plugin. Still, the pro version has support for 14 rich snippet types so some of you may want to check it out if alternative solutions are not working out for you.
Another premium solution to consider is Rich Snippets & Schema Markup Plugin for WordPress & WooCommerce. Retailing at $29 from CodeCanyon, it supports a variety of schema types and gives you many different ways to display rich snippets on search engines.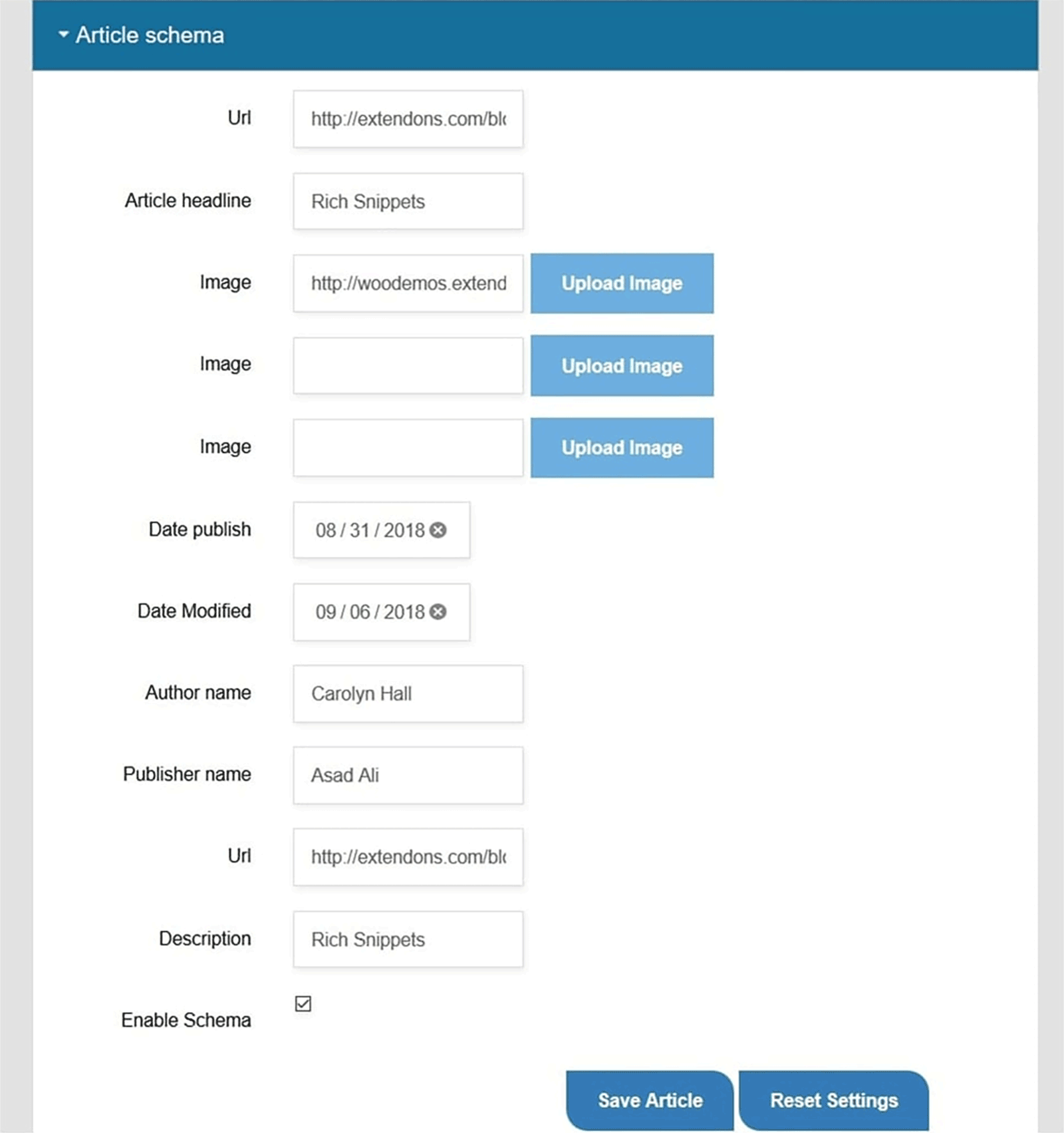 Final Thoughts
Rich snippets are a fantastic way of making search results for your web pages stand out. This can help push more targeted traffic to your website.
I hope you found the above list of rich snippet and schema WordPress plugins useful. All of these plugins will allow you to enhance your search results, however some solutions do offer more customisation options than others.
The more advanced rich snippet WordPress plugins allow you to pull structured data automatically from your content. This is beneficial if you have a large website with hundreds or thousands of pages, though there are clearly advantages to spending time making the snippets for each page unique.
Used/using any of these plugins? Thoughts?
Related posts