This article was originally published on this site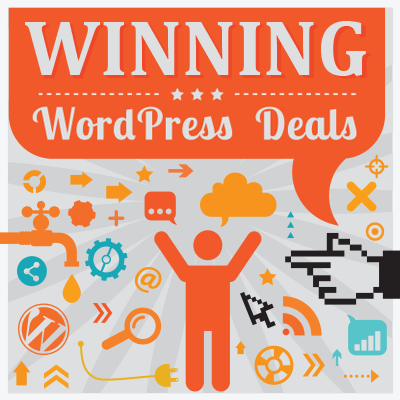 Google Maps is by far the most popular map service online and one of Google's flagship products.
Launched in 2005, the service has been integrated into websites, apps, and other services. This is made possible with the Google Maps API that allows third-party products and services to embed Google Maps.
WordPress has great support for Google Maps. There are many Google Maps WordPress plugins on the market that help you integrate maps into your contact page, about page, sidebar, or wherever. Many WordPress themes also have Google Maps functionality built-in.
In this article I would like to share with you what we at WinningWP consider to be the best Google Maps plugin solutions available for WordPress.
Acquiring a Google Maps API Key
Since 2016 Google has required website owners to make requests using a Google Maps API key. Most Google Maps WordPress plugins require this API key to be entered in order for you to integrate maps into your website, however there are some solutions that handle this aspect of it for you.
When this change was initially made, Google offered up to 25,000 free map loads every month. They now instead offer $200 worth of credit. Check out their price sheet for a better understanding of what this will get you.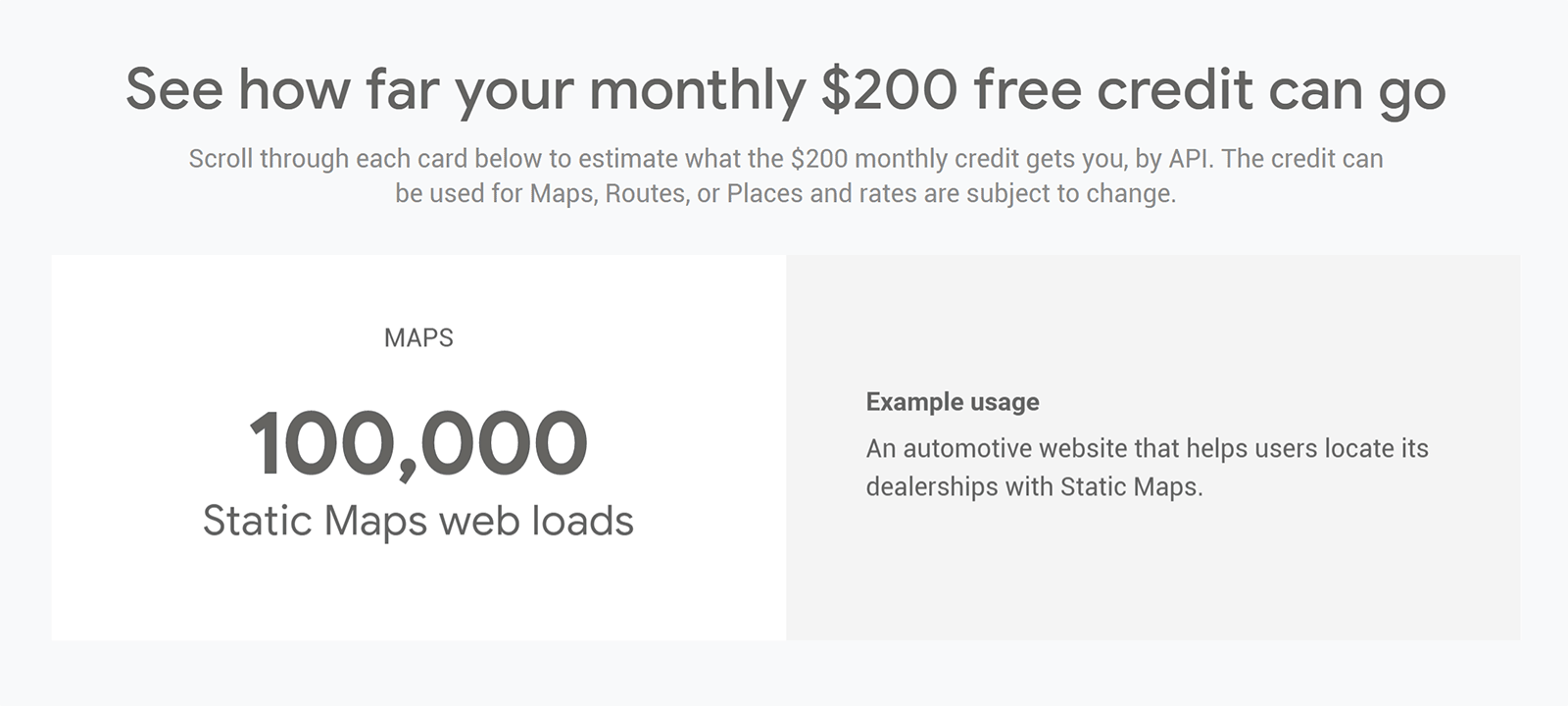 Thw $200 monthly credit should be sufficient for most small to medium website owners, however those with high traffic websites may have to pay for additional map loads.
In order to acquire an API key, you need to sign up to the Google Cloud Platform (GCP). It only takes a few minutes to register and retrieve your API key for Google Maps.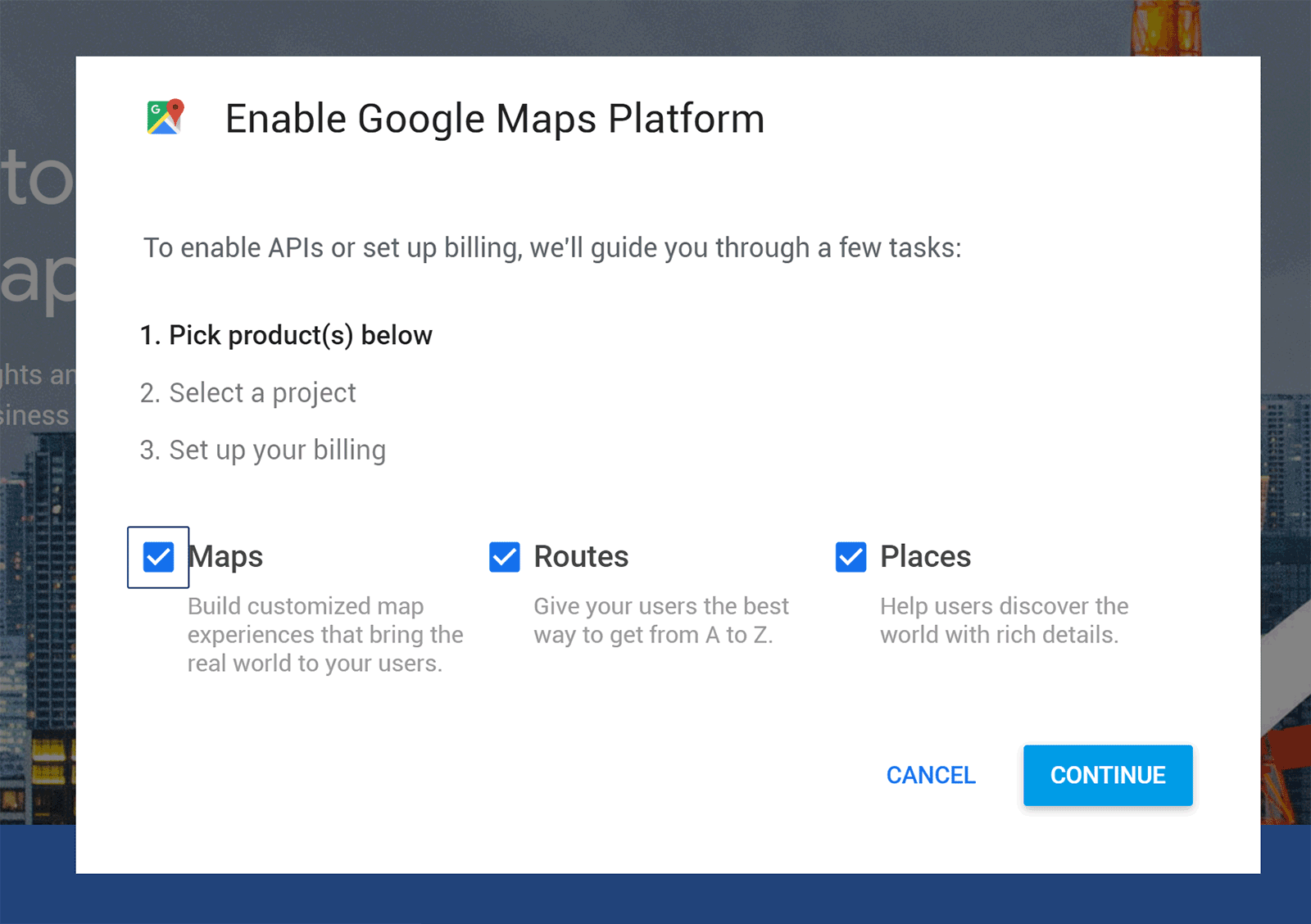 You will be asked whether you want maps, routes, and places. My recommendation is to select all three so that all Google Maps functionality is available for your website.
After a few further steps, you will be provided with the API key you need to use Google Maps on your website.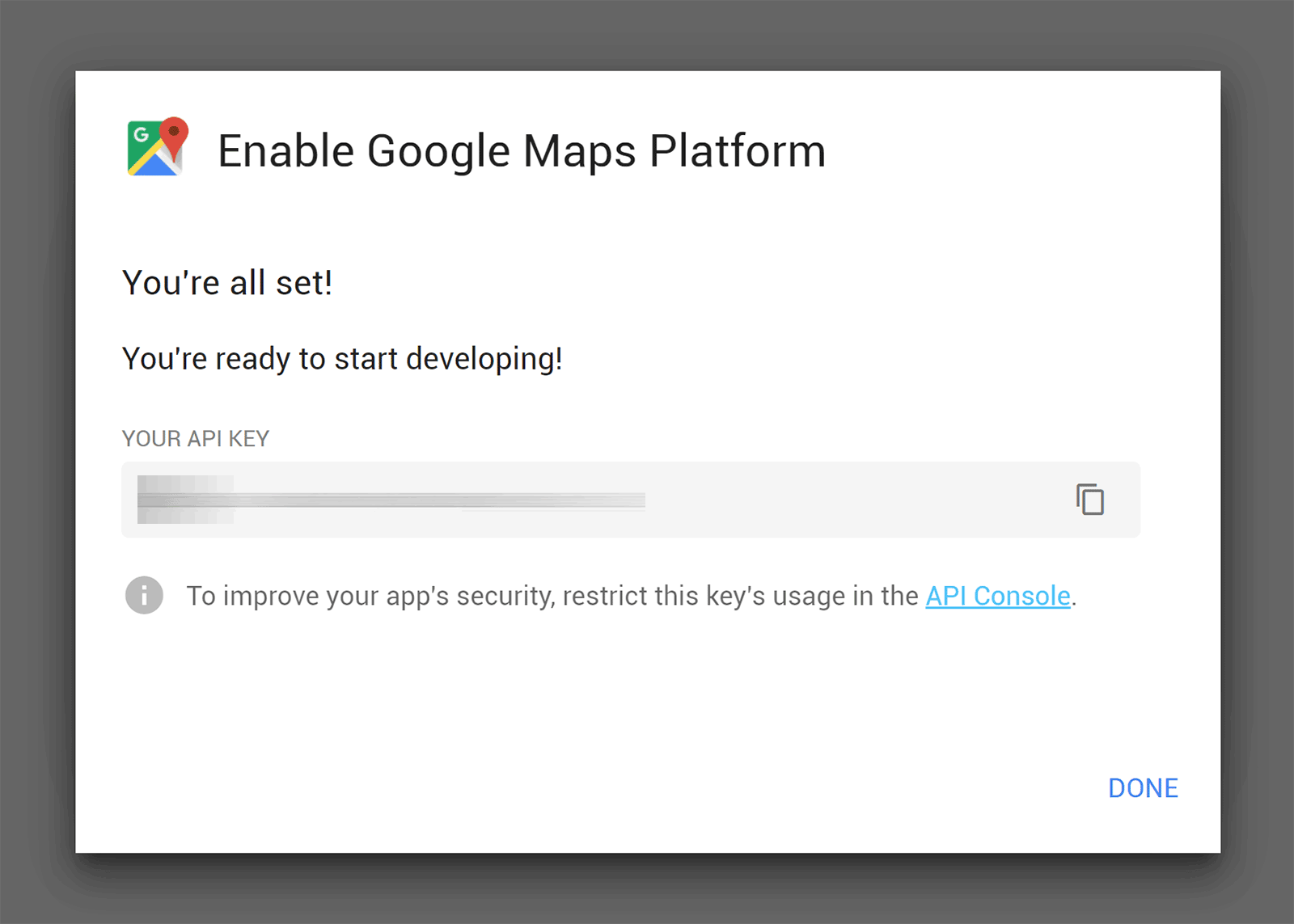 Check out the Google Maps Platform page to create a Google Maps API key for your website and learn more about how it all works.
1. WP Google Maps (FREE / $9.99+)
WP Google Maps is one of the most popular Google Maps solutions for WordPress; being actively used on over 400,000 websites.
The process of creating new maps with the plugin is fantastic. You can add markers, lines, polygons, and other shapes to your map. 10 themes are available for your maps and you can enable traffic layers, bike layers, directions, and the maximum zoom level for the map.
Once you have created your map, it can be inserted into your website using a shortcode.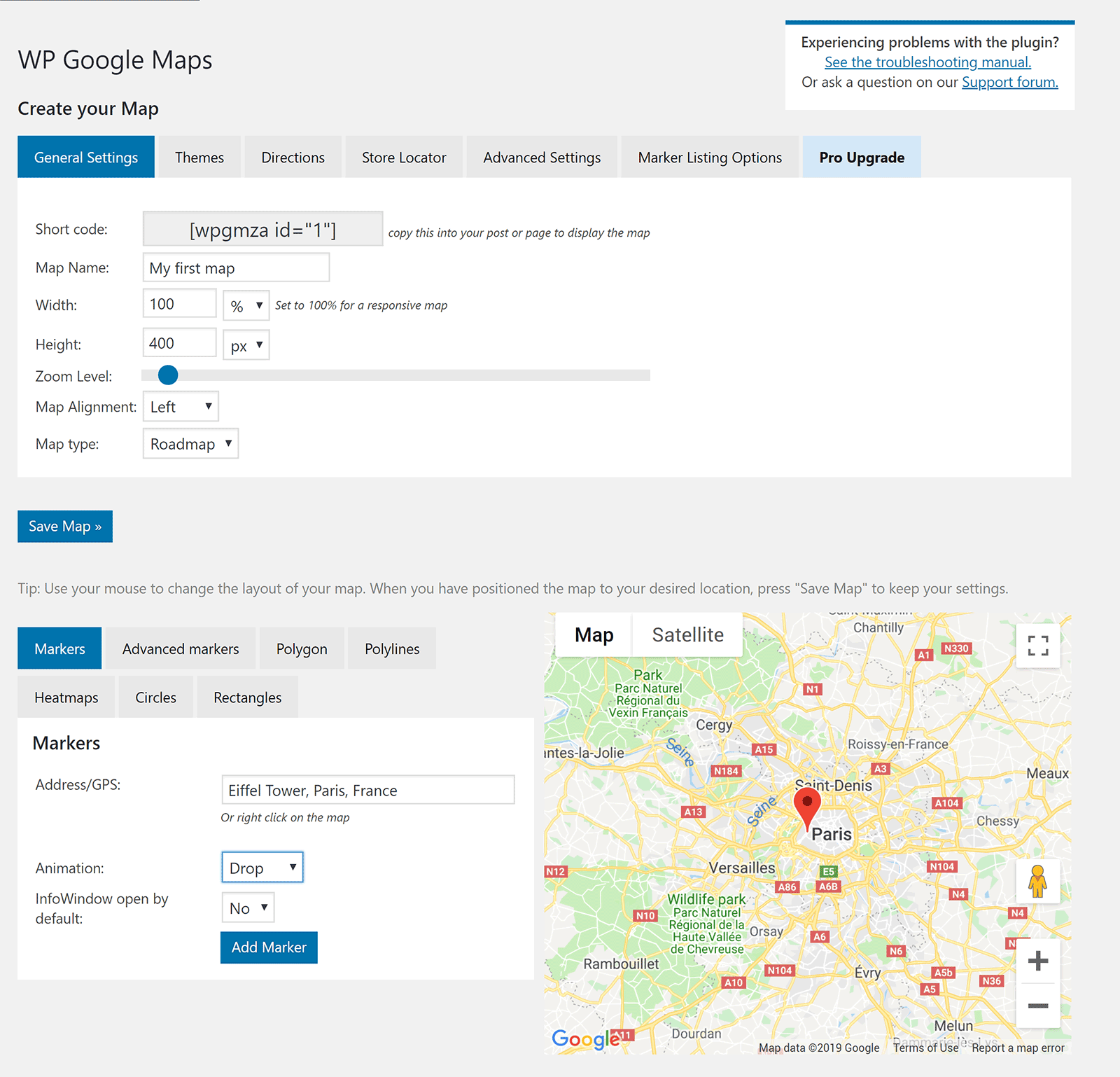 In the main settings area you can enable and disable map controls such as zoom, street view, and whether a mouse can be used. There are a lot of options to help you define how markers are handled too.
If you did not enter your Google Maps API key after activation, you can do so in the advanced tab. This will ensure the plugin can retrieve maps. The advanced settings area also allows you to add custom CSS and custom Javascript.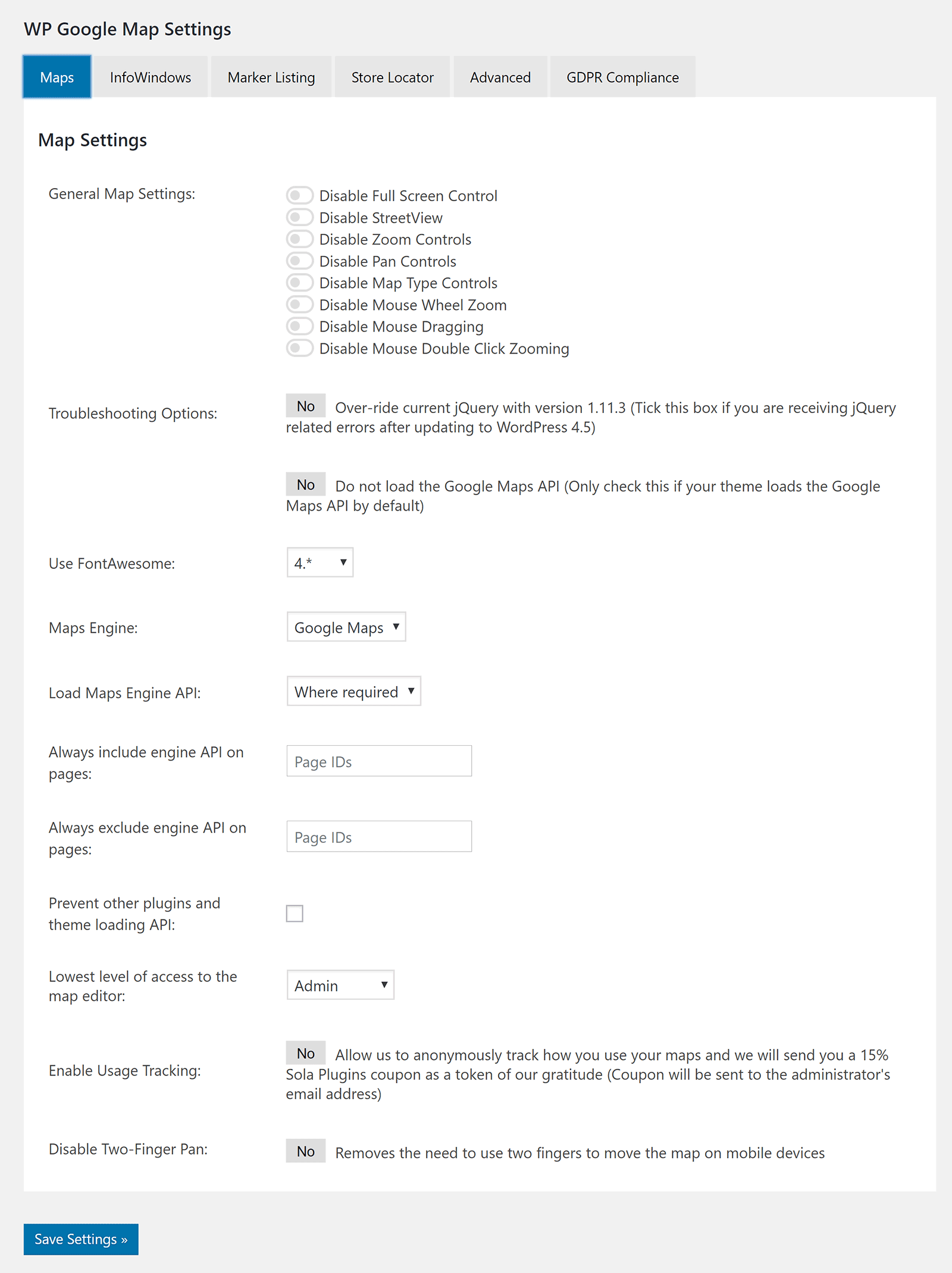 Three premium addons are available for WP Google Maps.
At $9.99, the Visitor Generated Markers addon is the cheapest. As the name suggests, it allows website visitors to add their own markers to maps.
The gold addon costs $29.99 for a three website license. It adds marker clustering and real-time location tracking.
The most comprehensive addon is the pro addon. This addon adds custom fields, an improved user-interface, custom data sources, scheduling, improved marker filtering, performance enhancement, Mappity integration, and direction waypoints.
Pricing for the pro addon starts at $39.99 for a three website license.

It only takes a few minutes to realise why WP Google Maps is so popular. The core version is free to download, easy to use, and has hundreds of features.
I recommend trying it out.
Google Maps Locator plugin for WordPress is a highly customisable maps solution that allows visitors to submit listings and markers on the frontend of your website.
Listings can have videos attached to them and be rated using a star rating system. There are some cool map features such as the ability to draw on the map, search within a specific radius, and display geolocation automatically.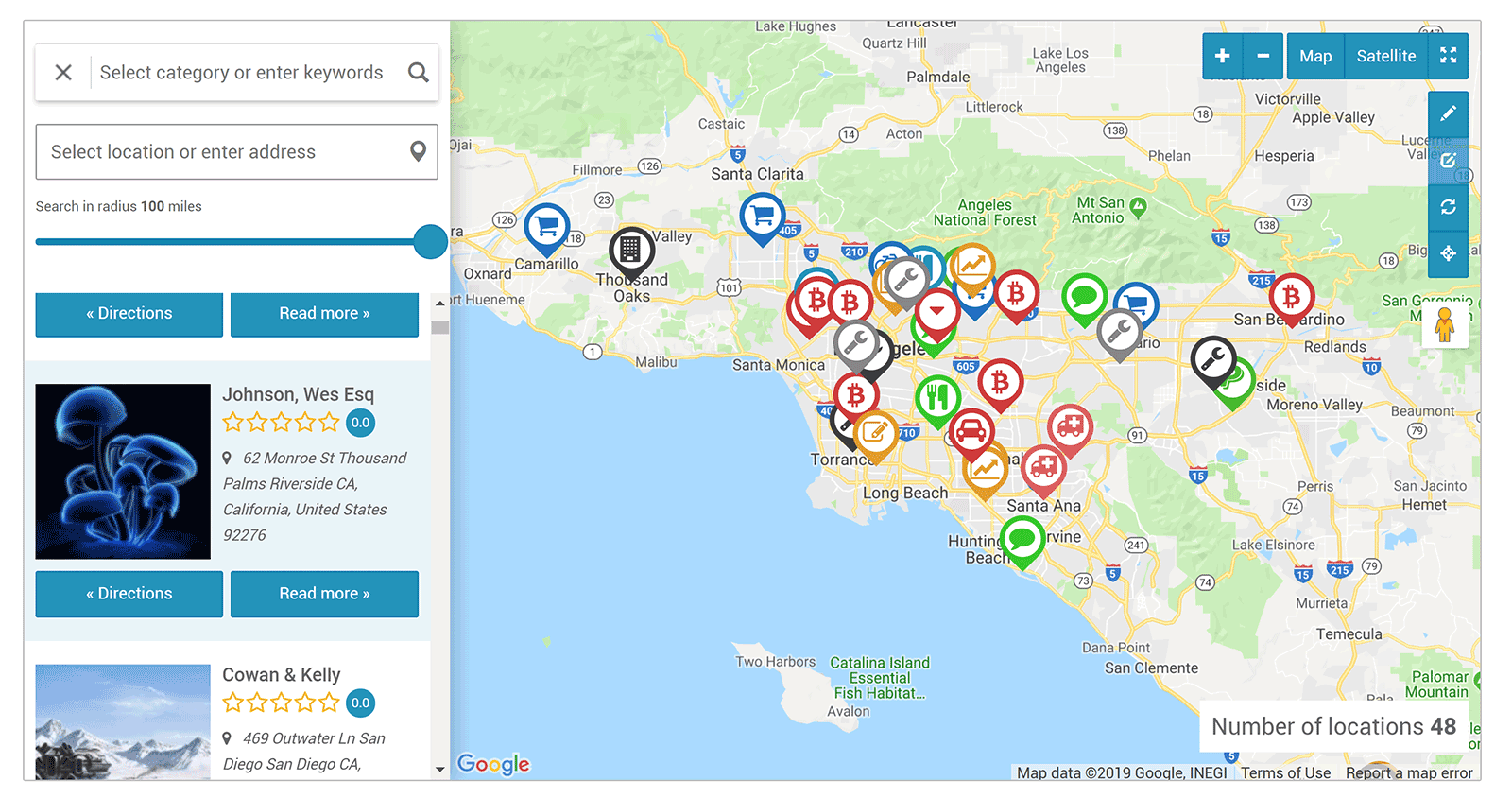 There are are a dozen map types and a dozen map styles available to you. This gives you a lot of flexibility as to what types of maps you create.
For example, there is a full screen map, a map that shows custom content fields, an AJAX powered map, a clusters map, and a directions map.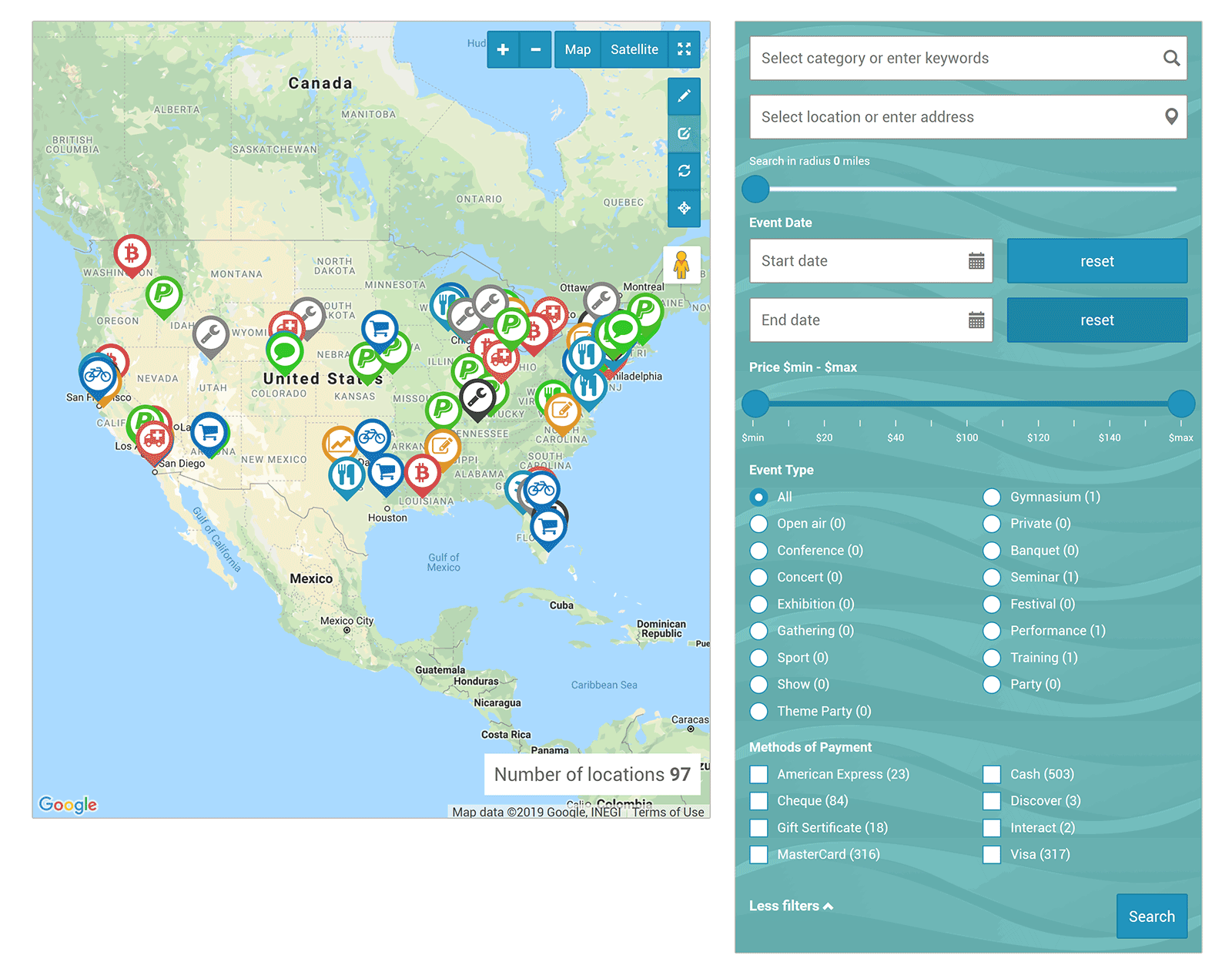 The settings area allows you to enter your Google Maps API key and enable and disable key features for listings, markers, search, and email notifications.
The colour scheme of links, buttons, and menus, can be adjusted too.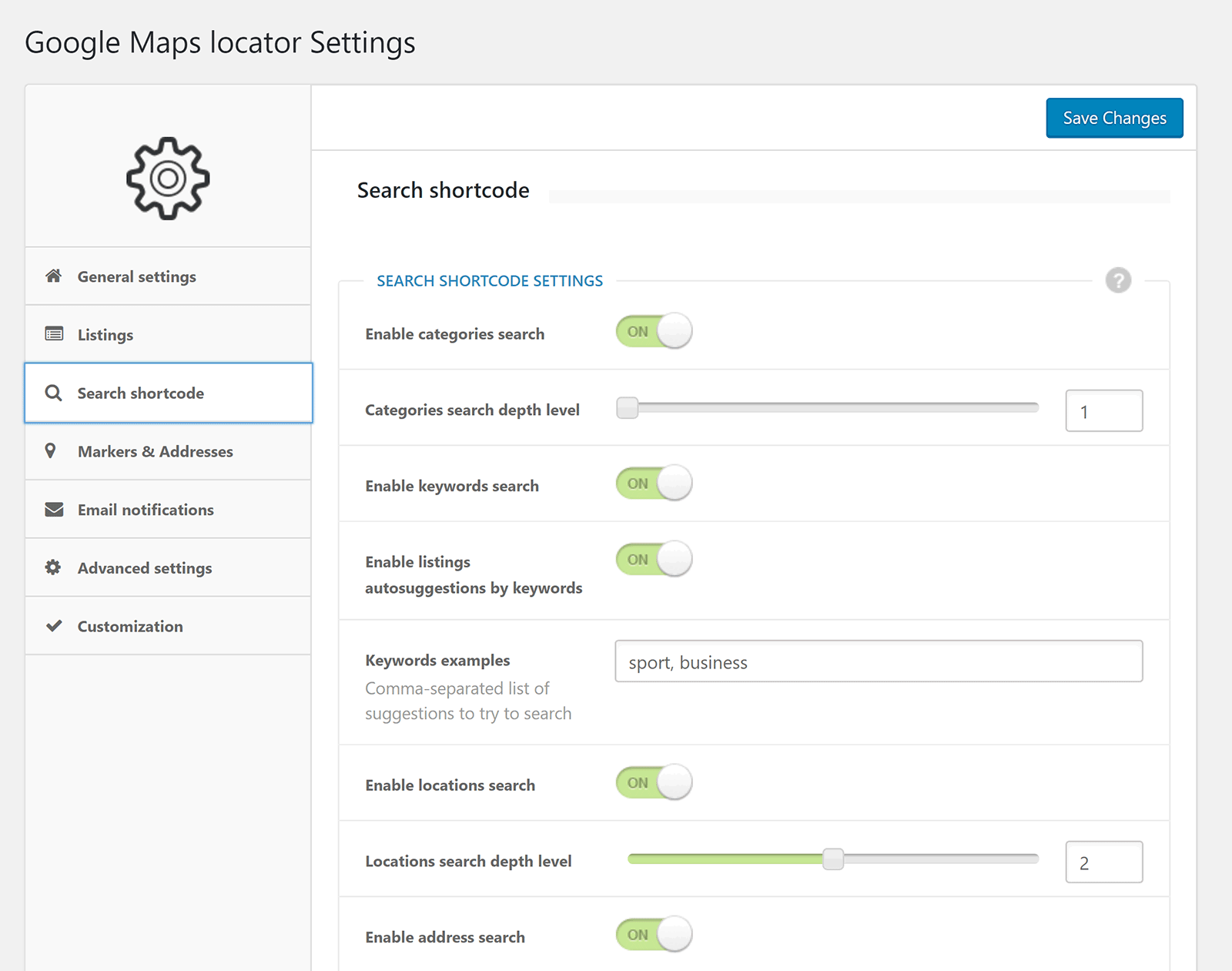 Google Maps Locator plugin for WordPress is available for $27 from CodeCanyon. It's a versatile solution with many great map designs and support for media attachments. The way it lets you integrate listings and markers into maps is useful too.
3. Simple Google Maps Short Code (FREE)
Those of you who are seeking a more straight-forward solution should check out Simple Google Maps Short Code.
The plugin allows you to insert maps into your website using a shortcode. All you have to do is define the map address and your Google Maps API key. The map will then be cached for three months using the WordPress Transients API.

No settings page is available to help you modify your maps, however you can change things a little using attributes.
There are attributes for changing the width and height of your map, disabling mouse wheel scrolling, and disabling map controls.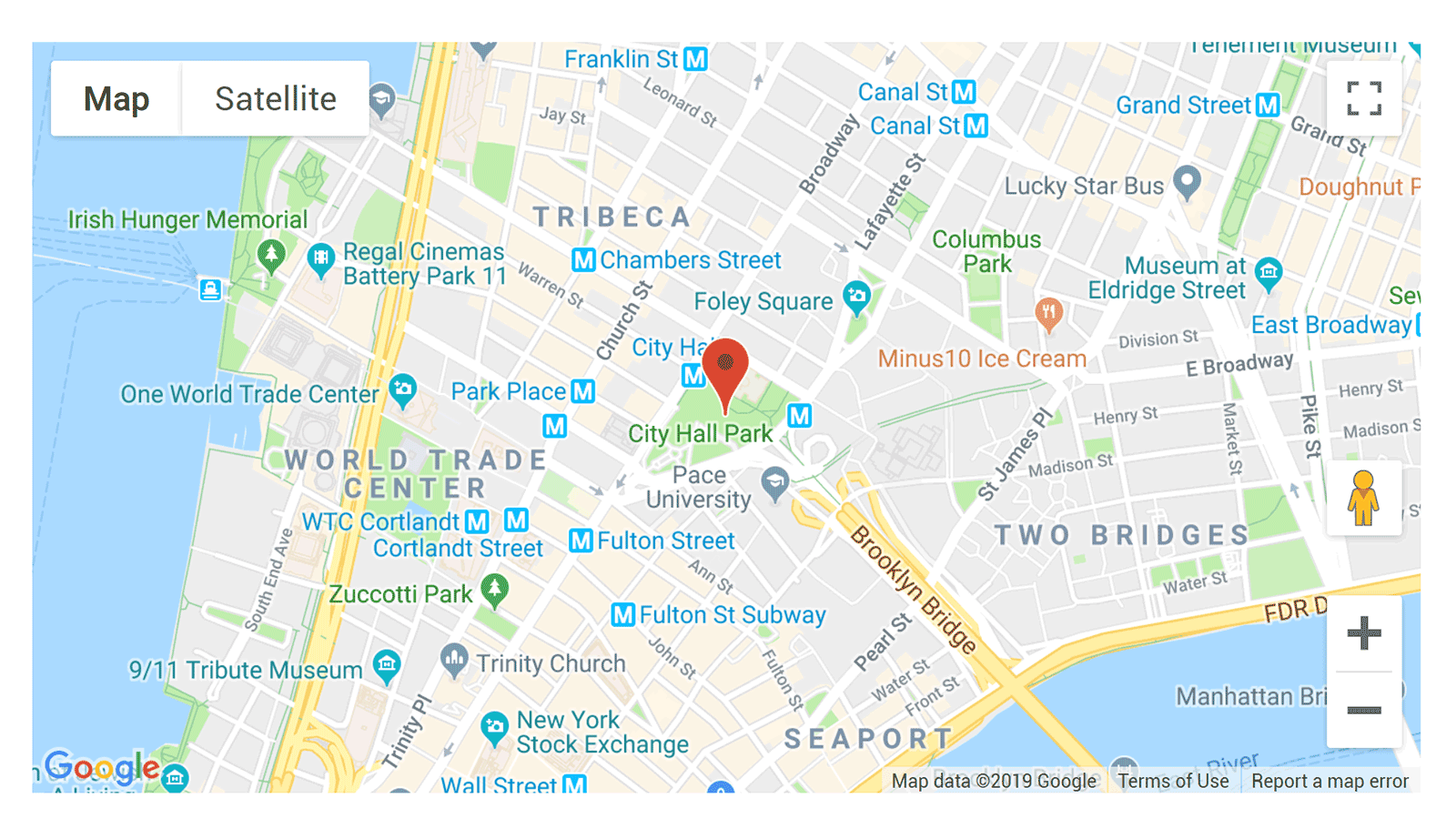 If you do not need the bells and whistles that other Google Maps solutions offer, Simple Google Maps Short Code is the one for you.
Maps Marker is a WordPress map plugin that works with Google Maps, Open Street Map, Bing, Mapbox, and custom WMTS-maps. The developers still refer to the plugin as Leaflet Maps Marker on WordPress.org, but market it as Maps Marker everywhere else.
Maps Marker lets you add markers for locations and then organise these markers using layers. When you add a new marker you can also define the size of the map and the zoom level and switching from the simplified editor to the advanced editor loads up a large collection of icons to select.
Completed maps can be inserted into posts and pages using shortcodes.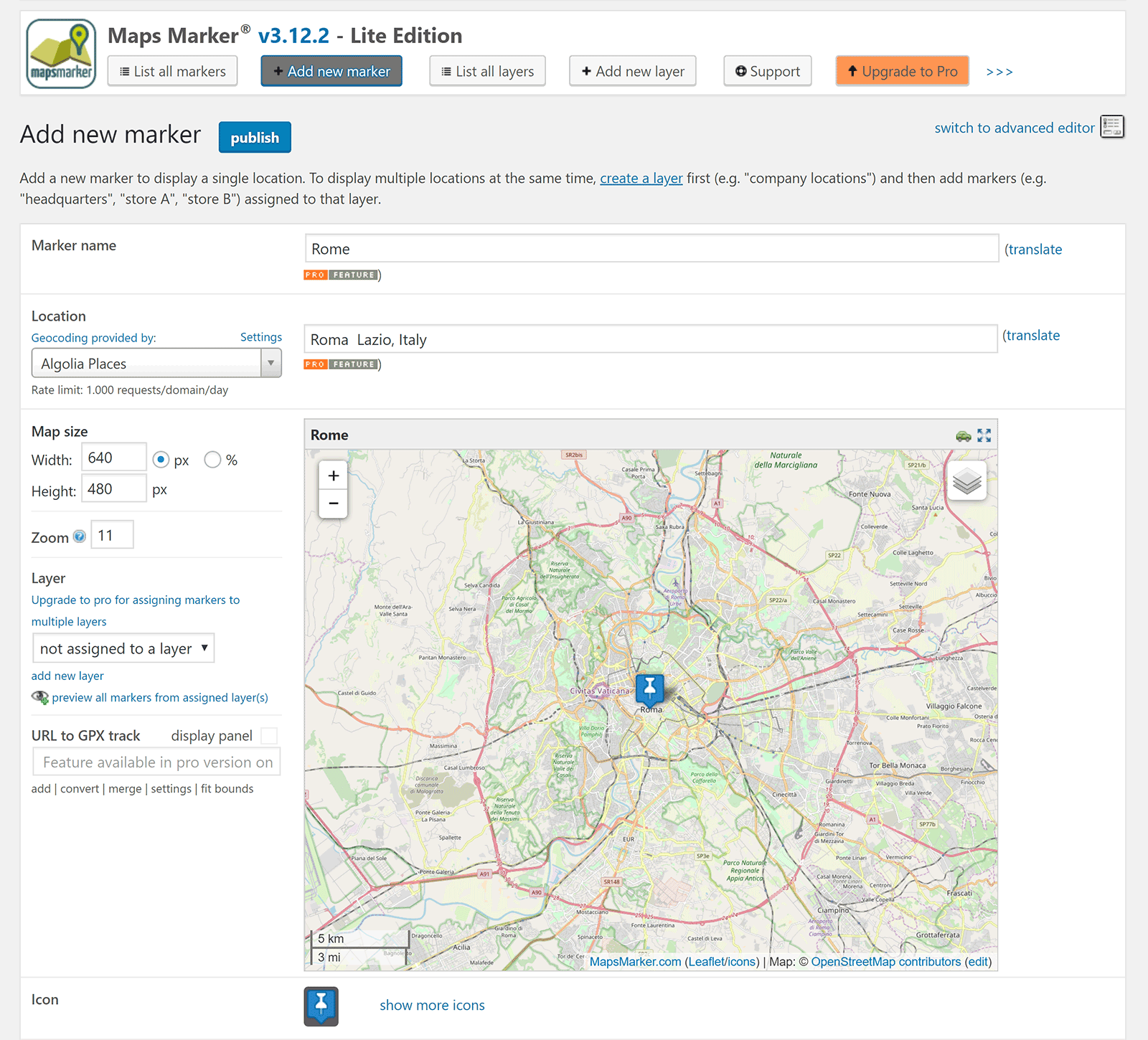 An import and export page for markers and layers is available. This is useful for backing up maps and transferring them to other websites.
A dedicated tools page allows you to backup settings and define the default map that is used, default map settings, and more.
Further options are available in the main settings page where you have control over default map values, location settings, the default basemap (e.g. Open Streep Map or Google Maps), overlays, layers, and other advanced settings.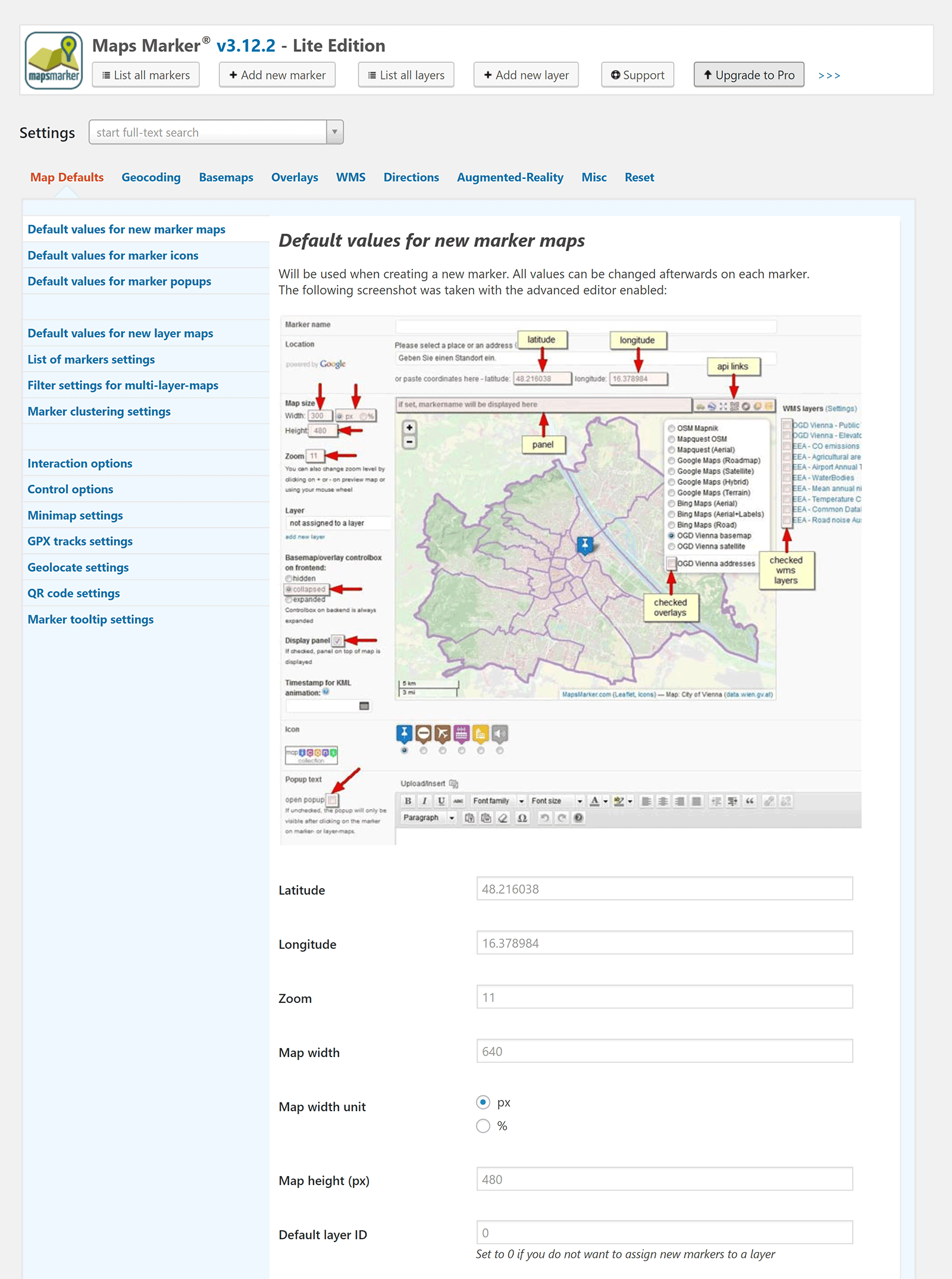 Maps Marker Pro is available from €39 for a single license with one year of support and updates. Upgrading unlocks all the pro features that are restricted in the free version.
Pro features include augmented reality, improved Google Maps performance, marker clustering, map filtering, GPX tracks, elevation tracks, and more.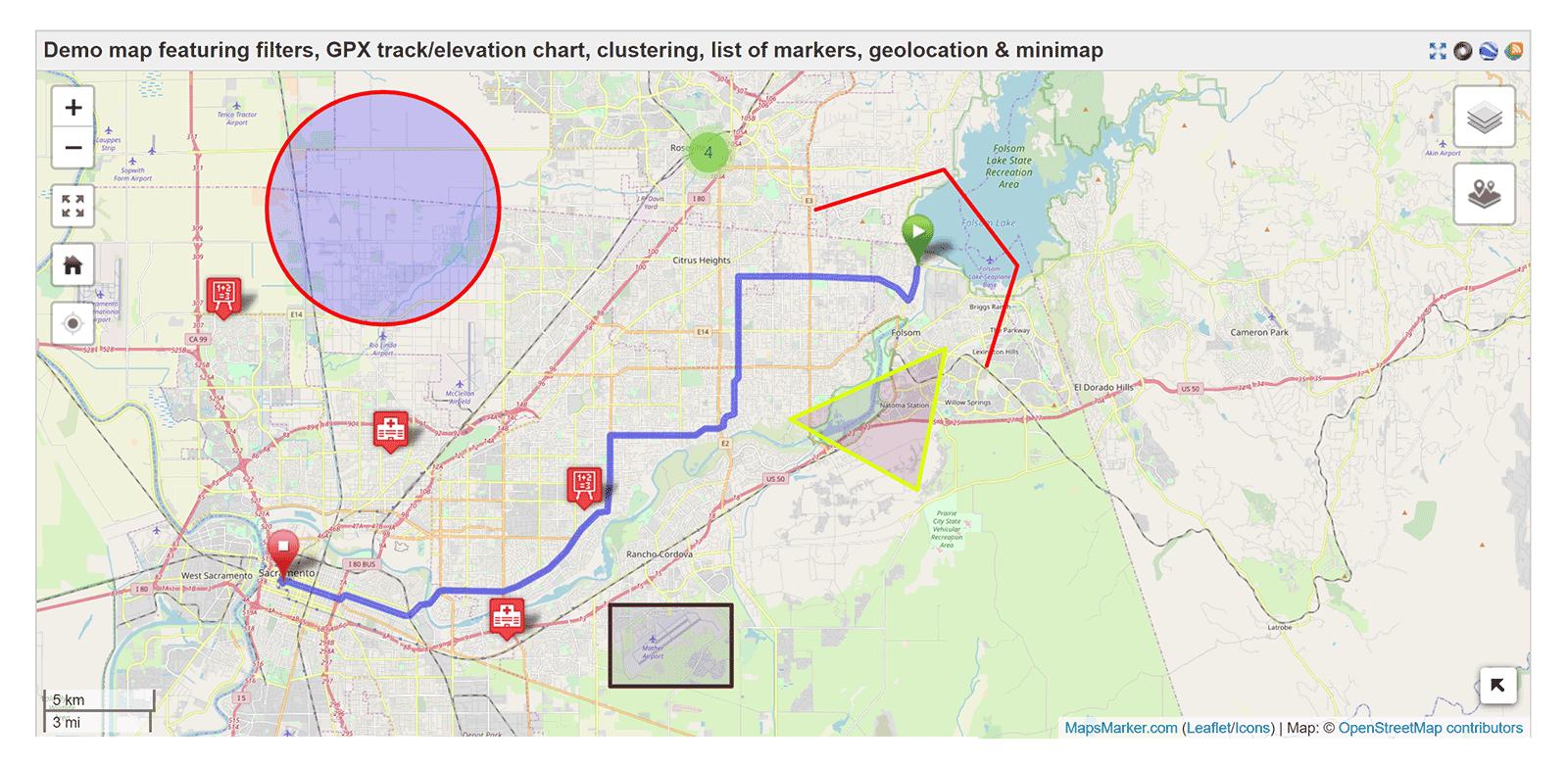 Once you get a grasp of how markers and layers interact with maps, you will appreciate how powerful Maps Marker is. The plugin has hundreds of settings to help you customise maps and most main features are available in the free version.
5. Google Maps Widget (FREE /$18.99+)
Google Maps Widget is a fast-loading Google Maps solution that helps you integrate maps into widget areas such as your website header, footer, or sidebar. It boasts over 100,000 active installations on WordPress.org.
Each map is configured within the map widget. You can adjust the map type, zoom level, the look of the pin, and even link the map to a specific URL (e.g. your website contact page). When a user clicks on the thumbnail map they can be taken to a larger interactive map that uses a lightbox for better presentation.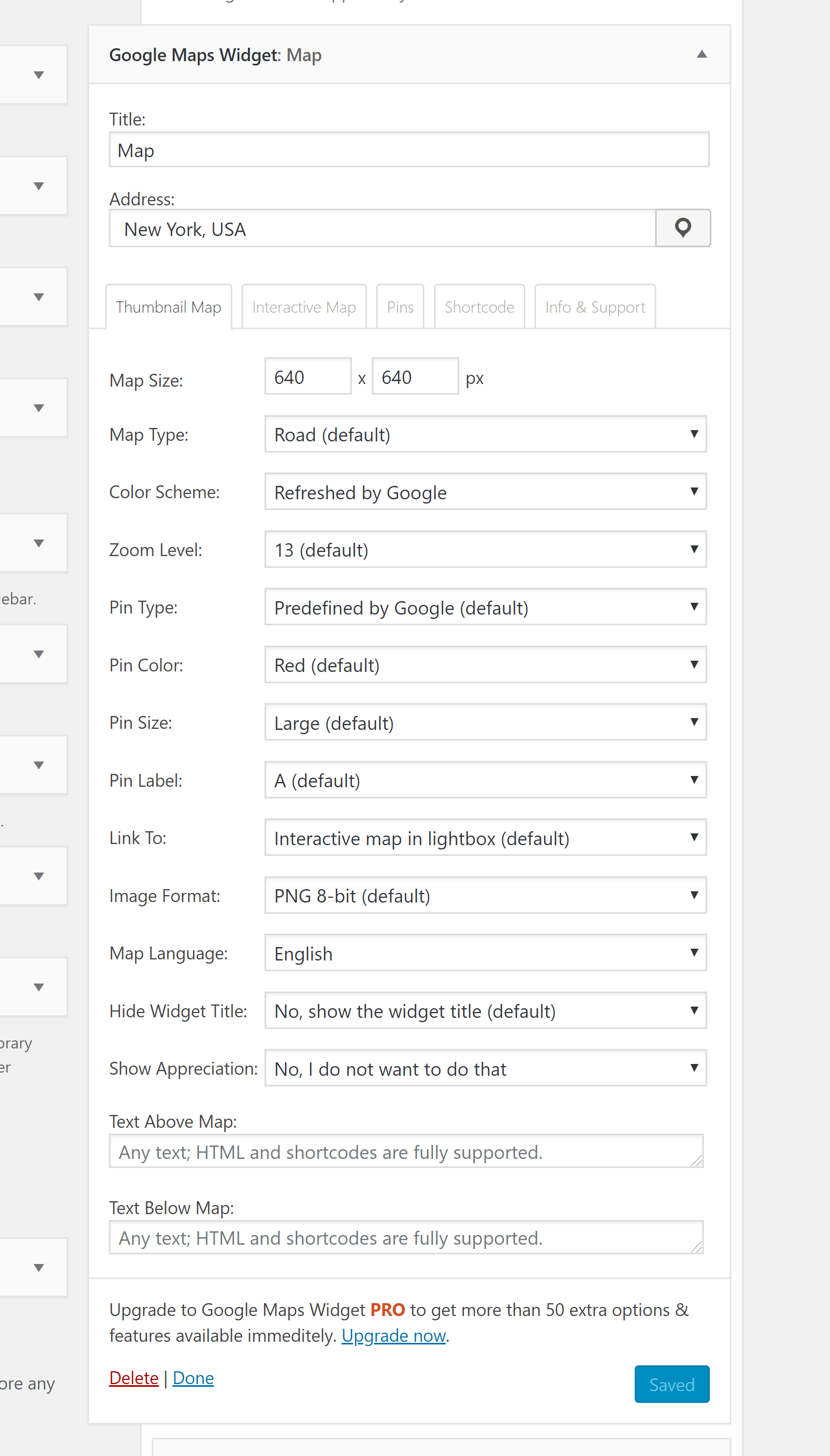 The developers note that the Google Maps Widget thumbnail uses the Google Maps Static Maps API to store maps and that their maps are loaded in one request instead of the 20+ requests that other solutions need. This can apparently reduce the total page size by 2MB in some instances.
The techniques they use to load maps is beyond my technical experience, however I can say with conviction that Google Maps Widget loads maps significantly faster than other Google Maps solutions. It is without doubt one of the best features of the plugin.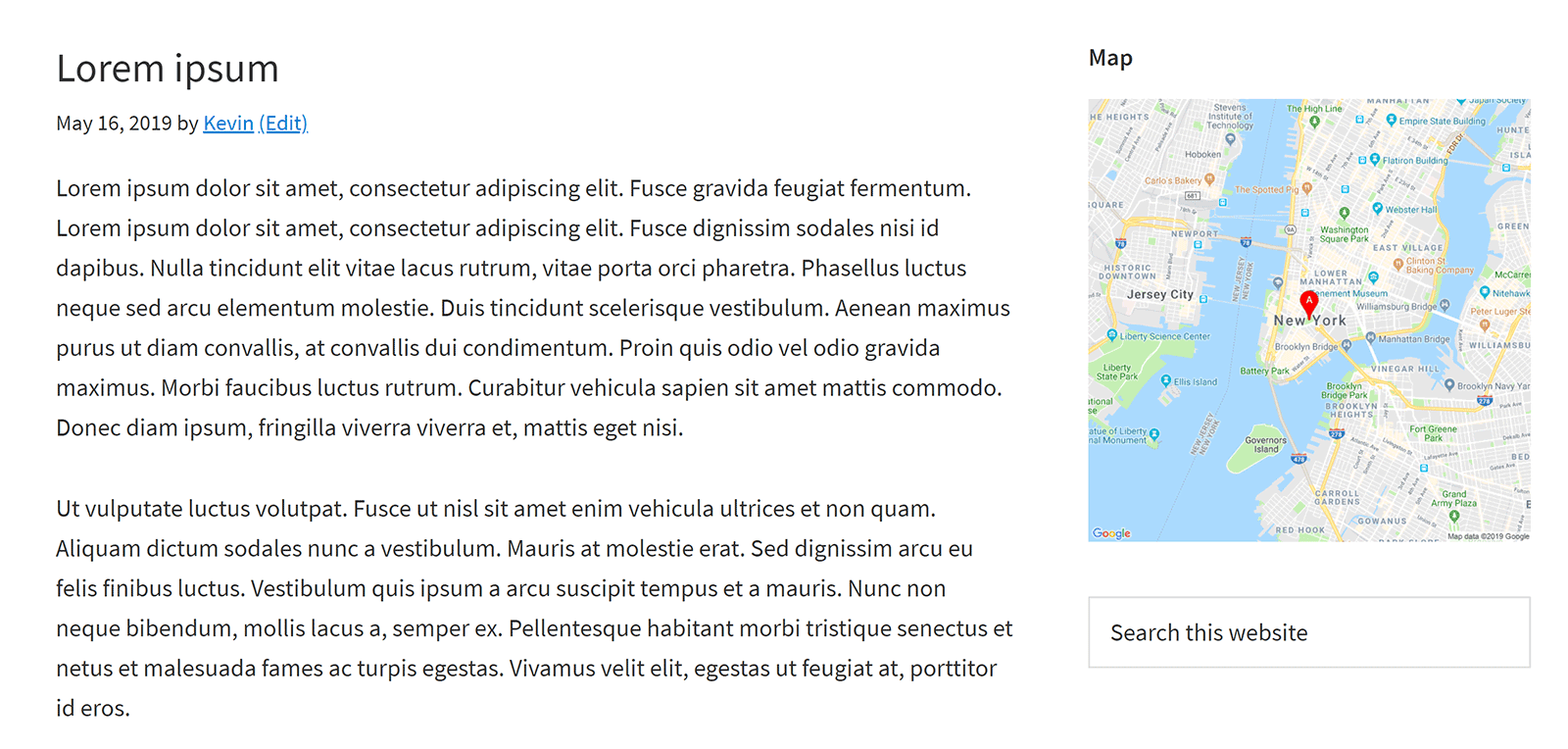 In the free version of Google Maps Widget, all you can do in the plugin settings page is add your Google Maps API key. The advanced settings and options to import pins and widgets are not available unless you upgrade to the pro version.
Google Maps Widget Pro retails from only $18.99 per year. In addition to the features mentioned above, upgrading allows you to insert maps into posts, pages, and other custom post types, using a shortcode.
In total, Google Maps Widget Pro adds over 50 additional features such as skins, multiple map pins support, map pin clustering, and Google Analytics integration.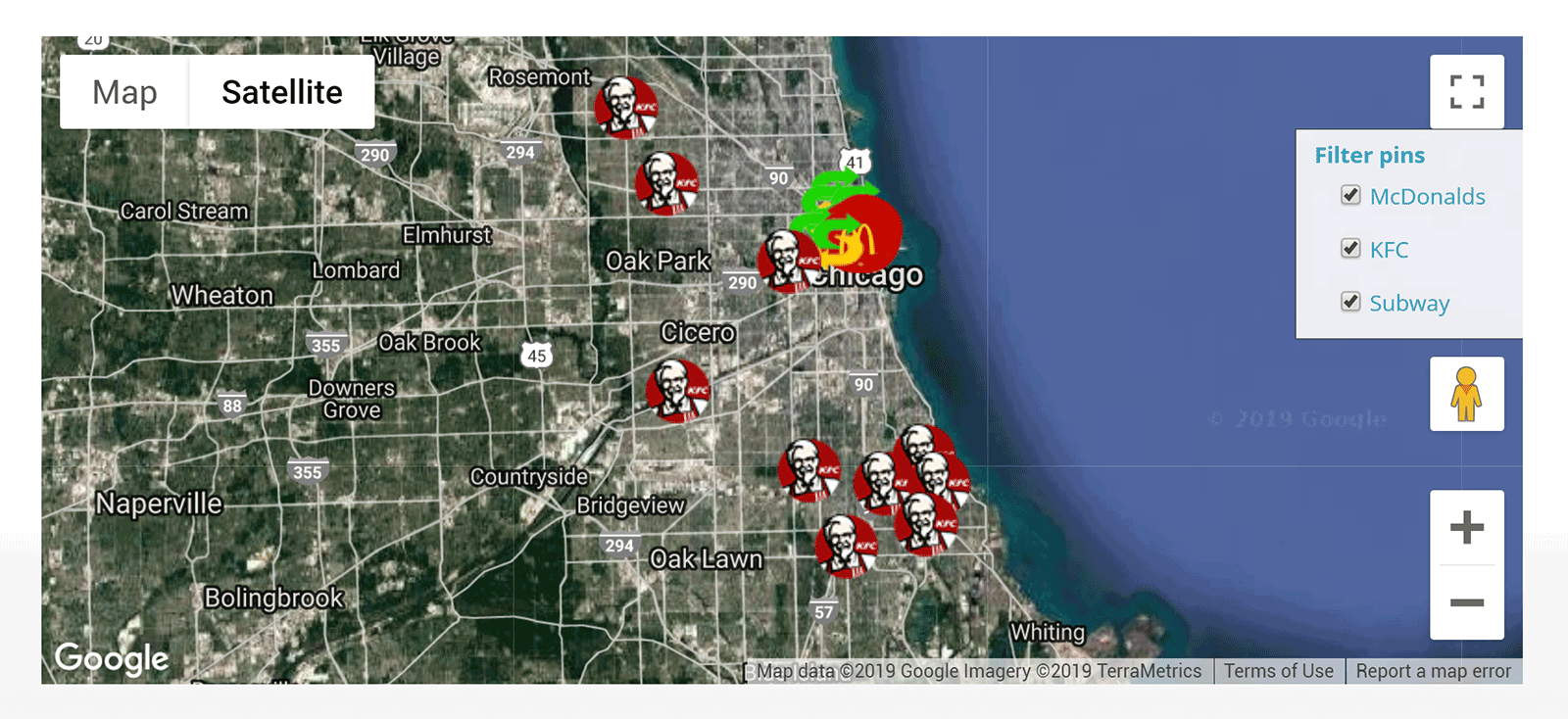 If you are looking for a fast Google Maps solution that integrates with your website design, Google Maps Widget is the plugin for you.
The free version should be sufficient for most users as it gives you full control over each map, however there are sufficient features in Google Maps Widget Pro to justify upgrading.
6. Hero Maps Premium ($20)
Hero Maps Premium is a gorgeous Google Maps solution that allows you to display responsive maps full screen or with a fixed width.
Three icon packs allow you to add professional looking markers to your maps and there is an option to upload your own icons. All you have to do to add a marker is drag and drop an icon onto the map.
Markers can also be categorised to allow visitors to filter results. For example, you could have categories for hotels, shops, cafes, and parking.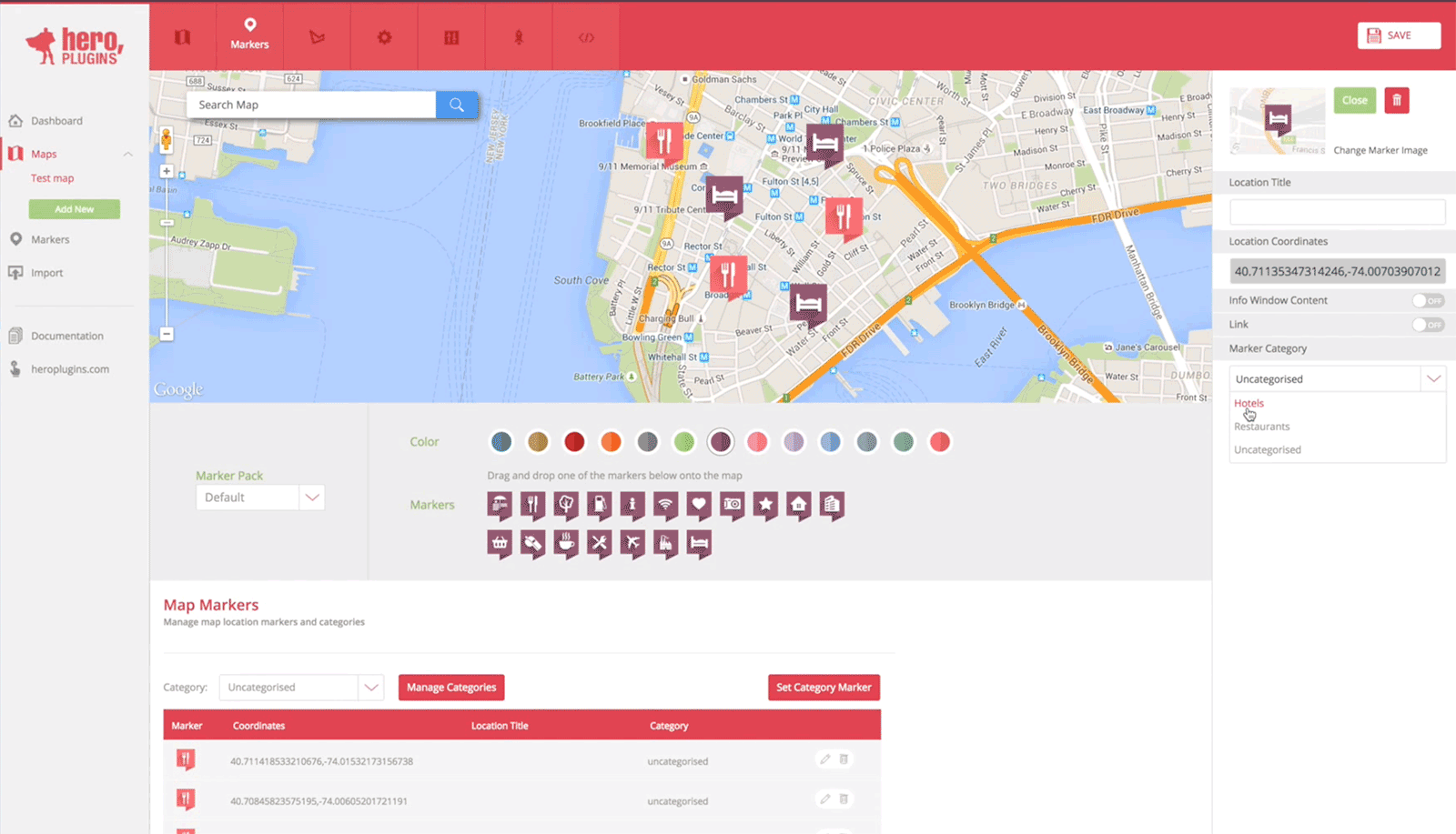 A host of colour schemes are available and you can draw shapes onto maps too. All the maps you create can also be exported.
What sets Hero Maps Premium apart from other solutions is its design. The whole experience of using a map is excellent; from the animated markers to the fluid zoom controls. Filters also enhance the user-experience greatly.

Hero Maps Premium is available for only $20 from CodeCanyon. I recommend checking out the demo to get a full appreciation of how stylish its maps are.
7. WP Google Map Plugin (FREE / $59)
WP Google Map Plugin, not to be confused with WP Google Maps (Number 1 in our list), is a versatile map solution that supports markers, multiple map types, and multiple locations. It is currently active on over 100,000 WordPress websites.
When you add a new location you can define what happens when a user clicks on the map and you can also assign markers to a group. With maps you can set the height and width of the map, the zoom level, the type of map that is to be used, and assign any locations to the map that you have previously created.
Your Google Maps API key has to be entered in the main settings page.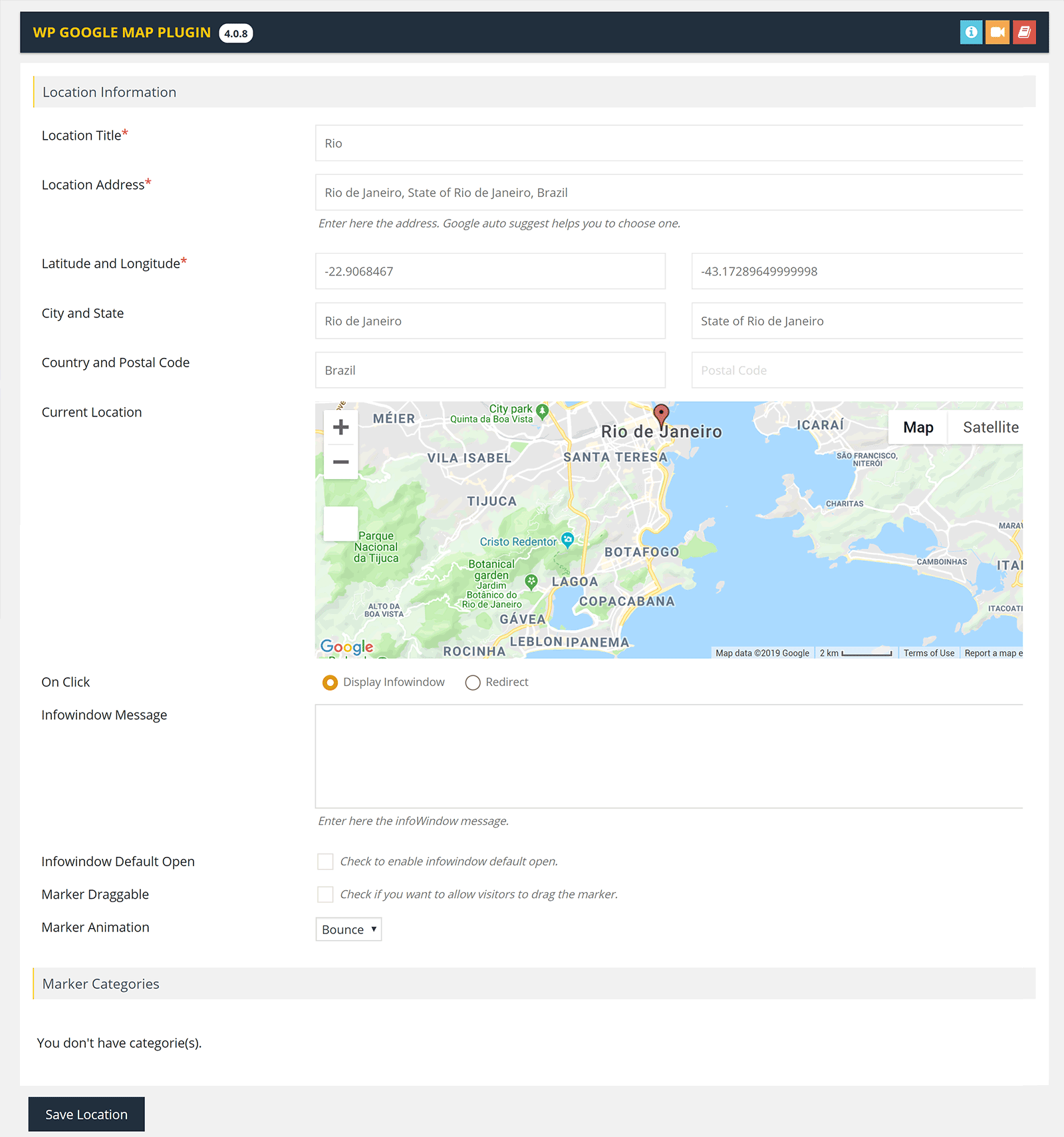 The premium version of WP Google Map is called "Advanced Google Maps Plugin for WordPress"; not WP Google Map Pro. Retailing at $59, it is the number one selling Google Maps WordPress plugin on CodeCanyon.
Upgrading to the premium version unlocks custom post types, map skins, directions, marker clustering, and the ability to import and export markers. You can display blog posts on maps too.
It also adds support for Advanced Custom Fields, filters, HTML overlays, and drawing with shapes.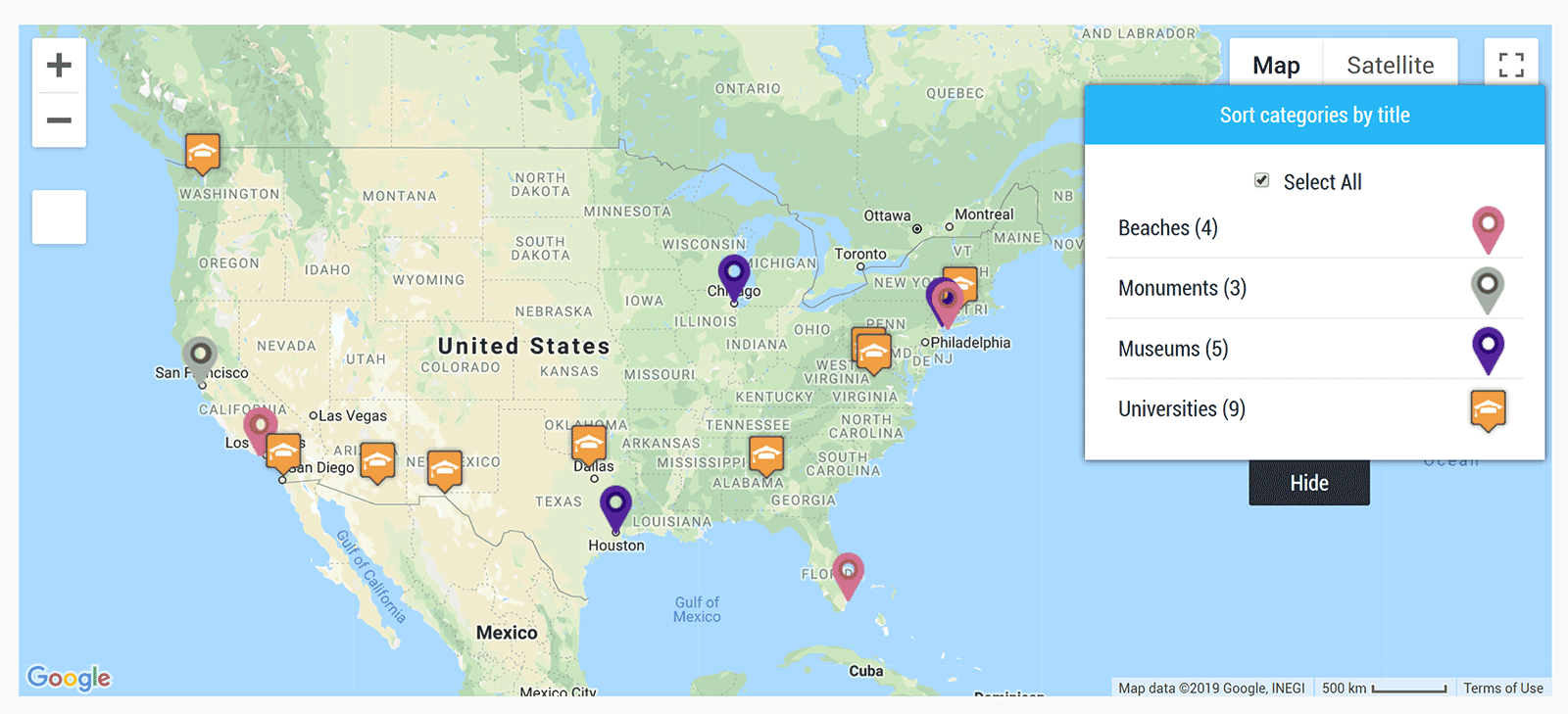 There is a lot to like about WP Google Map Plugin. It handles multiple locations and multiple maps well and has great documentation within the admin area.
I recommend trying it out.
8. Store Locator (Google Maps) For WordPress ($25)
Online shop owners should check out Store Locator (Google Maps) For WordPress. The plugin can be used to create maps that display stores near a user's location.
It features three different template styles and allows locations to be displayed using a list or accordion style. Markers and marker clusters are available too. All of these features give you some flexibility on how your map looks.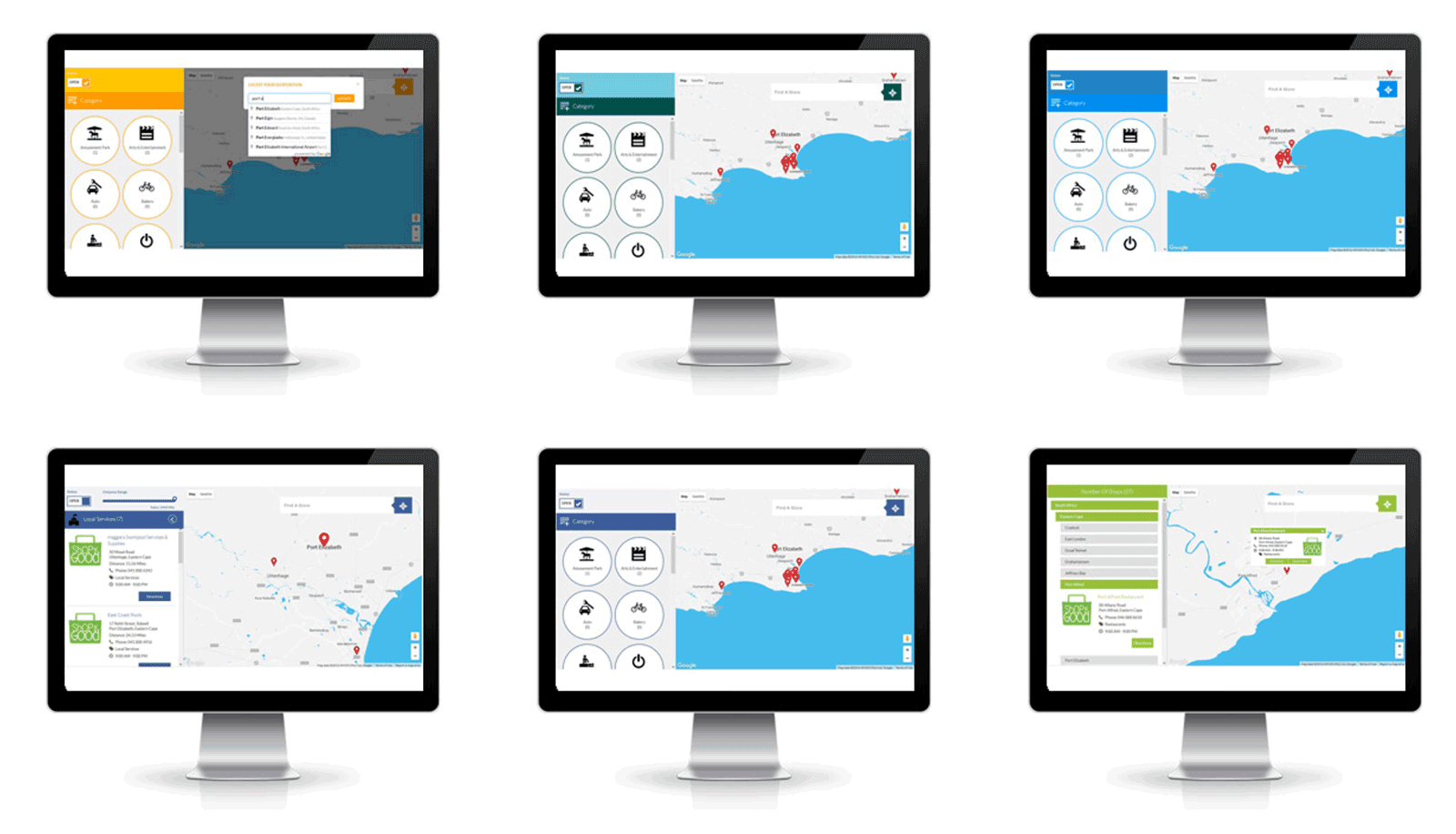 All stores can be categorised and you can display an item box for each shop. A list of stores can be imported via an XLS spreadsheet file and you can even attach a logo or image to the item box to make a store stand out.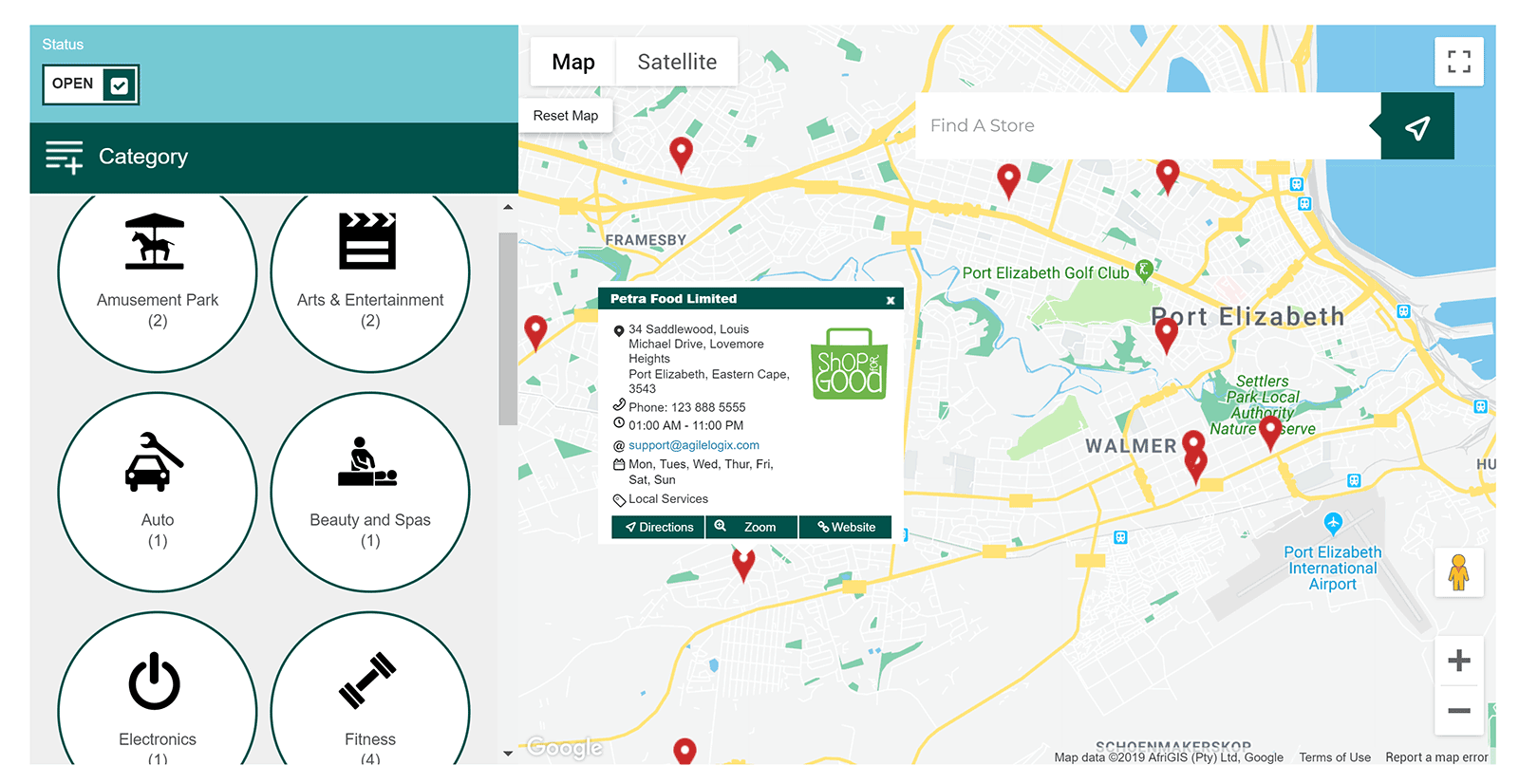 Shoppers are given a host of features to help them find the store they are looking for.
They can enter a location into the map or choose to select their location automatically using the geolocation functionality provided by browsers.
Underneath the main map is a large control panel that allows shoppers to change how the map looks and what is displayed. The map can drastically change when options such as the template and default map are modified.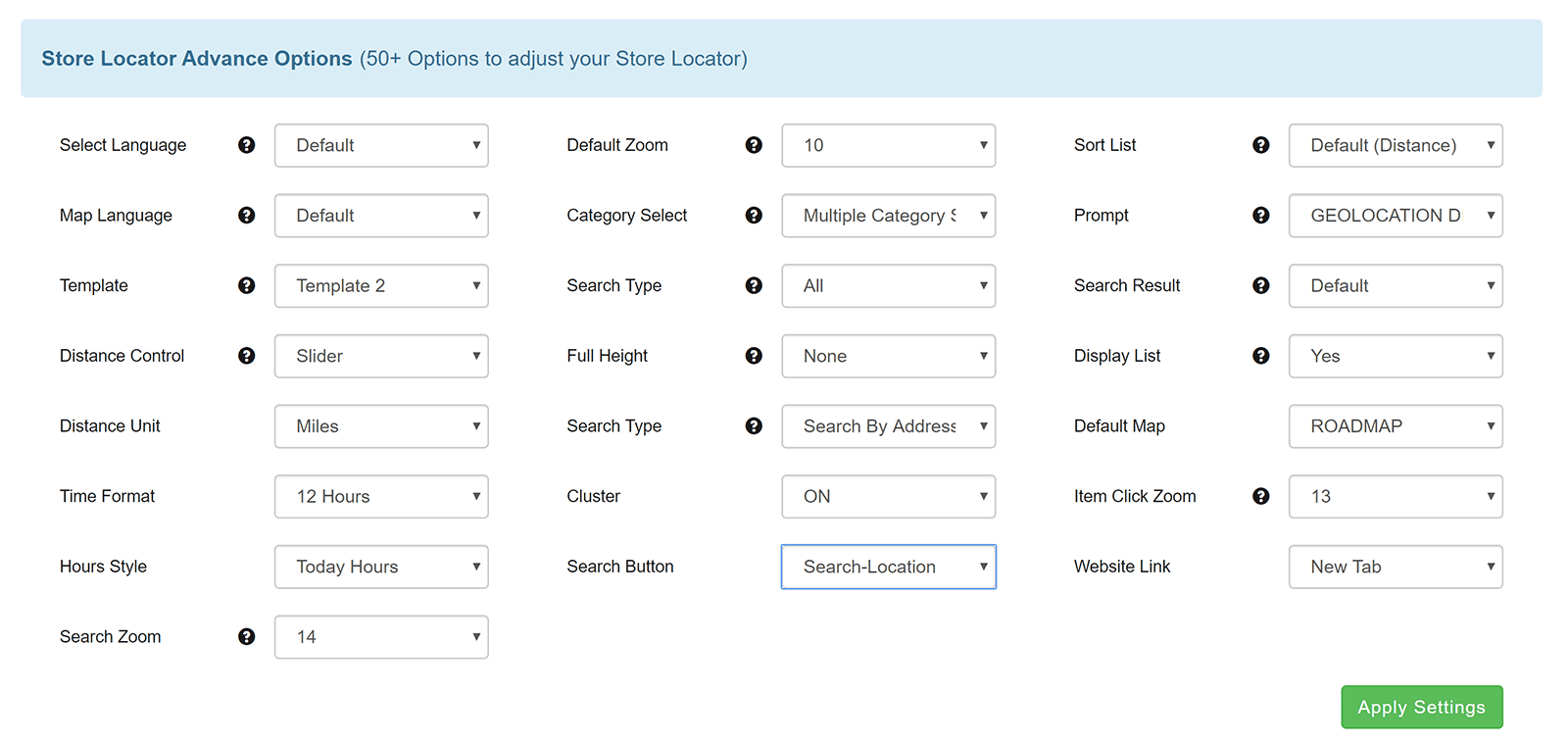 Store Locator (Google Maps) For WordPress retails at $25 from CodeCanyon.
With all features and settings being geared towards listing stores, Store Locator is not for everyone; however those who run online shops and business directories will appreciate what the plugin offers.
9. 10Web Google Maps (FREE / $30+)
10Web Google Maps is a great Google Maps WordPress plugin that lets you insert maps into your content using shortcodes or integrate maps into your website design using PHP.
The main map creation page lets you add markers and shapes such as polygons and polylines. The process of adding shapes is simple. All you have to do is scroll to the position in the map you want to start the shape and right-click your mouse. Then repeat the process for the other points of the shape.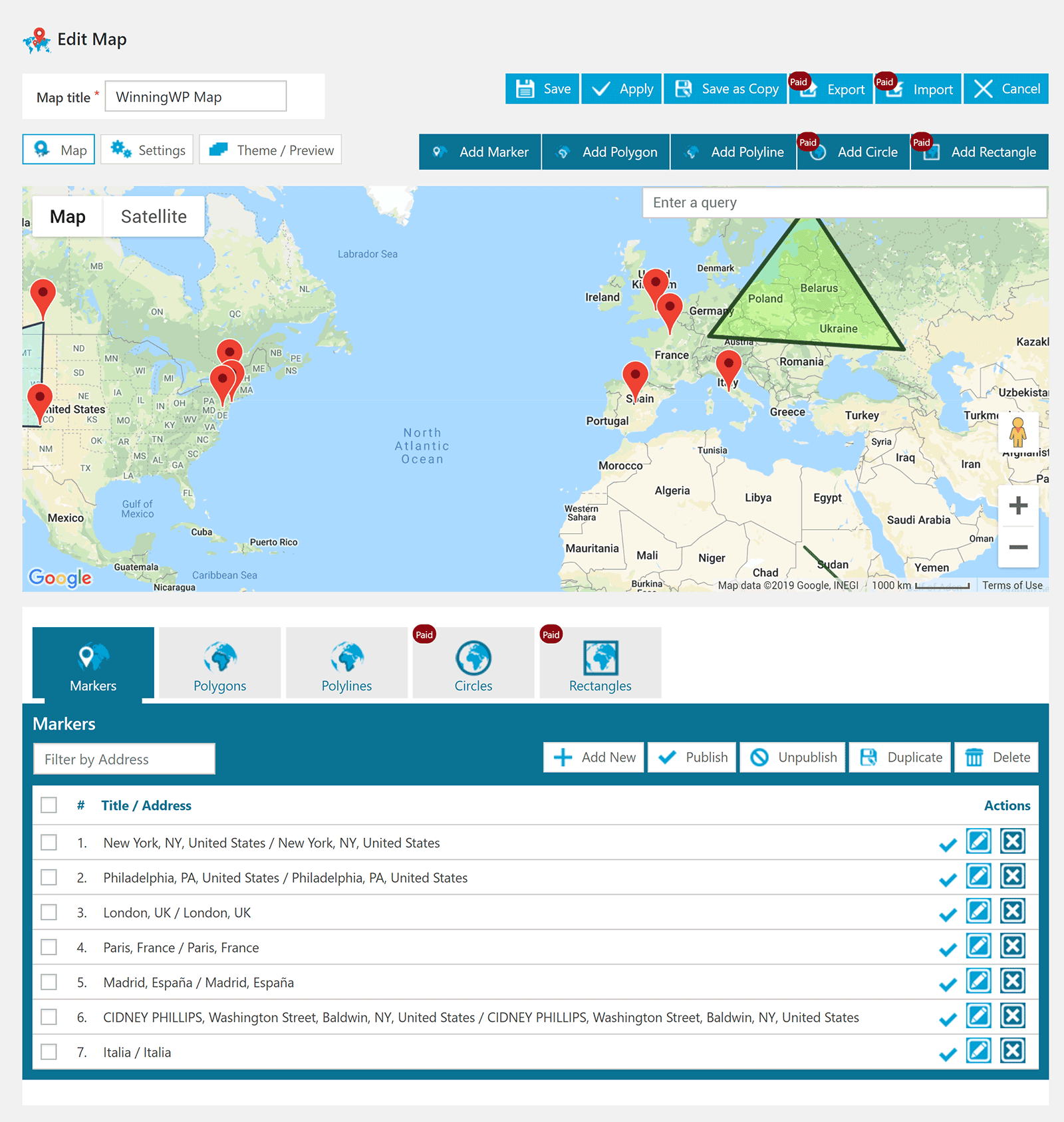 Eight setting tabs are available for each map you create. You can change the map type, zoom level, controls, layers, and more.
There is even an option to enable store locator functionality to your map. Some features, such as directions and marker listings, are not available in the free version, but most main features and settings are available.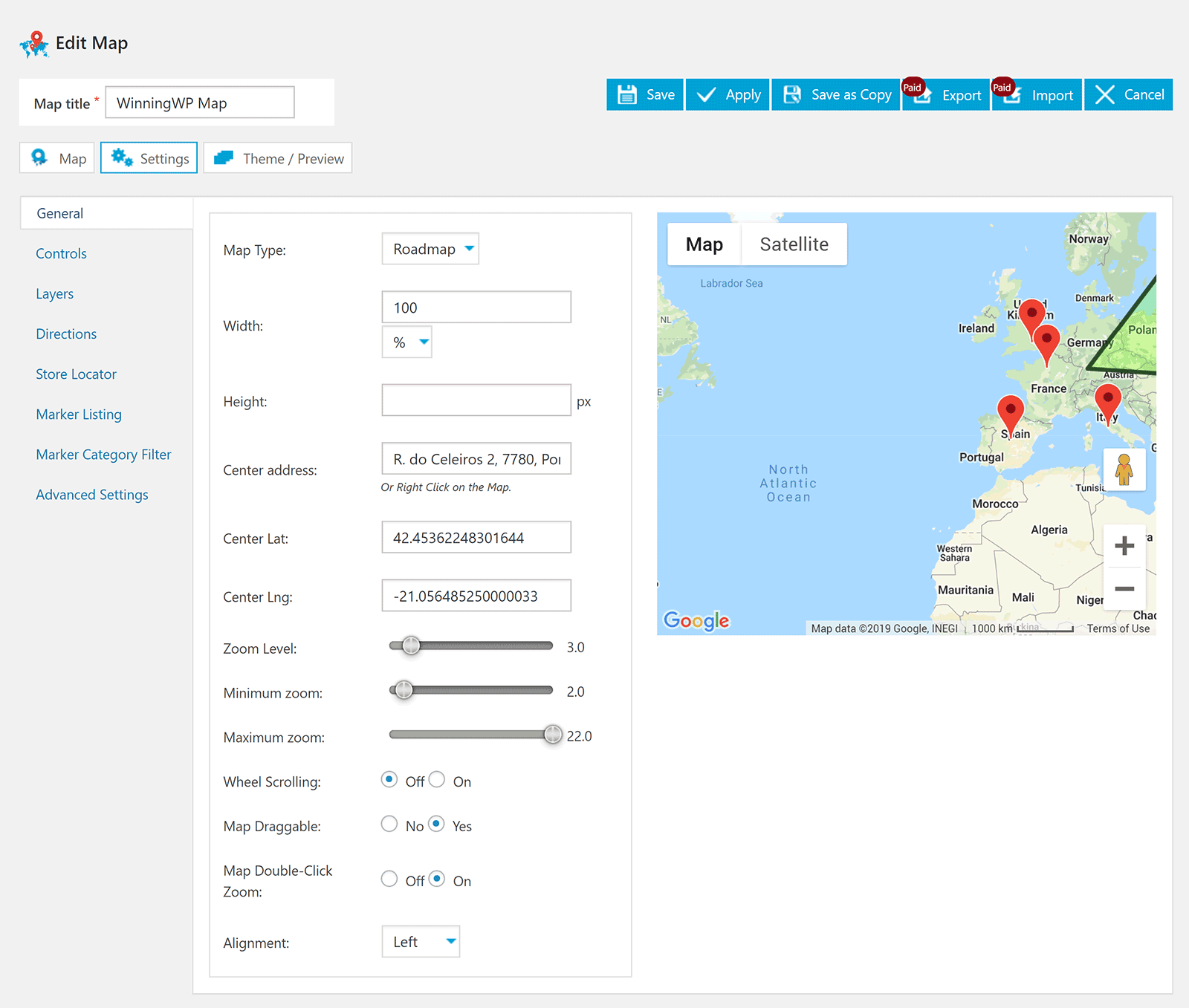 10Web Google Maps Pro adds the support for drawing circles and rectangles and adds the ability to import and export maps.
Other features which are unlocked include customisable map skins, directions, and marker category filters.
The pro version retails from only $30, however other plans are available with longer support periods and support for additional domains.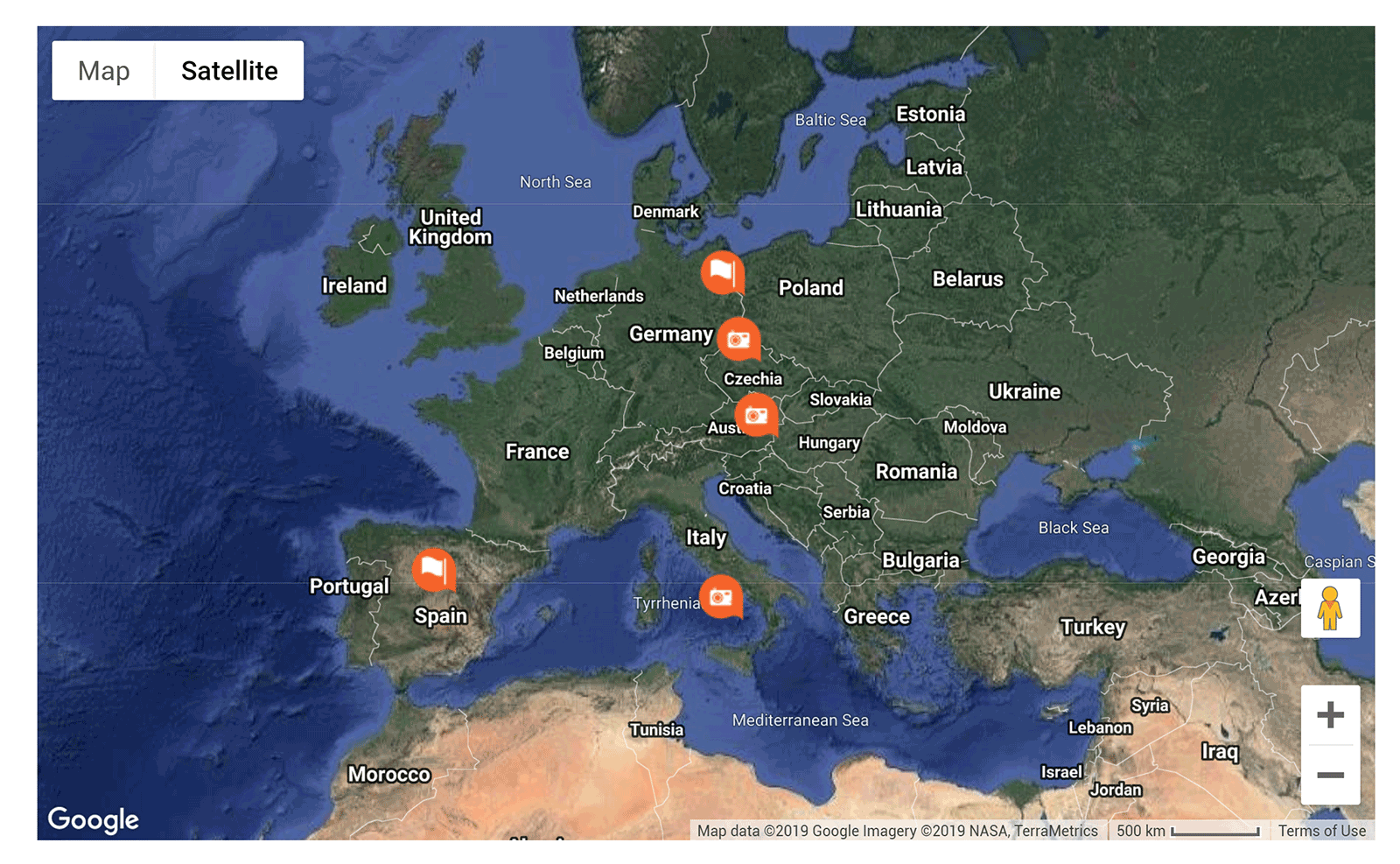 With support for layers, shapes, markers, and other useful features, it is easy to see why the free version of 10Web Google Maps has proved so popular with WordPress users.
Honourable Mentions
There is an abundance of Google Maps solutions available to WordPress users and the standard is generally very good.
During our research for this article we tested a lot of WordPress plugins that just missed our list.
If you are looking for a simple solution, Very Simple Google Maps is a good alternative to Simple Google Maps Short Code as it can also be used to add maps quickly using shortcodes. Another basic solution to check out is the Gutenberg-friendly maps solution Google Maps Gutenberg Block and the easy to use Simple Google Map.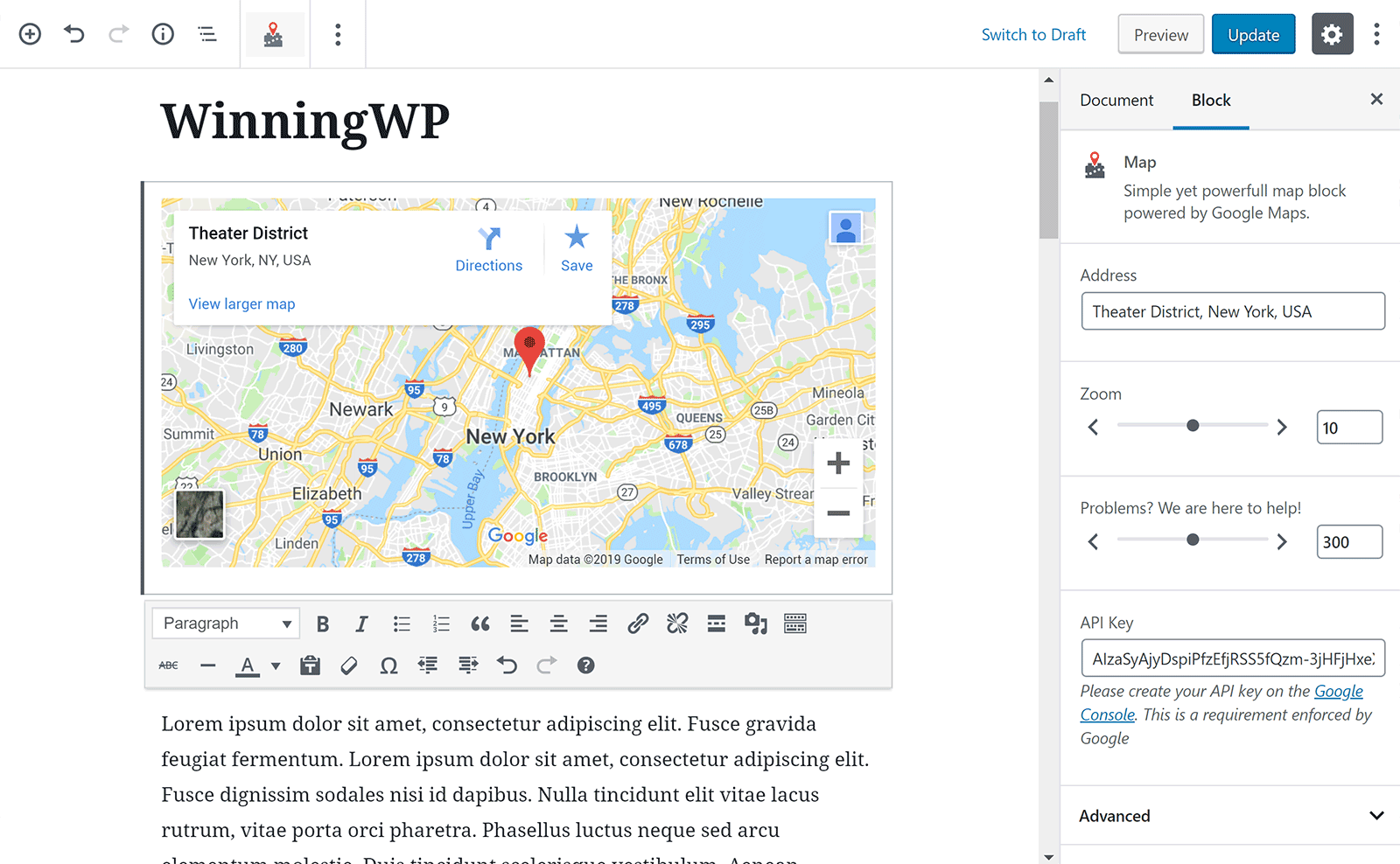 Google Maps Bank and CP Google Maps are both great map solutions, however most options are restricted to the pro version. Whilst the pro versions are relatively cheap to buy, there are better alternatives for those that are willing to spend money.
Supsystic's Google Maps solution Google Maps Easy ($39 for the pro version), and their Google Maps alternatives plugin Ultimate Maps by Supsystic (also $39 for the pro version), are set up much better in this regard. Both WordPress plugins give you access to hundreds of options in the free version and include many features that other developers charge for. They are definitely worth looking at.
Other free Google Maps plugins to check out are Intergeo Maps, Google Maps CP, WP Google Map, Novo-Map, and Flexible Map.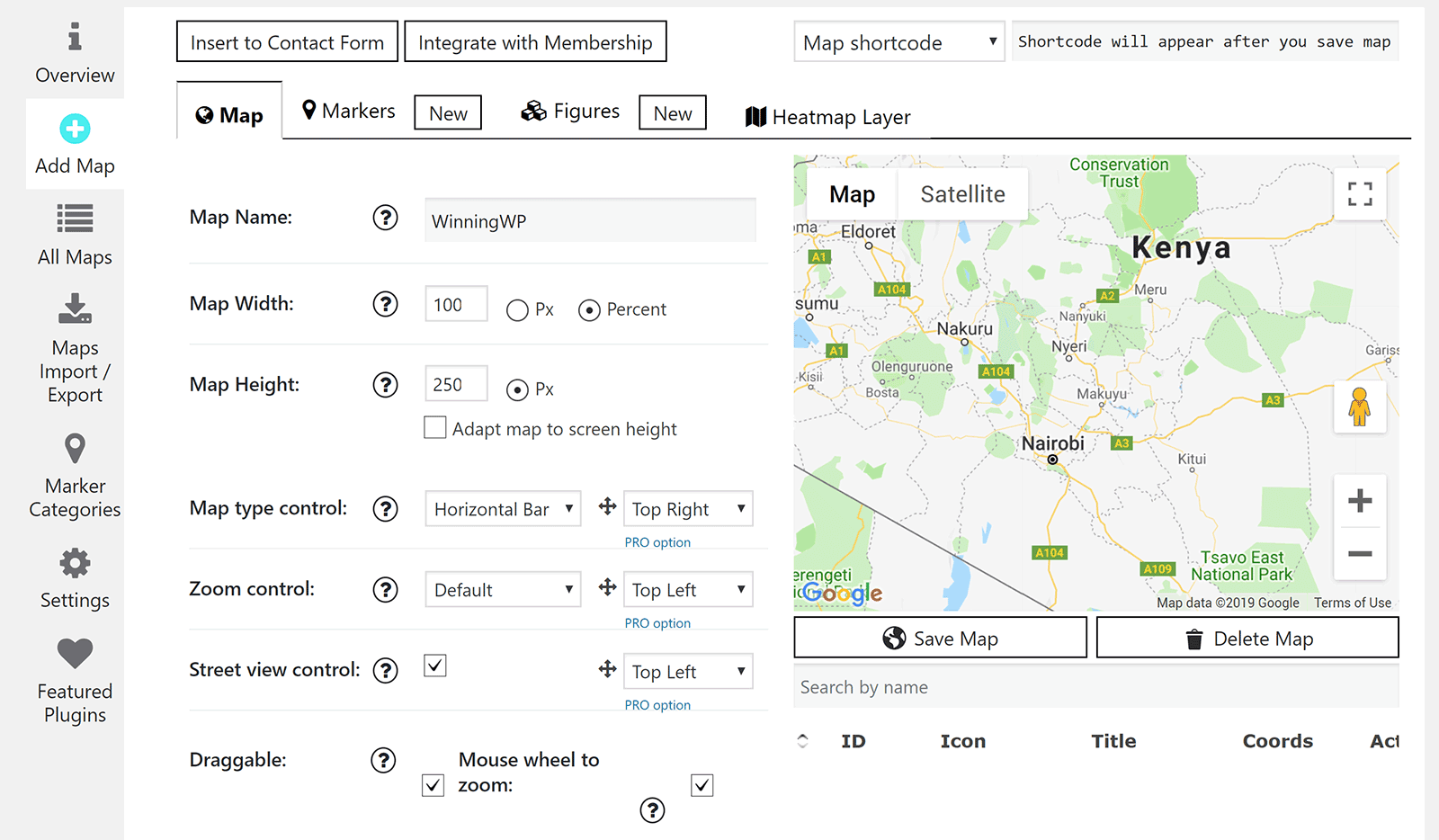 Finally, we have the premium Google Maps solutions that are available on CodeCanyon. We have looked at some already, including Google Maps Locator plugin for WordPress, Hero Maps Premium, and Store Locator (Google Maps) For WordPress; however there other good options on CodeCanyon too.
In particular, 5sec Google Maps PRO ($20) and Google Maps ($20) stand out for me due to the number of features and options they offer and their professional map designs.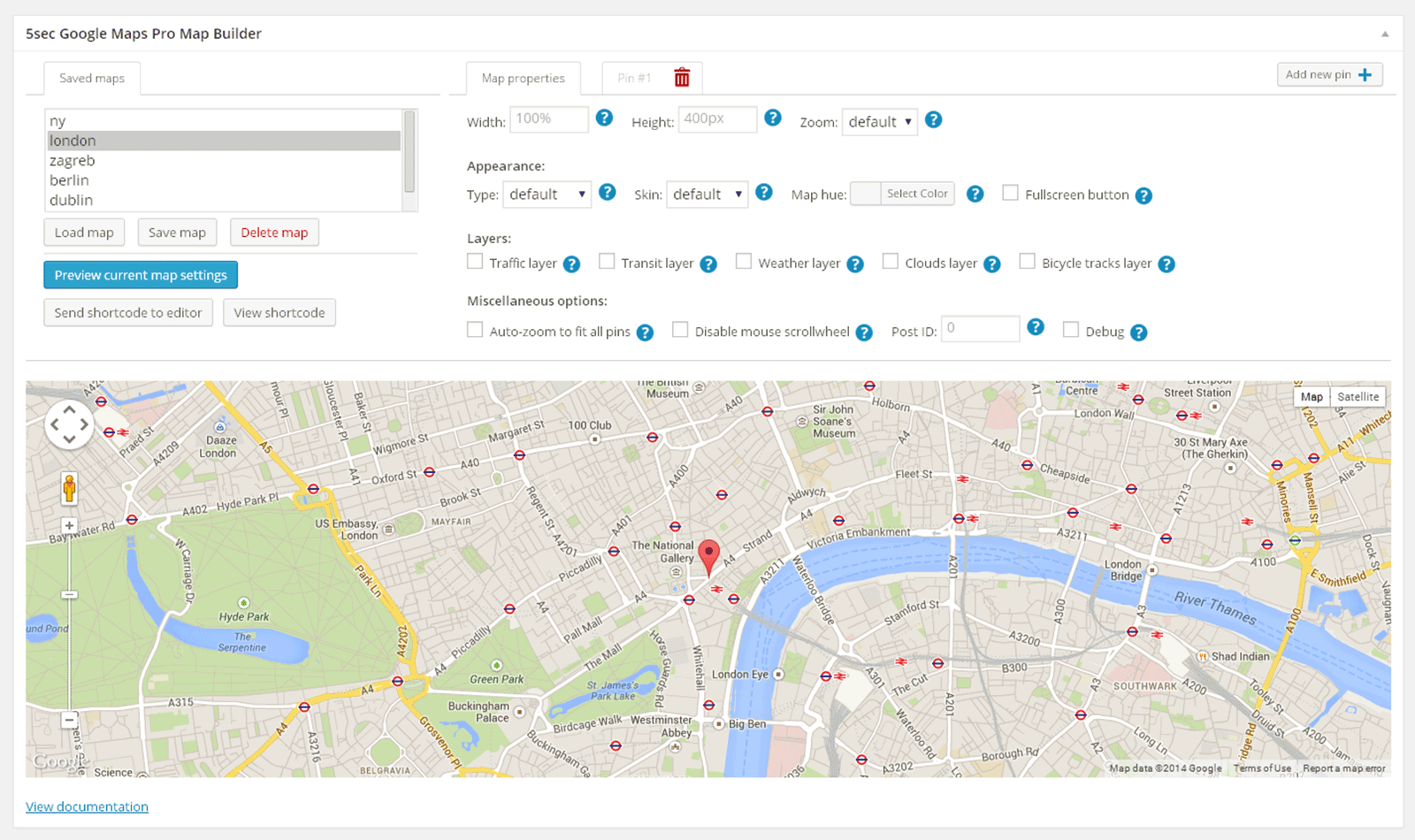 Be sure to also check out WP Advanced Google Maps ($30), Advanced Google Maps ($13), and Responsive Styled Google Maps ($16).
Final Thoughts
I hope you have enjoyed this look at the best Google Maps solutions for WordPress.
I did not find that one particular Google Maps WordPress plugin was "The Best". It really does come down to what your budget is and what your needs are as most solutions offer some features that are not found elsewhere.
You should therefore test as many solutions as you can to see which one fits you and your website best.
With over 400,000 active installations, WP Google Maps is a ggood starting point to see what is possible with Google Maps, however if you are not looking for advanced features you should definitely give basic solutions such as Simple Google Maps Short Code and Google Maps Widget a try.
What's your favorite Google Maps plugin? Thoughts?
Related posts