This
article
was originally published on
this site
Online radio has been popular for many years and now it's easier than ever to create your own radio station. Of course, it's also easy to embed your radio station's stream into your Divi website. In this article, we'll look at how to create a streaming radio station with WordPress and Divi.What is a Streaming Radio Station?
Online radio is similar but different from a podcast. With a podcast, you can record your audio as an episode and upload it to your website and many podcast hosts, such as iTunes and SoundCloud, where listeners can stream or download the episode to listen when they want.
With an online radio station, your audio streams to your listeners live from a server. Create your own content, stream music, talk shows, preaching, old-time radio dramas, and more. It's similar to a regular radio station, but the listener uses a website player or mobile app to hear the audio. You can submit your radio station to internet radio directories.
Types of Broadcasting
There are two ways to broadcast your stream and you can do them in combination.
Automated Broadcast
It's possible to automate your broadcast so you don't have to attend the station 24/7 in order to remain on the air. The system will play your playlist and pre-recorded audio according to the schedule you set up.
Live Broadcast
With live broadcasting, a DJ talks over the air to the audience in real-time. This is the best way to connect to your radio listeners. You can talk to your listeners, have them call in, do phone interviews, etc.
Equipment
You don't need a lot of equipment to run an online radio station. You can start cheap and upgrade as you need to. Here are the basics.
Studio – you need a quiet place where you can talk on the radio without interruptions and without external noise. A corner of a room would give you some good acoustics, but you could be anywhere as long as you like the sound.
Computer – if you plan to stream the content yourself then you'll need a dedicated computer with a lot of storage.
Microphone – this is only needed if you plan to talk on the air. Consider how many people will be talking into the same microphone. Also, you'll need a stand with a shock mount and a pop filter, and, depending on the level of quality and number of microphones you want, a mixer. Practically any microphone setup that's good for podcasting is good for online radio.
Headphones – this is needed so any sound coming through your speakers won't be picked up by the microphone. This allows you to confirm you're on the air and hear your guests and callers.
Internet connection – you'll need a fast and reliable connection to stream audio.
Broadcasting Software – you can host the stream yourself using free software or use a service. A service can handle streaming, management, statistics, and other needs. There are lots of services and they vary in bandwidth, storage, listener caps, etc. They provide a stream URL and the player and apps use. Some handle the licensing for commercial music. Some store the content for you, while others stream from your computer.
Licensing and Royalties – check the broadcast laws in your country. In the US, see the FCC rules on Public and Broadcasting.
Recording, Mixing, and Streaming Tools for Internet Radio
The manual method won't cost you anything to stream the content, but you'll still need to pay for licensing if you use copyrighted content. Here are some great tools to broadcast to your radio station.
Icecast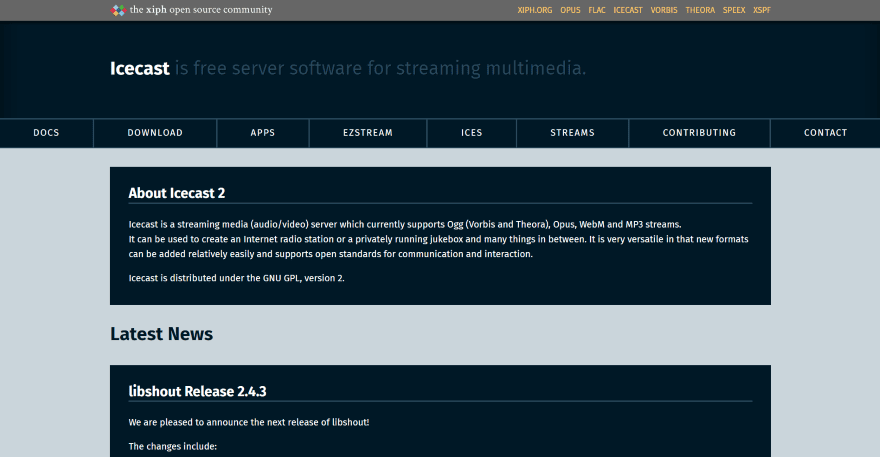 Icecast is free streaming software for both audio and video. You can stream your internet radio as an MP3 stream.
More Information
RadioDJ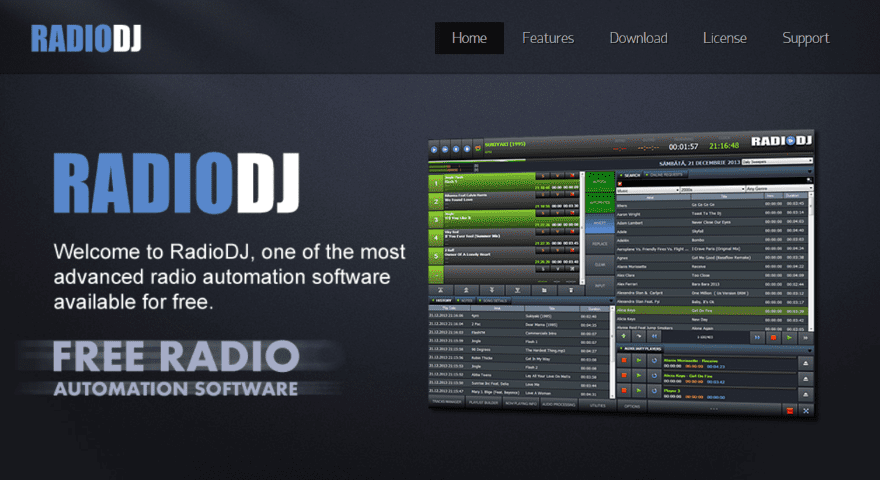 RadioDJ is free radio automation software for Windows that integrates with Shoutcast and Icecast. It's complex and difficult to use, but it's the most comprehensive of the free options.
More Information
BUTT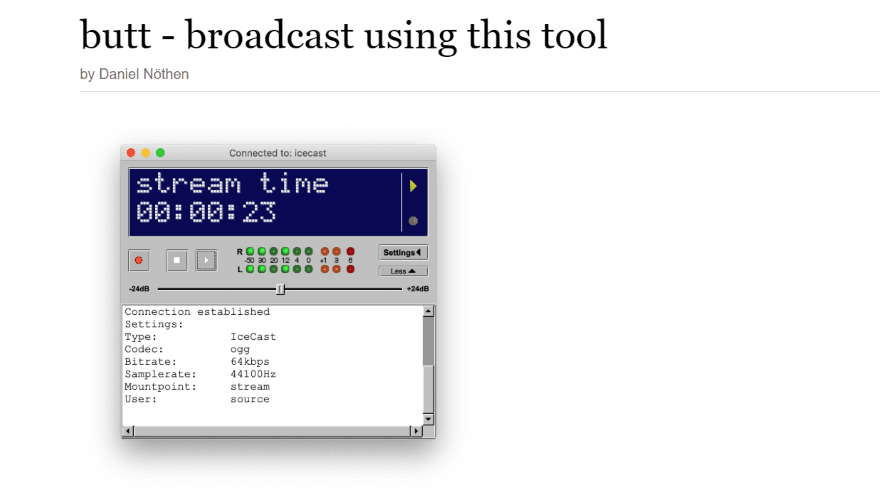 BUTT (Broadcast Using This Tool) is a free app for Windows, Mac OS X, and Linux that streams live audio from your computer to Icecast or Shoutcast. It's simple and was designed with beginners in mind.
More Information
MIXXX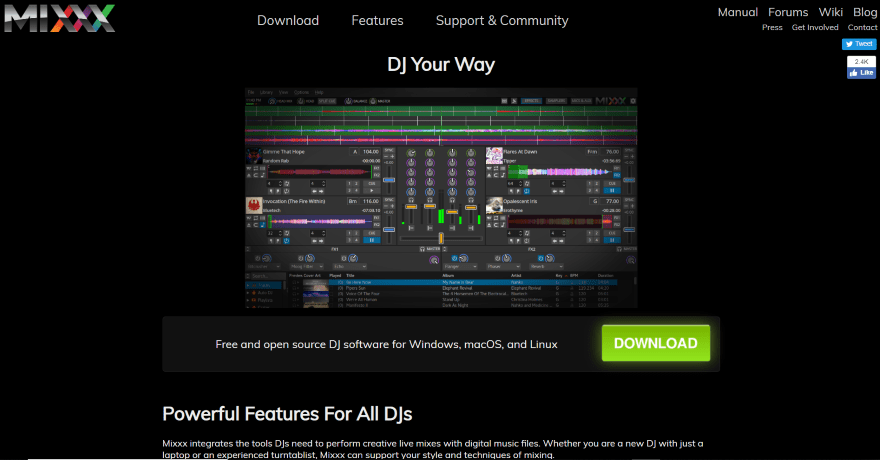 MIXXX is free DJ software for Windows, Mac, and Linux that lets you mix and record your audio for streaming through Icecast or Shoutcast.
More Information
Streaming Services
The advantage of services is the extras they offer, such as easy media library management, scheduling, widgets, players, mobile apps, social media tools, monetization, statistics, etc. Some even handle the licensing for you. Simply set up your station, user roles for DJs and Program Managers, upload your audio, set up your schedule and playlists, and start broadcasting. Here are some excellent options.
Radio.co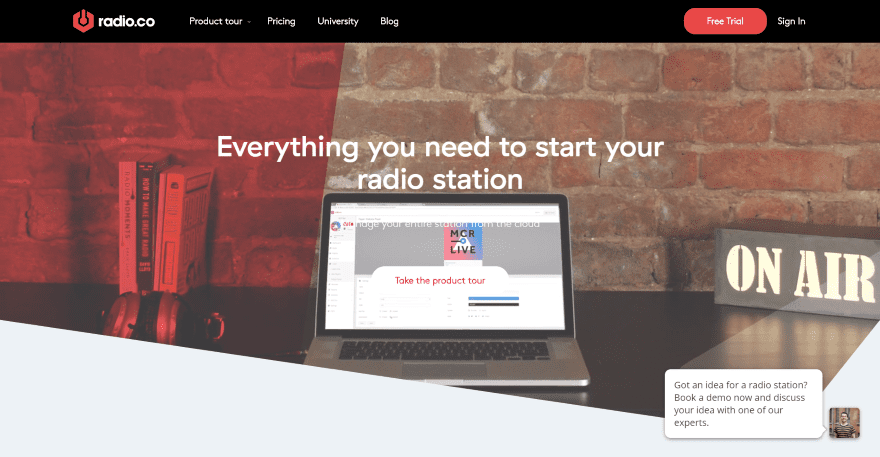 Radio.co includes all of the tools you need including mobile apps for iOS and Android that's built around your brand. Files are stored on and streamed from their servers. Quality ranges from 192-320k. Prices range from $29-299 per month.
More Information
Shoutcast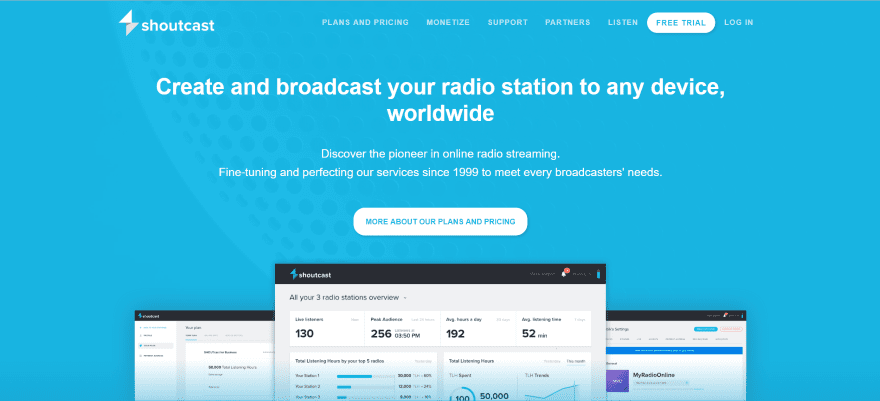 Shoutcast has services where you can host and services where they can host, with both live and recorded broadcasting. You can have unlimited radio stations. They provide an HTML5 player. It supports Amazon Echo. Quality ranges from 128-320k. Prices range from free (you host), $14.90 for business (they host), and up per month.
More Information
Live 365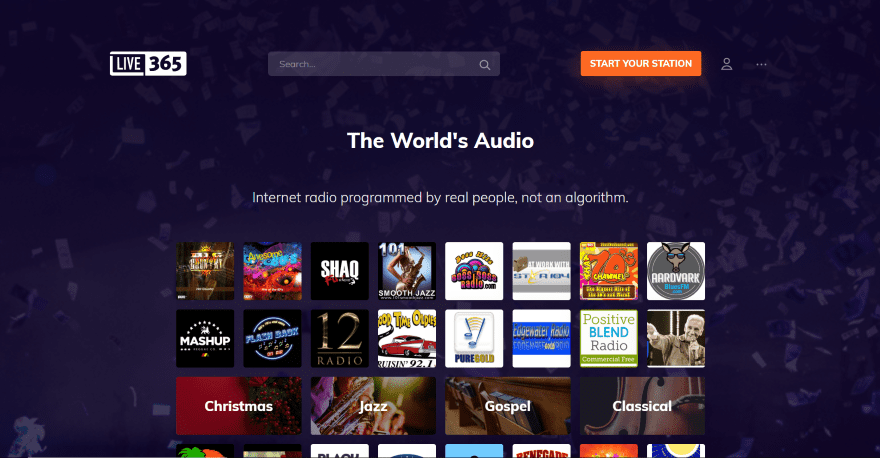 Live 365 provides all of the station management tools including licensing for US, Canada, and the UK. It streams at 128k. Files are stored on their servers. It includes live broadcasting and all but the free trial plan includes unlimited listeners. Plans range from $59-199 per month.
More Information
RadioKing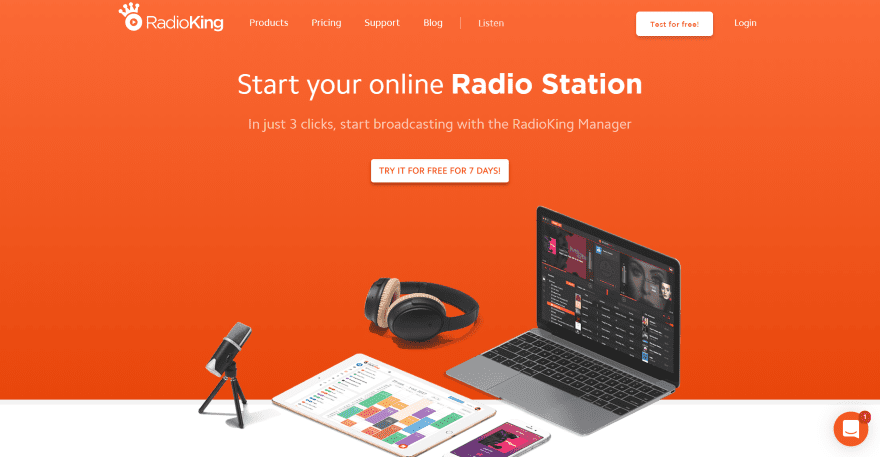 RadioKing stores your files on their server. You can schedule or broadcast live. It streams at 320k and includes widgets and a player you can embed anywhere (including Facebook). It includes mobile apps and Alexa smart speaker integration. Prices range from £16-65 per month.
More Information
StreamGuys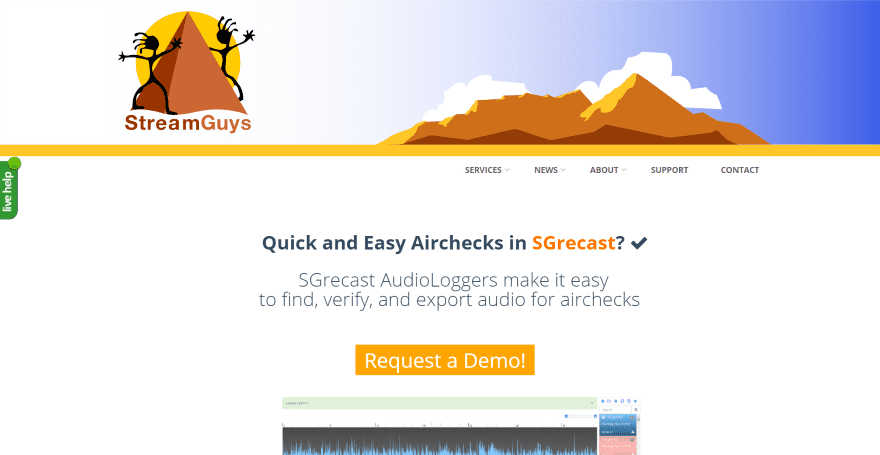 StreamGuys provides lots of services for streaming media including live broadcasting. They can build a custom player for your website. Files are delivered via CDN. All work is custom, so prices are not provided.
More Information
Airtime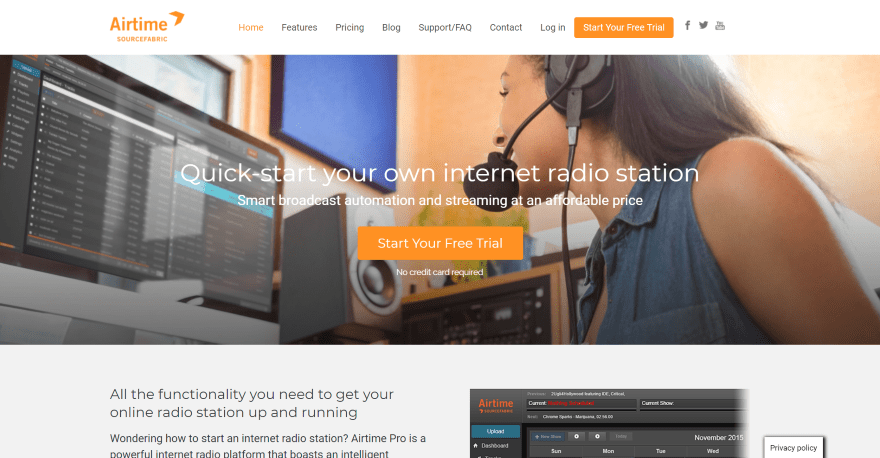 Airtime provides all of the software to build and manage your radio station. It includes lots of scheduling tools and you can broadcast live, which integrates with tools such as Icecast and MIXXX. Quality ranges from 128-196k. Prices range from $9.95-99.95 per month.
More Information
VosCast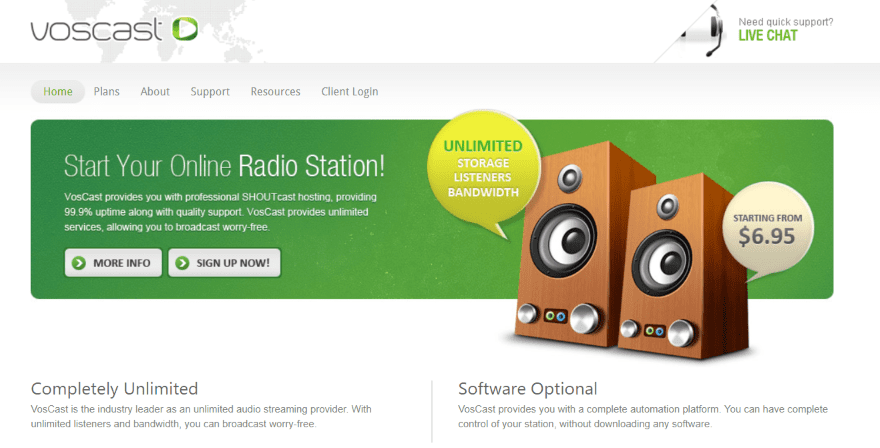 VosCast provides SHOUTcast hosting with an automated platform. It has unlimited storage, bandwidth, and listeners, and a Flash player. Quality ranges from 28-192k. Prices range from $6.95-48.95 per month.
More Information
Citrus3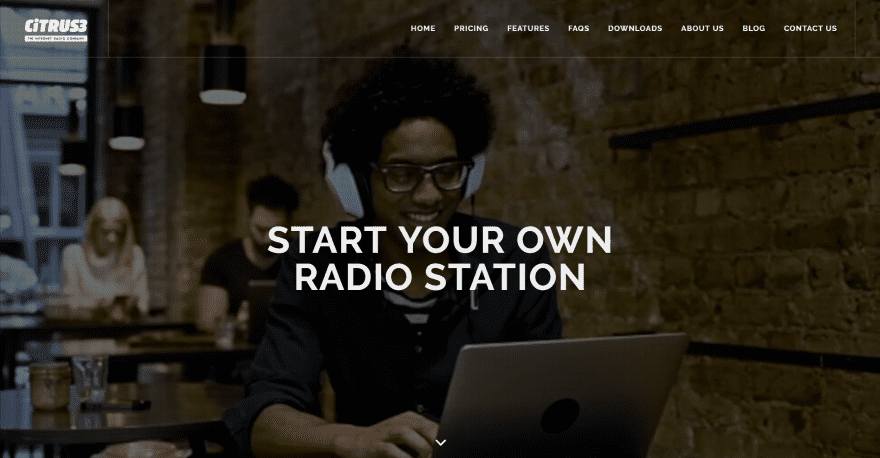 Citrus3 lets you stream from your computer or their servers and you can broadcast live. It includes mobile apps and an HTML5 player, unlimited listeners, and unlimited DJs. Quality ranges from 128-256k. prices range from $19-69 per month.
More Information
Streaming Players
Most services include free HTML5 players and you can use players such as Winamp. It's also possible to use WordPress plugins and even Divi's audio player module. Here are a couple of excellent media players that will play your radio stream. These can be embedded into your website and provide multiple options.
WonderPlugin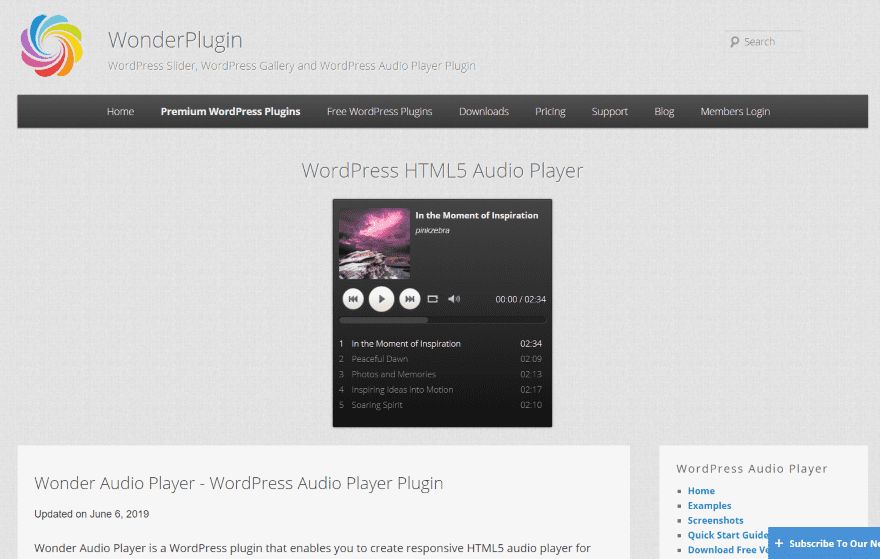 WonderPlugin has both a free and a paid version. You can create as many players as you want. It includes lots of options and customizations including CSS so you can customize it to fit your site's design.
More Information
CP Media Player



CP Media Player has both a free and premium version. It will play streaming audio and it includes 10 skins so you can change the design. You can also request a design.
More Information
Integrating your Radio Station into Divi
Divi is well-suited to build your radio station's website. Even though Divi's audio module will play streaming audio, you'll want to use a media player that can be embedded into your Divi layouts for the most features, such as album art and meta information. Here's a look at how to create the stream and integrate it into Divi.
Step 1: Create the Stream


Once you've set up your streaming service, upload your library or connect to the library on your computer (this is overly simplified and will vary depending on the service you choose). This is the dashboard for Citris3 from GAMRadio.



Next, you'll need to connect the streaming service to a player such as a website player or app. Get your link from the settings to paste into the player.
Step 2: Create the Audio Player



Upload and install your plugin. This is WonderPlugin. Click to add a new player in the dashboard menu. Provide the player with a name that makes sense to you.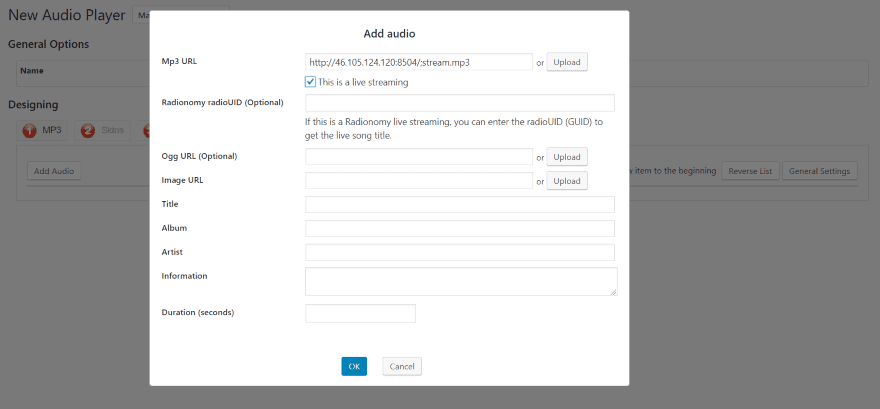 Under the MP3 tab, select Add Audio. Paste in the URL of your stream into the MP3 URL field and check This is a live stream. Click OK. The player can have multiple streams that the listener can choose from. Select Add Audio again to add another stream into the same player.


Choose Skins and select the skin you want. There are 19 options, and you can customize each one with CSS.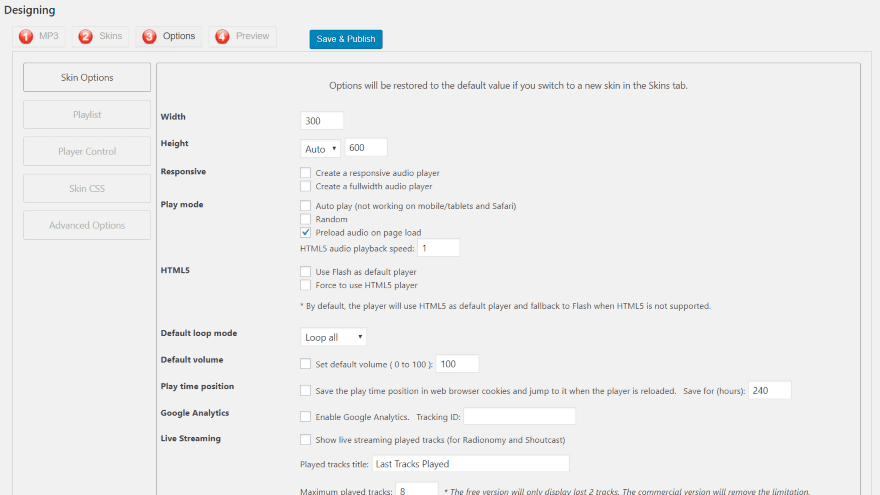 Select Options. Here, you'll see several tabs with features that you can adjust. The Skin Options tab lets you change the size, make it responsive, choose the play mode, use Flash or HTML5, use Google Analytics, set the live streaming options, etc.


The Playlist tab lets you show the list and set the number that displays.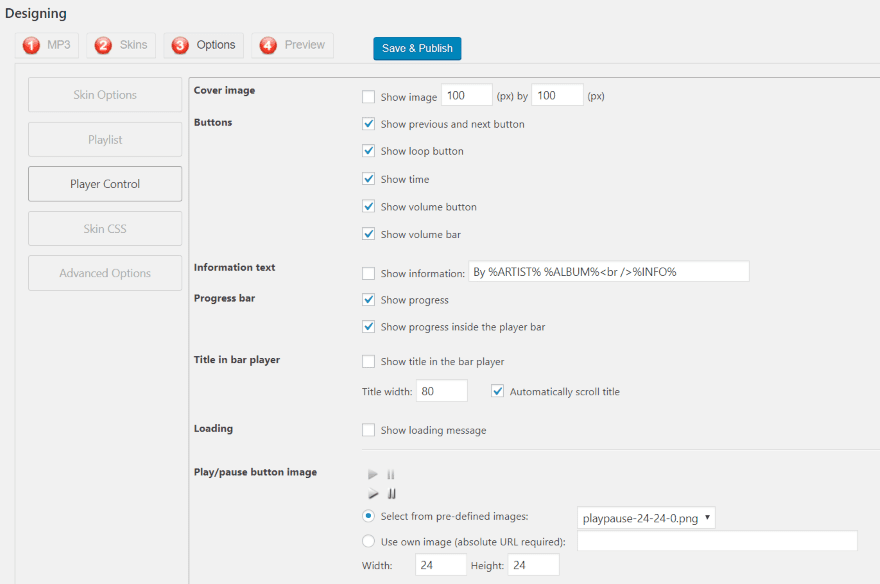 Player Control lets you choose which buttons to display, how to show information, adjust the titles, add your own buttons, etc.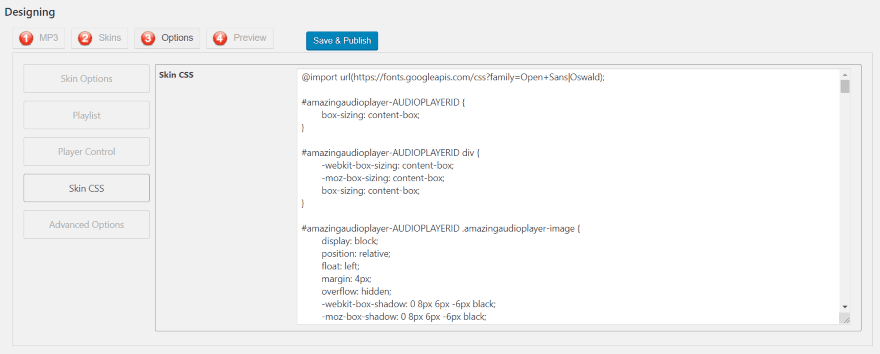 Both Skin CSS and Advanced Options give you fields for CSS. Add your customizations here.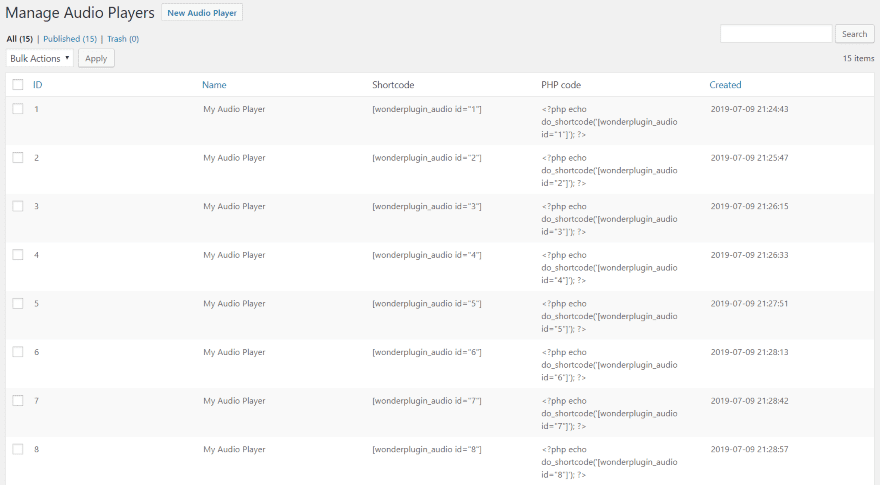 Once you publish the player it will show up in the list. Here, you'll see the shortcodes that you can copy and paste where you want the player to display.
Step 3: Embed the Audio Player into Divi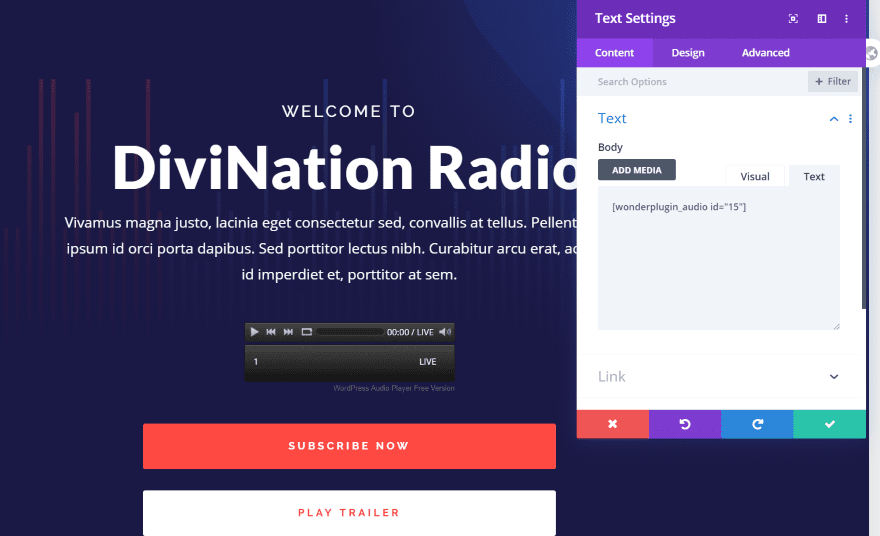 Paste the shortcode into your Divi layout. I'm using a text module.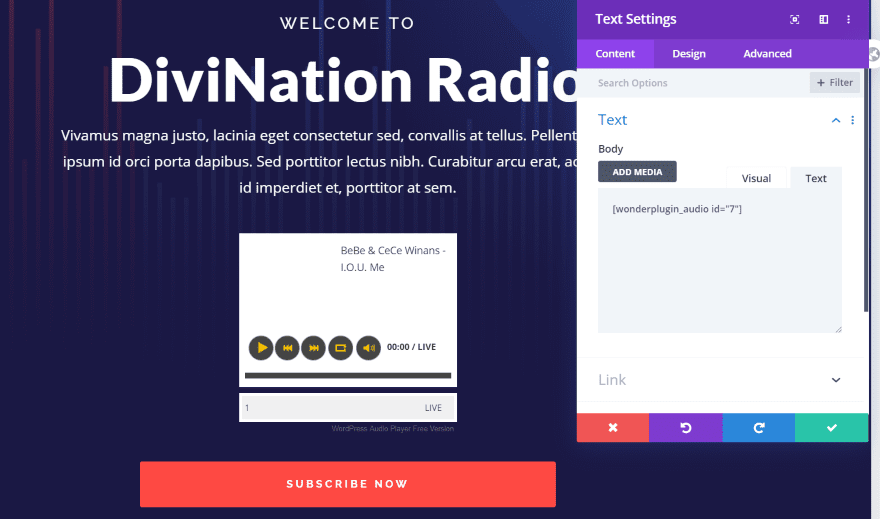 You can easily change the style by a new player or changing the skin of the player. The pro edition would show album art.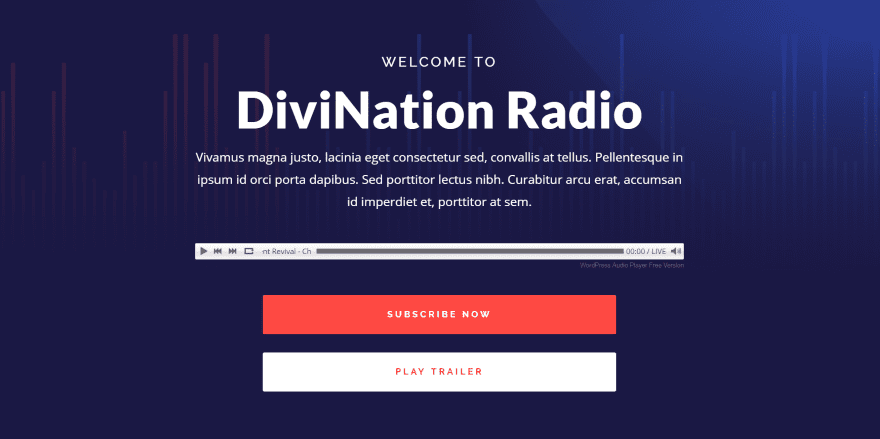 This is one of the slim options. I set it to 800 width and auto for height. I've also set it to responsive. It scrolls the track name. I could customize it further with CSS.
Ending Thoughts
That's our look at how to create a streaming radio station with WordPress and Divi. With today's apps and services, it's not that difficult to create a radio station in just about any price range. And with Divi, your radio station will look and sound great.
We want to hear from you. Have you created a radio station with WordPress and Divi? Let us know about your experience in the comments.
Featured Image via BUB00 / shutterstock.com