This article was originally published on this site
Are you interested in using a lead generation software to grow your business?
One of the most common questions we get from business owners and marketers just like you is, "How does OptinMonster work?
To help you determine if OptinMonster is the right fit for you, we're going to go over 8 tangible benefits our clients see from using our software on a daily basis.
By the end of this post, you'll know exactly how OptinMonster will get you more traffic, more leads, and more sales.
But first, let's get clear on what OptinMonster is and what we strive to do every single day.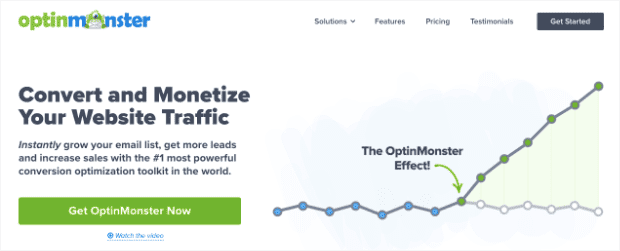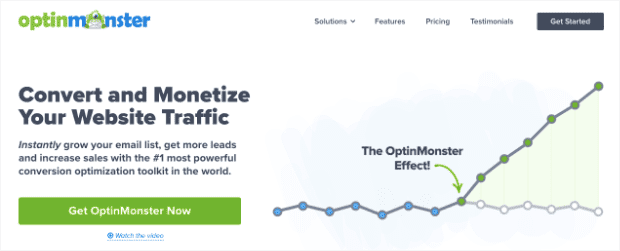 What Is OptinMonster?
OptinMonster is the world's #1 conversion optimization toolkit. Having started in 2013, we've had the chance to work with some pretty big names, including:
Playstation
Bloomberg
Shutterstock
McAffee
Among others.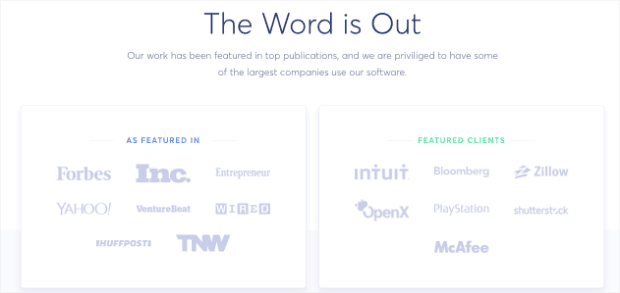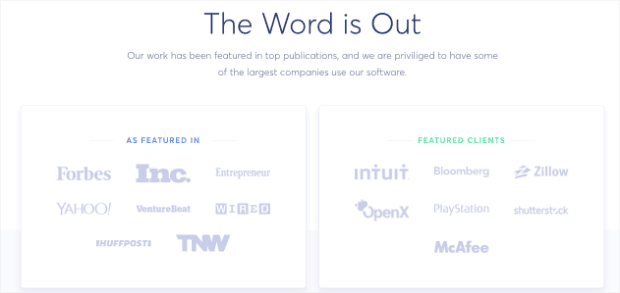 But at the heart of OptinMonster, our goal has consistently been to level the playing field for small and medium-sized companies that don't have the same marketing budgets as larger businesses.
In other words, we give companies of all sizes the best tools on the market at a price they can afford. And because of that, we've seen some pretty amazing results for small companies–even when they compete with "the big guys."
Later in this post, we'll get to 12 concrete examples of how businesses have used OptinMonster to get major results. But now, let's take a more global view of our software and look at 8 tangible benefits of OptinMonster.
Note: Would you rather just dive right in and take action now? Join OptinMonster today, risk-free to start driving traffic, increasing conversions, and making more sales today!
8 Tangible Benefits of OptinMonster
Below, we'll cover the following 8 benefits of using OptinMonster:
1) Grow Your Email List With Multiple Approaches
At OptinMonster, we give our customers more tools for getting conversions than any competing software on the market. And that includes multiple campaign types to build the perfect conversion strategy for your business.
The campaigns you can build with OptinMonster include:
Lightbox Popup
Fullscreen Welcome Mat
Slide-in Scroll Box
Floating Bar
Countdown Timer
Sidebar Form
Inline Form
Content Locker
Coupon Wheel Optins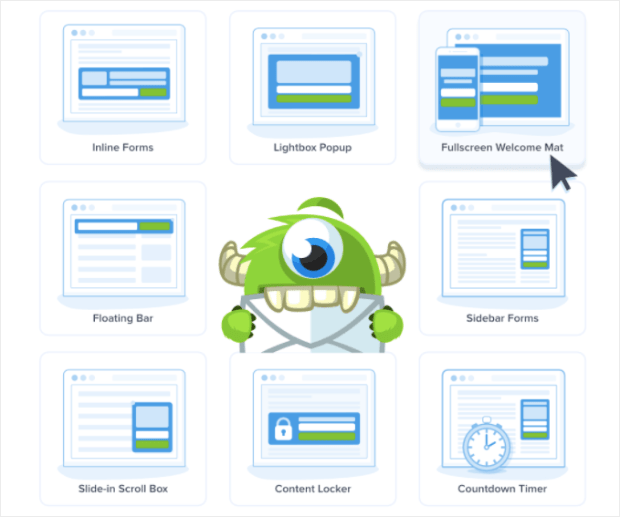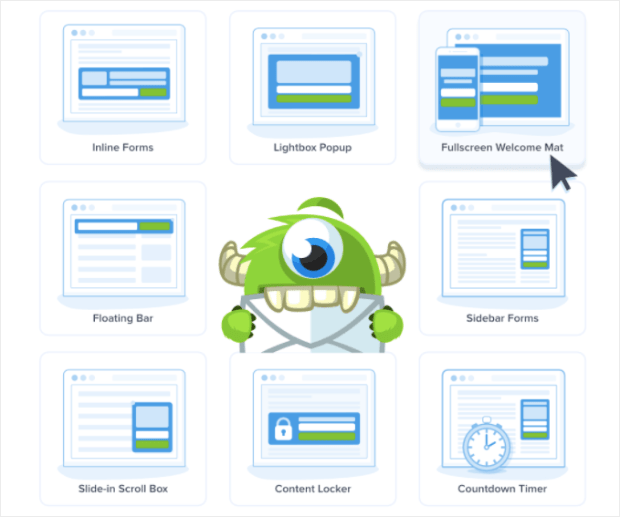 By using multiple approaches to convert your audience, you drastically increase your chances of getting more email sign-ups and sales.
2) Attract Leads from All Devices in Less Time
At OptinMonster, we offer our users over 50 pre-built templates that work across desktop, tablet, and mobile devices.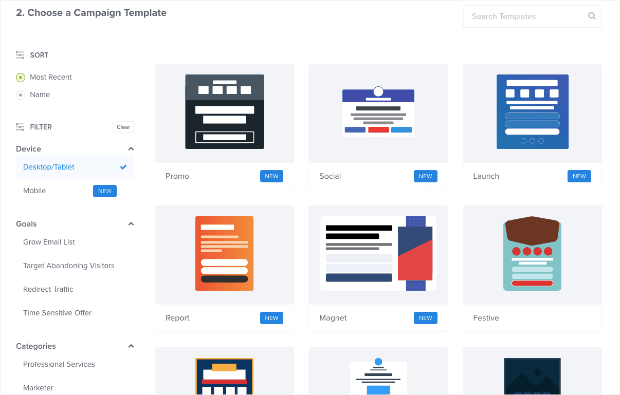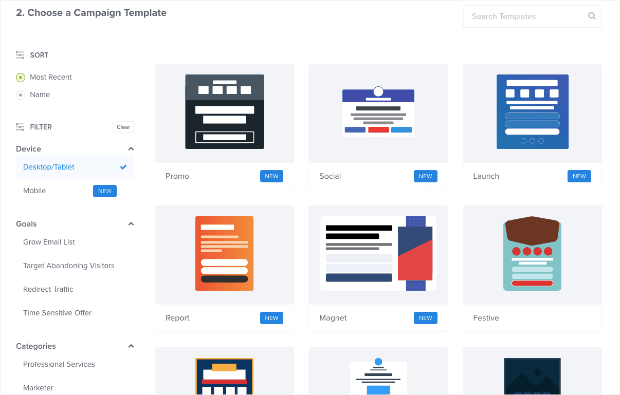 Our clients can build campaigns in a matter of minutes and have them perfectly optimized for whatever device their audience uses.
After all, the way your campaign appears is likely the difference between losing a lead or gaining a loyal customer.
And even though all campaigns are responsive, we recommend using mobile templates for mobile devices because they improve page loading time, look great on smartphones, and have been proven to boost conversions on mobile.
That's why we make it so easy to choose which template is best for your audience. You can easily filter our templates by device: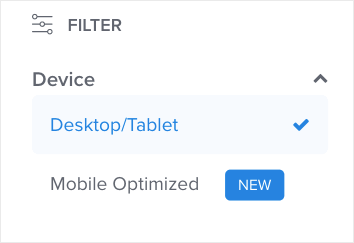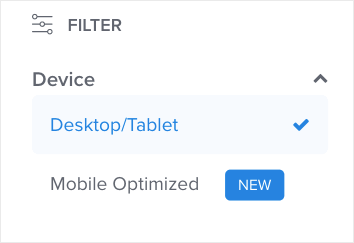 That said, even our Desktop/Tablet templates still work great on mobile devices.
So no matter which template you choose, you can feel confident about your campaigns appearing beautifully across all devices.
This confidence also comes with more time to focus on other areas of your company. That means you're able to generate more revenue from your business in less time.
3) Build Brand Awareness With Stunning Designs
We just mentioned that we have tons of templates you can choose from to save you time. But many of our customers want campaigns that are a little more… unique.
And we totally get it.
That's why we built a powerful drag and drop editor that allows users to customize every aspect of a campaign to their brand's voice, message, and style.
How does it work?
We made all our campaigns contain elements we call "blocks." You can simply click on whichever block you want to edit to pull up the editing tools on the left-hand side of your OptinMonster editor.
So if you wanted to change text on any template, for example, you would just click on a text block to make the editing tools appear: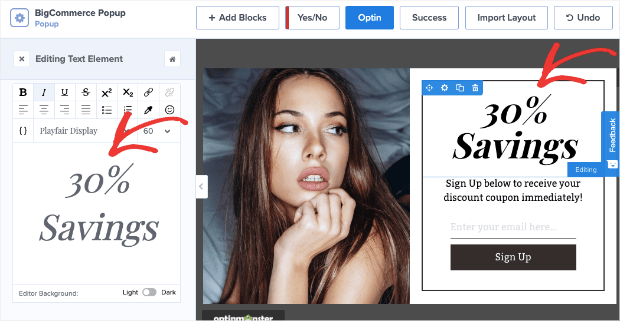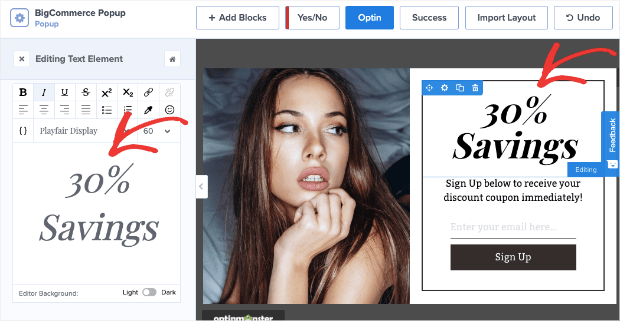 You can also add a variety of new blocks with a drag and a drop: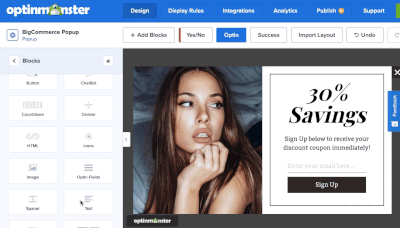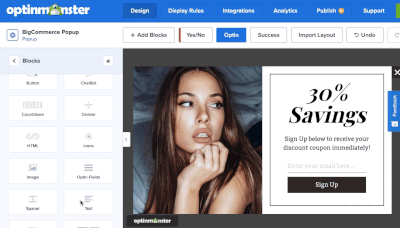 It's important to us that our users have the freedom to easily tailor an optin campaign to exactly how they want it.
This also had to be true for users who aren't web designers.
With OptinMonster, you can build personalized campaigns that not only get you more leads but also build your brand's awareness in the process.
Here's an Exit-Intent® popup that was designed by Top 6 Digital: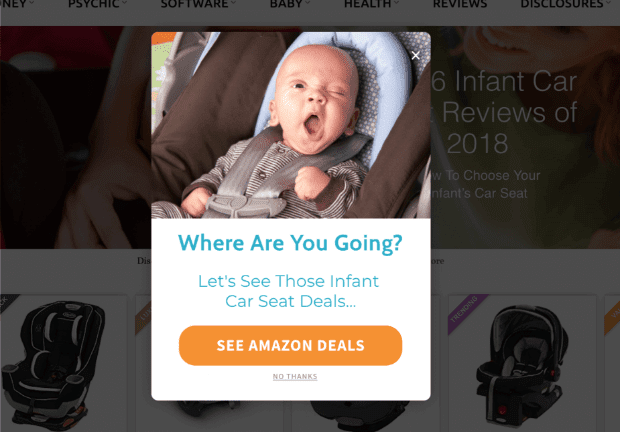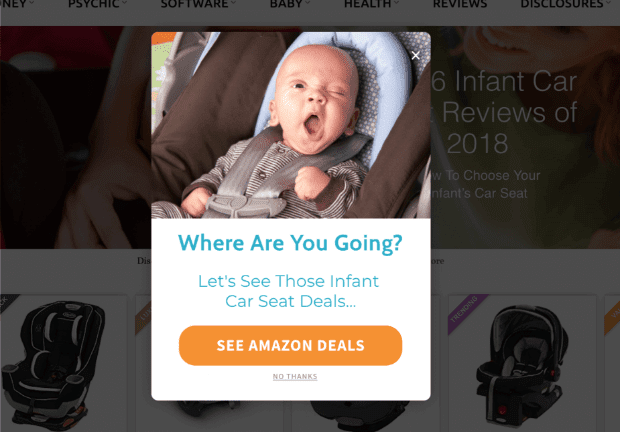 Not only was this campaign made in just a few minutes, but it also got Top 6 Digital to increase their client's sales by 30%, redirected 62% of abandoning visitors, and converted 17.31% of targeted subscribers.
Because our drag and drop editor makes it easy to customize designs, you can build powerful campaigns that your audience will remember.
4) Attract Paying Customers, Not Generic Leads
OptinMonster offers more targeting and trigger options than any other software around.
That's because building beautiful campaigns in a matter of minutes is only half the battle. The other half is getting those campaigns in front of the right people and at the right time.
We make sure we empower our clients, big or small, to personalize where, when, and how they display their optin campaigns across their site.
This kind of personalization lets you create a stronger connection with both potential and current customers, leading to more conversions.
At the end of the day, that means more profit for your business.
We help you attract new customers through:
Time on page
Time on site
InactvitySensor™
Date
And many other targeting options.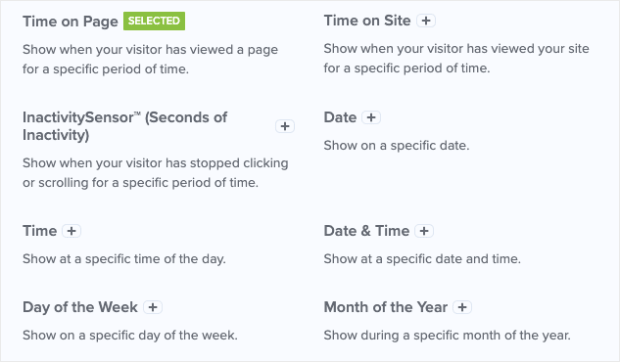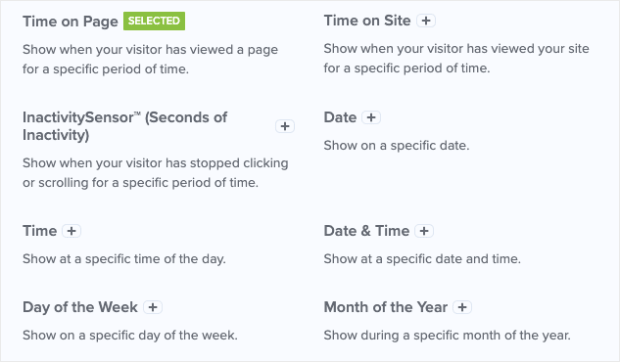 We also include powerful triggers, such as:
Page-level targeting
Geo-location
Shareable MonsterLinks™
Referral targeting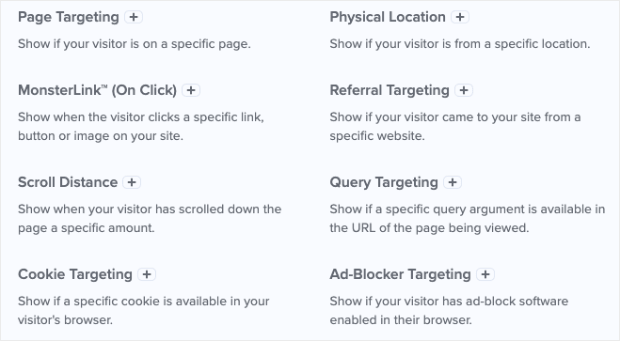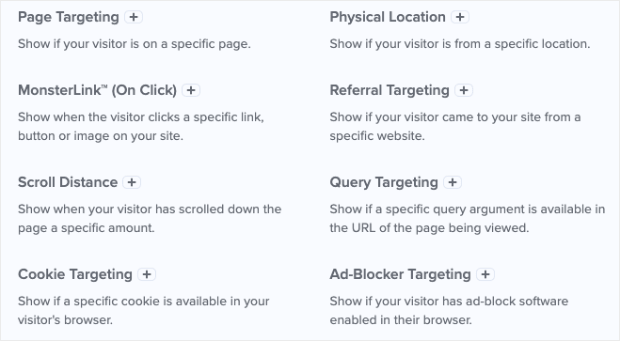 And, again, many more. 😉
Plus, we've conveniently put all of these targeting and trigger options in an easy-to-use menu directly in your OptinMonster editor: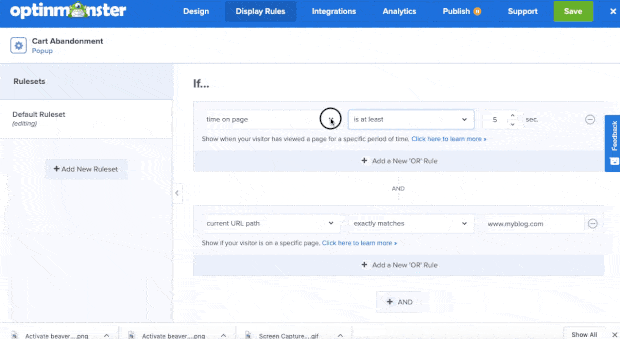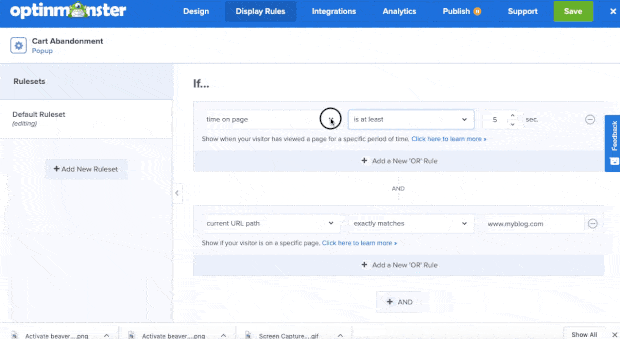 Our targeting and trigger options make optin campaigns personalized.
That way, you can create more effective campaigns that don't just bring you leads, but lifelong paying customers for longterm profits.
5) Generate More Revenue From Your Email Campaigns
One of the things that we are most proud of at OptinMonster is how flexible our software is. We wanted to make sure that it worked seamlessly with our clients' marketing tools so they could set up a powerful system and run it on autopilot.
That's why we made sure we natively integrate with over 30 email service providers (ESP) in a matter of seconds. And if you don't see your email service provider on our list of native integrations, don't worry.
Because OptinMonster connects with every email service provider on the market.
Here's what WinningWP had to say about how easy it is to integrate OptinMonster with your email provider:
Integrating your new form with your email list service of choice is as simple as selecting the option from a drop-down list, and then authorizing your account.
Like everything else we do, we made sure that integrating your email list would be easy even if you don't consider yourself "tech-savvy." Most email service providers can be added through an intuitive drop-down menu: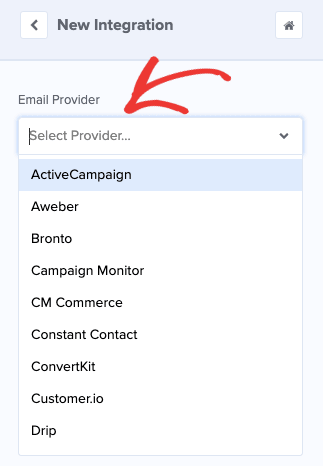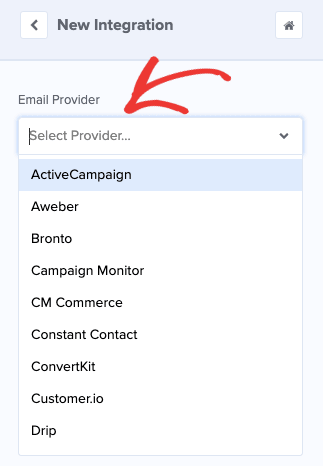 This is important because these integrations allow you to keep your audience organized from your lead generation tool. Once you connect your ESP, you can add the right tags you need to organize your new leads: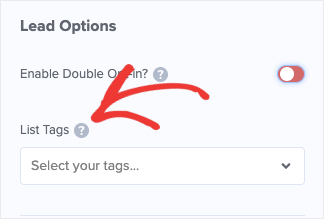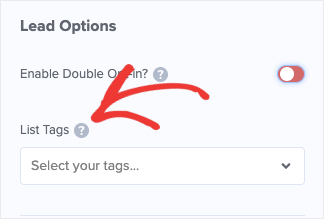 With the right tags, you can write persuasive email copy based on where your audience is in their customer journey.
This increases your conversion rates and ultimately converts more leads into paying customers.
And it all starts with being able to quickly hook up your lead generation tool to your email service provider in an intuitive way.
6) Stop Feeling "Stuck" With Your Optimization Strategy
One of the most common pieces of feedback we get is how amazing our customer support team is. Here's what one of our clients had to say on the popular review site, G2:


We pride ourselves on our customer support team, but also helping our users empower themselves.
One of our primary goals is to make sure our users never feel "stuck" in their marketing strategy. That's why we develop tons of resources to help business owners, marketers, and entrepreneurs grow with our service, including:
A blog
Video tutorials
Written documentation
A Facebook group
And, of course, that winning customer support team.
We provide all of these resources to make sure that you never feel"stuck" with your conversion strategy. Our team supports you on your journey to grow your business.
Even if you're a team of 1, you won't have to do it alone.
7) Save Money by Scaling Your Plan
We want to make sure that all of our users are only paying for what they need to get their business to the next level. Once your company has grown, you can upgrade for more features to further expand.
Our goal has always been to help small and medium-sized businesses compete with "the big guys." That means it's important for us to offer fair pricing for the tools you need regardless of how big your company is.
Here's a breakdown of our pricing plans:
Basic: $9/month
Plus: $19/month
Pro: $29/month
Growth: $49/month
Since our paid plans allow you to scale as you grow, you always get the most value for your money. And since our tools are so effective, you can rest assured knowing you've invested in a product that will likely pay for itself.
8) Feel Confident in Your Conversion Strategy
So many marketers make the mistake of creating a simple optin campaign and letting it run mindlessly on their site.
It's not that they don't care; they just don't have the time to meticulously track a campaign's success to make smarter, data-driven choices about their conversion plan.
That's why we made our analytics report ridiculously simple to understand. As soon as you open your OptinMonster dashboard, you'll see 3 key metrics under the name of your campaign:
Visitors
Conversions
Conversion Rate Percentage


With this data, you can create focused goals for your campaigns and measure their success. If you aren't sure why a campaign isn't performing as well as you want, you can easily create split tests with the click of a button.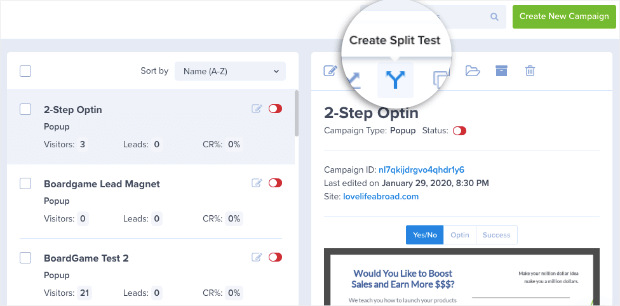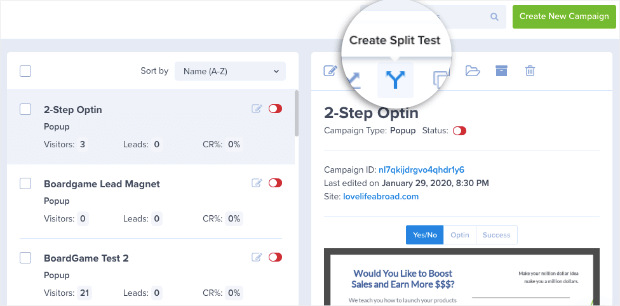 Then you simply compare the data of both campaigns, choose the winner, and optimize your conversions.
If you want more detailed analytics, you can pull up your report. It will breakdown your conversion rate by date and give you more information you can use to tweak your campaign.
But no matter how you use the data, the point is this:
With OptinMonster, you can feel confident that you're making the most out of your conversion strategy.
Because rather than "going with your gut," you can let the data help you make the smartest decisions for your company's growth.
Now we've covered 8 benefits of working with OptinMonster. But, at the end of the day, everything boils down to this:
With OptinMonster, you can confidently generate more revenue in less time.
And we know you can because we've seen it happen so many times with our current clients. Let's take a quick look at 12 cases of our customers who saw massive success using OptinMonster.
12 Success Stories from Clients Using OptinMonster
1) Adam Enfroy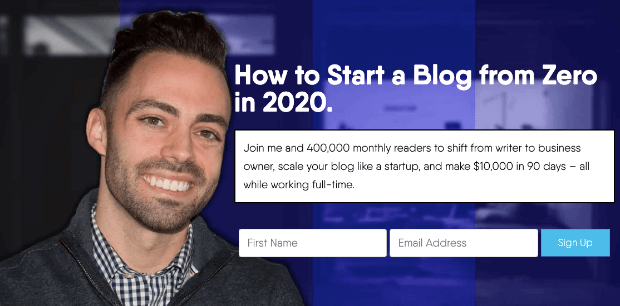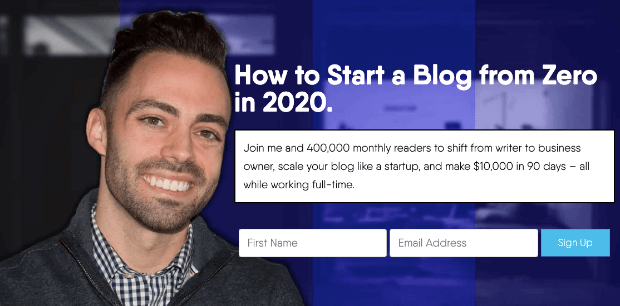 Adam Enfroy is a professional entrepreneur and blogger. He used OptinMonster to grow his email list to over 11,000 subscribers in just 1 year. It's one of the reasons why he argues OptinMonster should be used by every business on his website:
According to his latest monthly revenue reports, Adam is using OptinMonster to generate over $74,000 in sales each month.
2) ReliableSoft


ReliableSoft is a digital marketing agency that used a multi-campaign approach to increase sales and conversions. With OptinMonster's Exit-Intent®, slide-in, and floating bar campaigns, they boosted email sign-ups by 300% and overall sales by 20%.
3) AutoAnything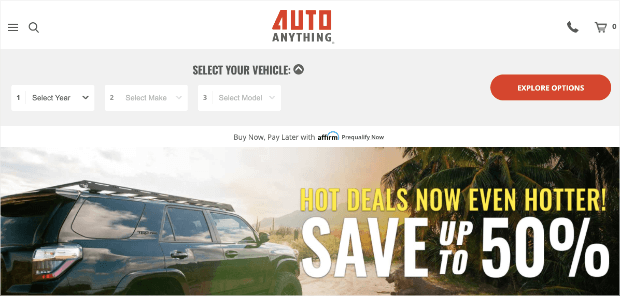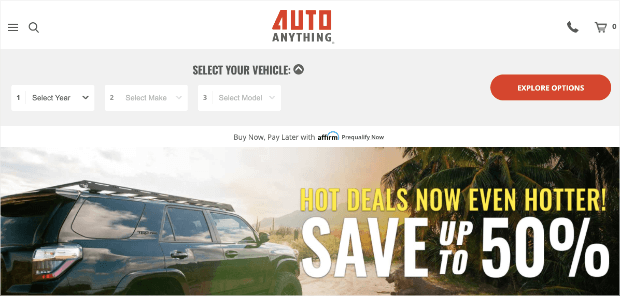 AutoAnything is an online retailer of automotive products. Now, you may not think of companies like this needing large email lists. But it just goes to show how the right lead generation tool can help no matter what business you're in!
They used OptinMonster to more than double their email list sign-ups to send promotions, company updates, and exclusive offers to their subscribers. Overall, they saw more than a 20% increase in revenue generated from their email list.


Bonjour Lisbonne is a tourism site that used OptinMonster to generate over 20,000 visitors, double their email sign-ups, and see more than a 30% increase in overall sales. They did this by using a lead magnet combined with a simple exit-intent popup.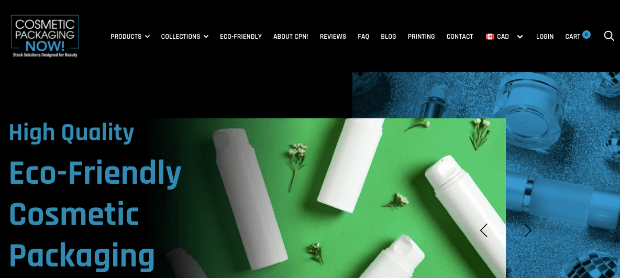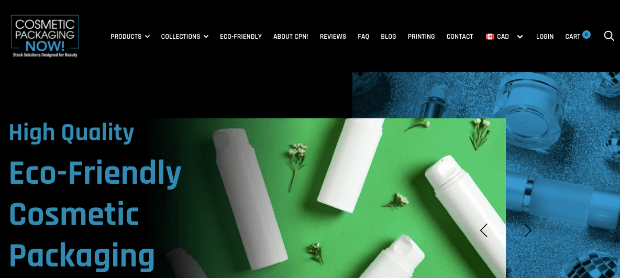 As their name suggests, Cosmetic Packaging Now is a distributor of laboratory-grade packaging containers for cosmetics.
They used OptinMonster's Exit-Intent® campaigns to increase newsletter subscribers by 753.8%, increase their returning customer rate by 110.4%, and skyrocket their sitewide revenue by 2,326.7%!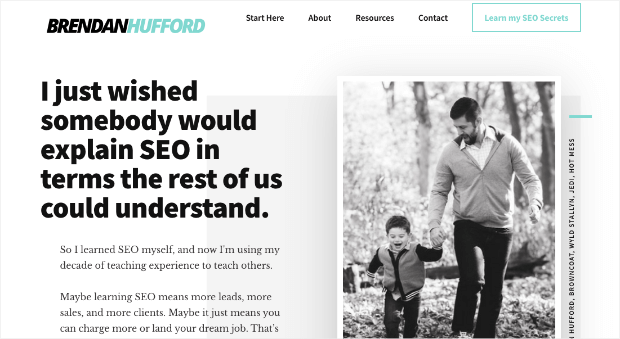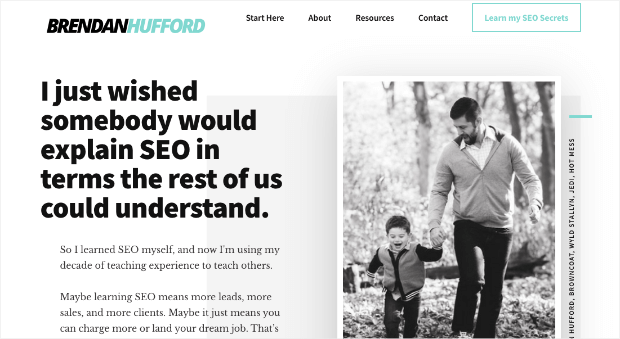 Brendon Hufford runs several design websites along with an SEO agency in Chicago. He uses OptinMonster to get better leads faster (as you can imagine, he doesn't have much free time!).
Since a lot of his business depends on how customers interact with his site, his goals were to keep his traffic looking at his content longer.
With OptinMonster, Brendon was able to reduce bounce rates by 3%, increase page sessions by 4%, and increase session duration by 20%.
7) Cracku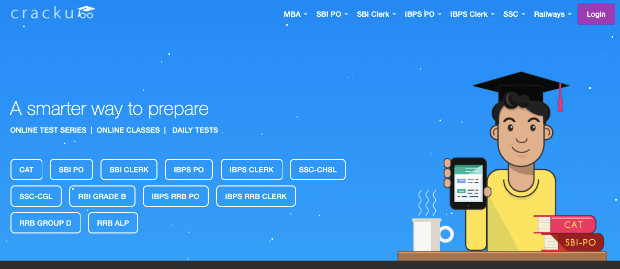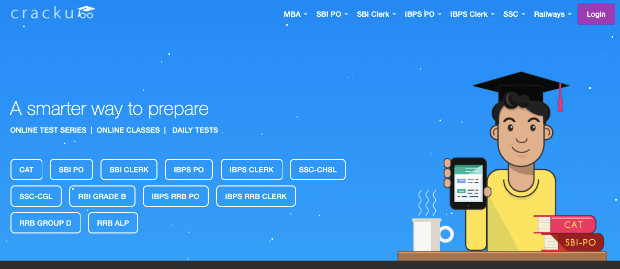 Cracku specializes in getting students ready for their entrance exams. Since they do this remotely, they help students get prepared for their big test day from anywhere in the world–and even from their mobile devices.
With OptinMonster, Cracku was able to covert 4.29% of its overall targeted visitors, convert 3.59% to direct sales, and increase conversions by 300%.
8) Flywheel


Flywheel is a managed hosting company for WordPress. They help display large amounts of content (guides, tutorials, courses, and others) in a more user-friendly way.
When they started using OptinMonster, they were able to increase their targeted conversions to 4.7%, increase their conversion rate by 1% with split-testing, and increase their impressions by 660%.
9) RocketBots
RocketBots is an AI-driven messaging chat feature for businesses. With OptinMonster, they were able to convert 7.33% of abandoned visitors, see a sitewide conversion rate of 2.65%, and grow their email list by 680%.
10) Bulkly


Bulkly is a social media tool for Buffer. Once they began using OptinMonster, they saw 52.94% conversions for segmented subscribers, an increase of 134% year-to-date (YTD) sign-ups, and converted 4.47% of abandoning visitors.
11) Cosmetic Capital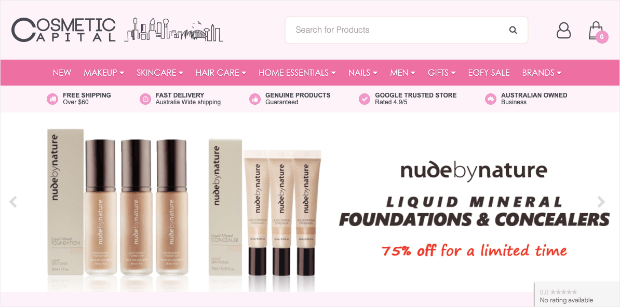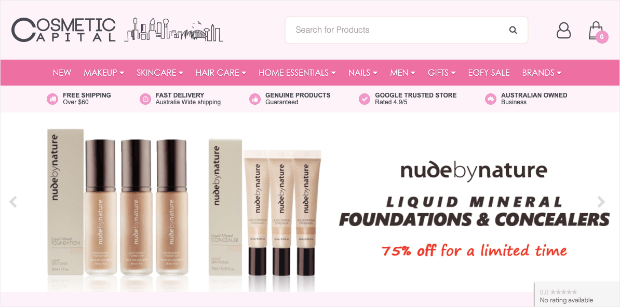 Cosmetic Capital is an eCommerce site that specializes in fashionable cosmetic products that won't break the bank. They used OptinMonster to get a 300% increase in leads and grow their email list to over 18,000 subscribers!
12) Crossrope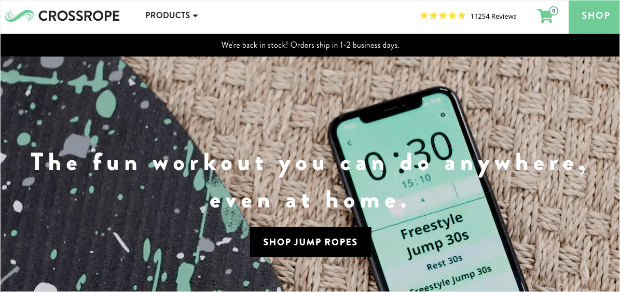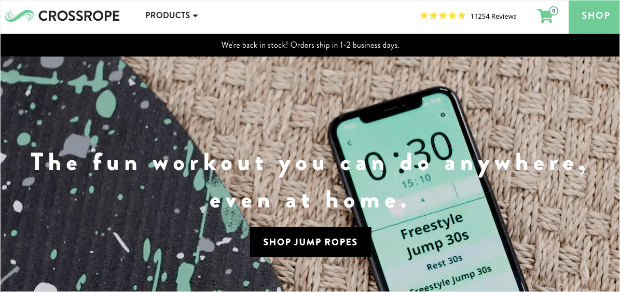 Crossrope is a popular exercise tool that helps people lose weight and get healthier through jump roping! Their goal is to make fitness more fun so their customers can create a workout program they'll actually stick to.
When they began using OptinMonster, they saw tremendous growth. They converted 13.71% of abandoning visitors, recovered 7.65% of abandoning shoppers, and grew their email list by 900%.
We've just listed 12 specific cases where OptinMonster helped companies get more conversions and boost their sales.
But these are just a small drop in an ocean of clients. In fact, OptinMonster is currently used on over 1,000,000 websites around the world.
Again, our clients trust us because we get our customers to generate more revenue in less time and with zero headaches.
Plus, we support them throughout the entire process, so they never feel "stuck" in their conversion strategy.
Ready to get started? Sign up for OptinMonster today, risk-free with our 14-day money-back guarantee. We're confident that you'll start seeing more conversions and getting more sales in no time!
Did you find this article helpful? If so, feel free to share it with a friend. You can also reach out to us via Facebook, Twitter, or in the comments section below.
And once you've signed up for OptinMonster, you may want some help taking your marketing strategy to the next level. For that, you'll want to head over to our YouTube channel, where we have loads of helpful tutorials to make you an expert marketer in no time.
Just don't forget to subscribe and like these videos!
Finally, once you've mastered building your email list, it's important to learn how to monetize it. For that, you may want to check out the following resources:
These posts will walk you through every aspect of increasing sales through your email or affiliate marketing efforts!