This article was originally published on this site
Event calendars are an essential tool in making your major events successful. They allow you to manage your event effectively and market it to potential customers.
Simple WordPress event calendar plugins display a calendar of upcoming events, however there are many advanced solutions that allow visitors to register and pay for events too. In addition to ticketing, event calendar plugins can also handle reservations, RSVPs, and user submissions. These tools will help you plan and schedule events, appointments, parties, and more
In this article I would like to share with you what I consider to be the best event calendar plugins available for WordPress.
Events Manager (FREE / $75+)
Events Manager is an advanced events calendar solution that is active on over 100,000 WordPress websites. It can be used to manage single and multi-day events and events can be set as recurring.
Events are stored as WordPress custom post types so adding a new event works the same way as adding a post or page in WordPress. You can name each event and add a description with images and videos in the main content area.
The exact time and location can be defined for each event and tags and categories can be assigned to events too.
In the bookings and registration area you can create multiple tickets for your event. Ticket bookings can be restricted to a specific time period and you can state how many tickets are available.
Widgets are also available for events, locations, and calendars. This will help you show the current status of events to visitors.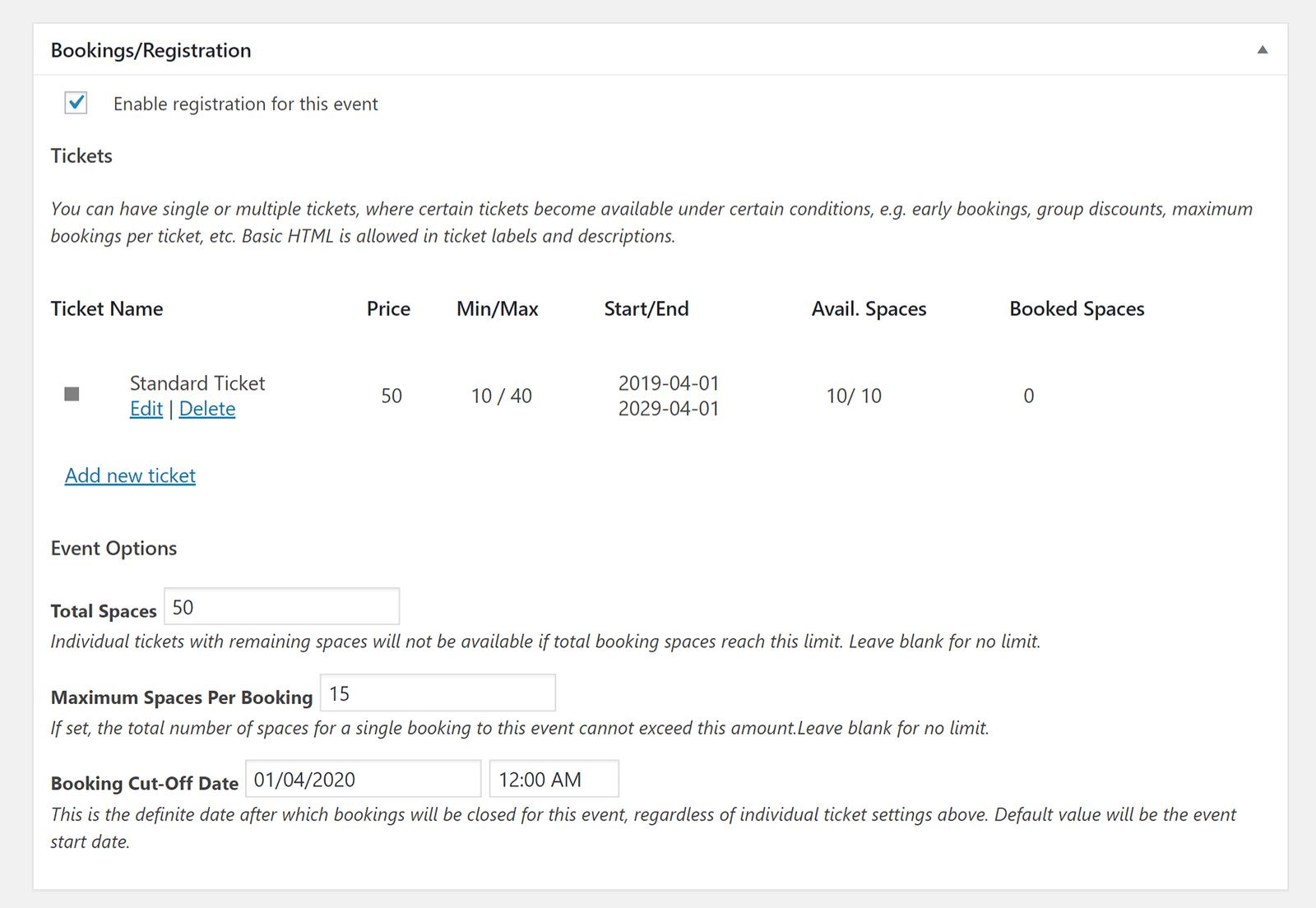 The main plugin settings area gives you an apprecation for how advanced Events Manager is. There are hundreds of options spanned across five different tabs.
Everything can be defined. This includes thumbnails, Google Maps integration, form settings, event pages, formatting and design, email confirmations, bookings, and more. There is even a role manager that allows you to define exactly what users can and cannot do.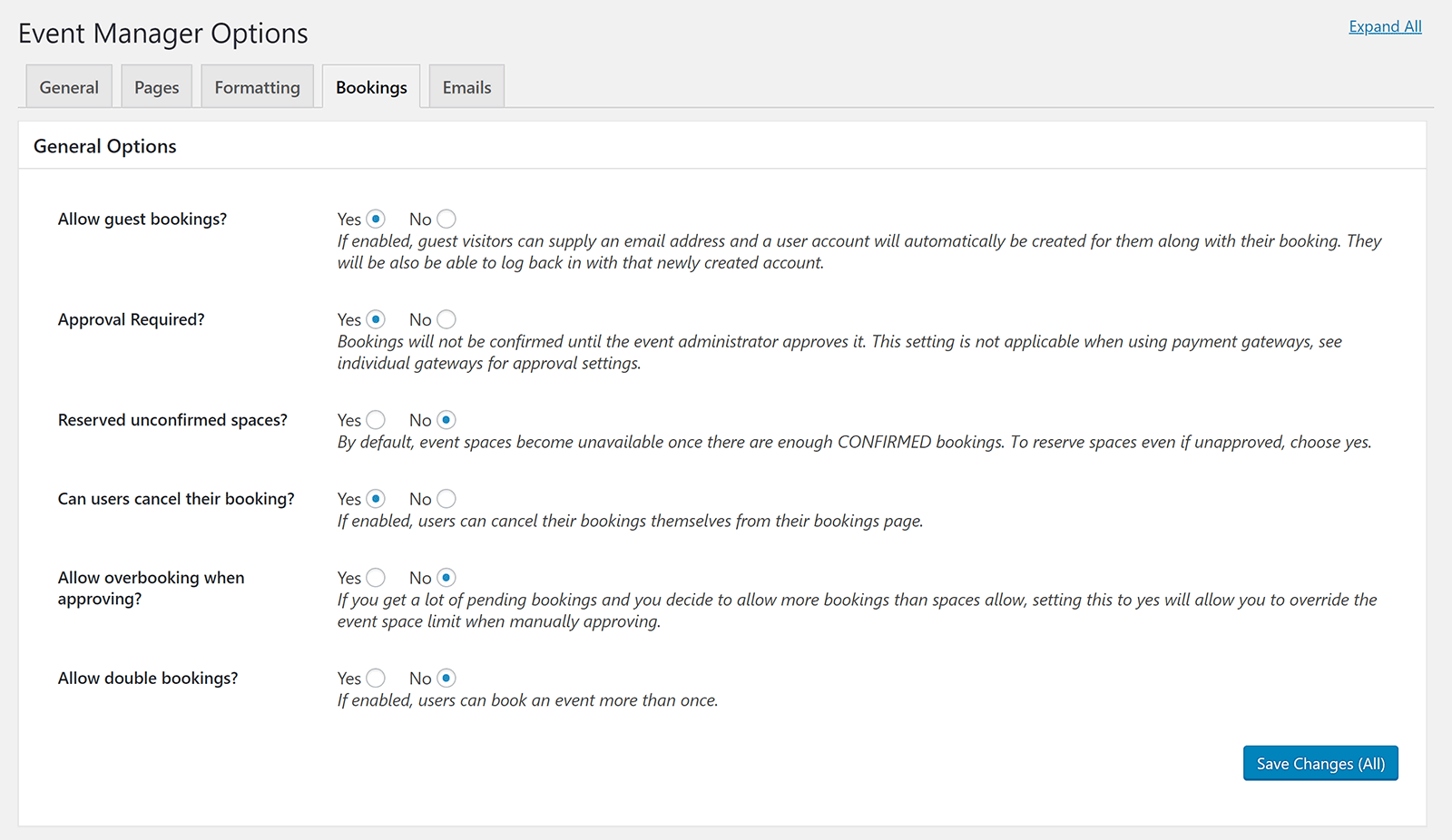 The pro version of Events Manager retails at $75 per year for a one website license and $150 per year for up to five websites. It is installed as an addon to Events Manager.
Once installed you will gain additional functionality such as payment integration for PayPal, Authorize.net, and offline payments. Custom booking forms can also be created and there is an option to create custom discount coupons.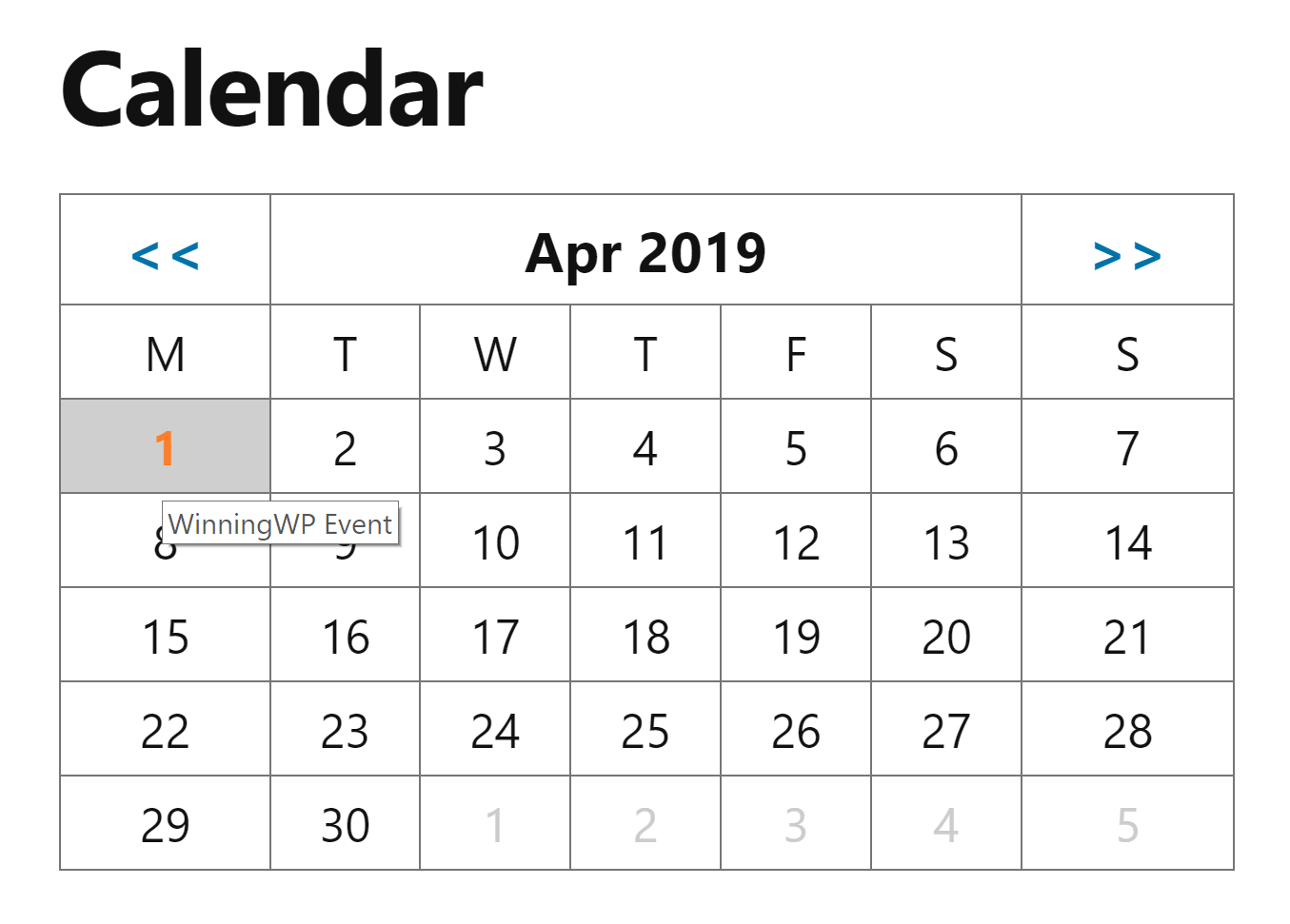 Without doubt, Events Manager is one of the most versatile events calendar plugins available for WordPress. The sheer volume of customisation options available to you is incredibly generous; however, you will need to upgrade to Events Manager Pro if you want to sell tickets and accept payments directly.
The Events Calendar (FREE / $89+)
With over 700,000 active installations, The Events Calendar is far and away the most popular events calendar solution for WordPress.
Like Events Manager, the plugin uses a custom post type to create events. You can add information about events such as the time and date, location, organisers, event location, event website, and event cost.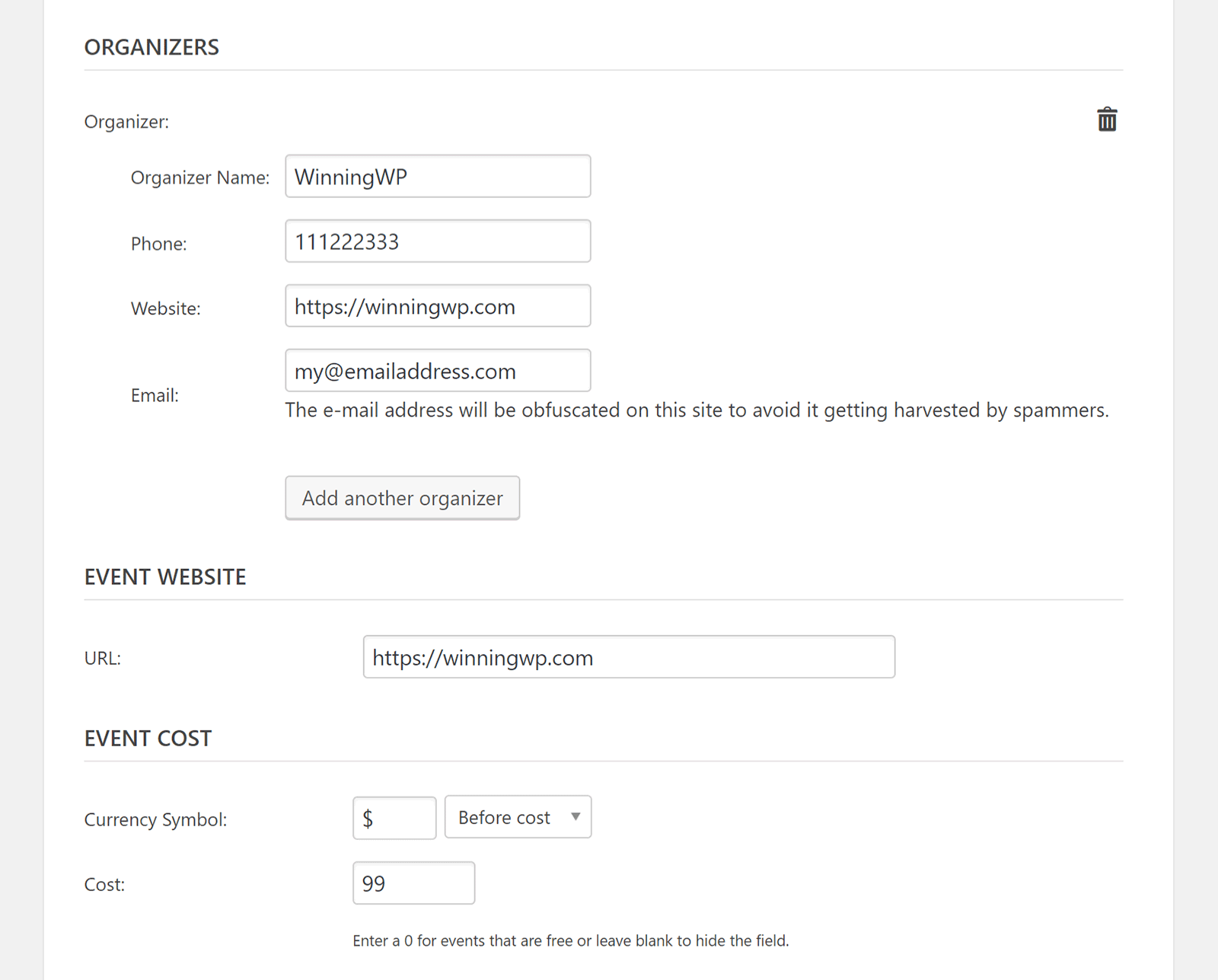 The Events Calendar has a simple settings area that allows you to adjust options such as the number of events to display on a page, the stylesheet and template that is used for events, and the content that is displayed before and after events.
You will also find settings for Google Maps integration and importing CSV files.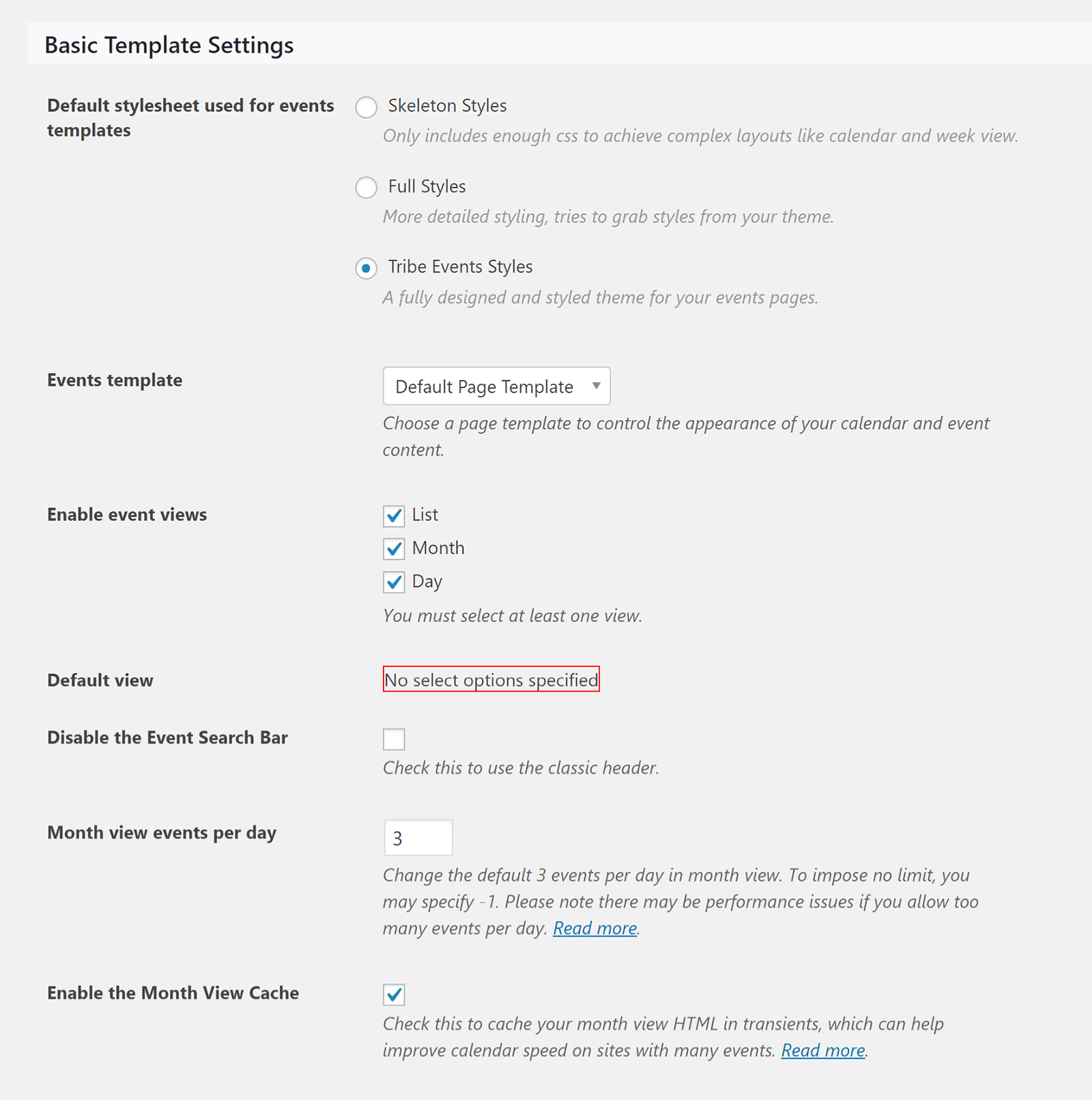 The free version of The Events Calendar is functional, but basic; however the developers offer a collection of plugin addons that will transform your event setup.
Events Calendar Pro retails from $89 per year. It adds recurring events, additional views, widgets, shortcodes, and more.
One addon you should consider using is Event Tickets. Once activated, visitors can RSVP to events and purchase tickets using PayPal. The pro version of Event Tickets, which retails from $89 per year, adds additional features such as WooCommerce and Easy Digital Downloads integration.
Elasticsearch can be integrated using Elastic Events too. It's free to download.
A host of other premium addons are also available. Event Aggregator can be used to import events from Meetup, Eventbrite, Google Calendar, iCalendar, and more. Community Events lets users submits events, Filter Bar adds filtering options so that users can find events easier, and Eventbrite Tickets helps you integrate Eventbrite. All of these addons retail from $89 per year each.
The Promoter addon starts from $69 per year. It works in conjunction with The Events Calendar and Events Tickets to help you connect to your community via email.
The most expensive addon is Community Tickets. Retailing from $149 per year, the plugin needs to be used in conjunction with Community Events, Event Tickets, Event Tickets Plus, and WooCommerce. It allows event organisers to sell tickets to their events using your website.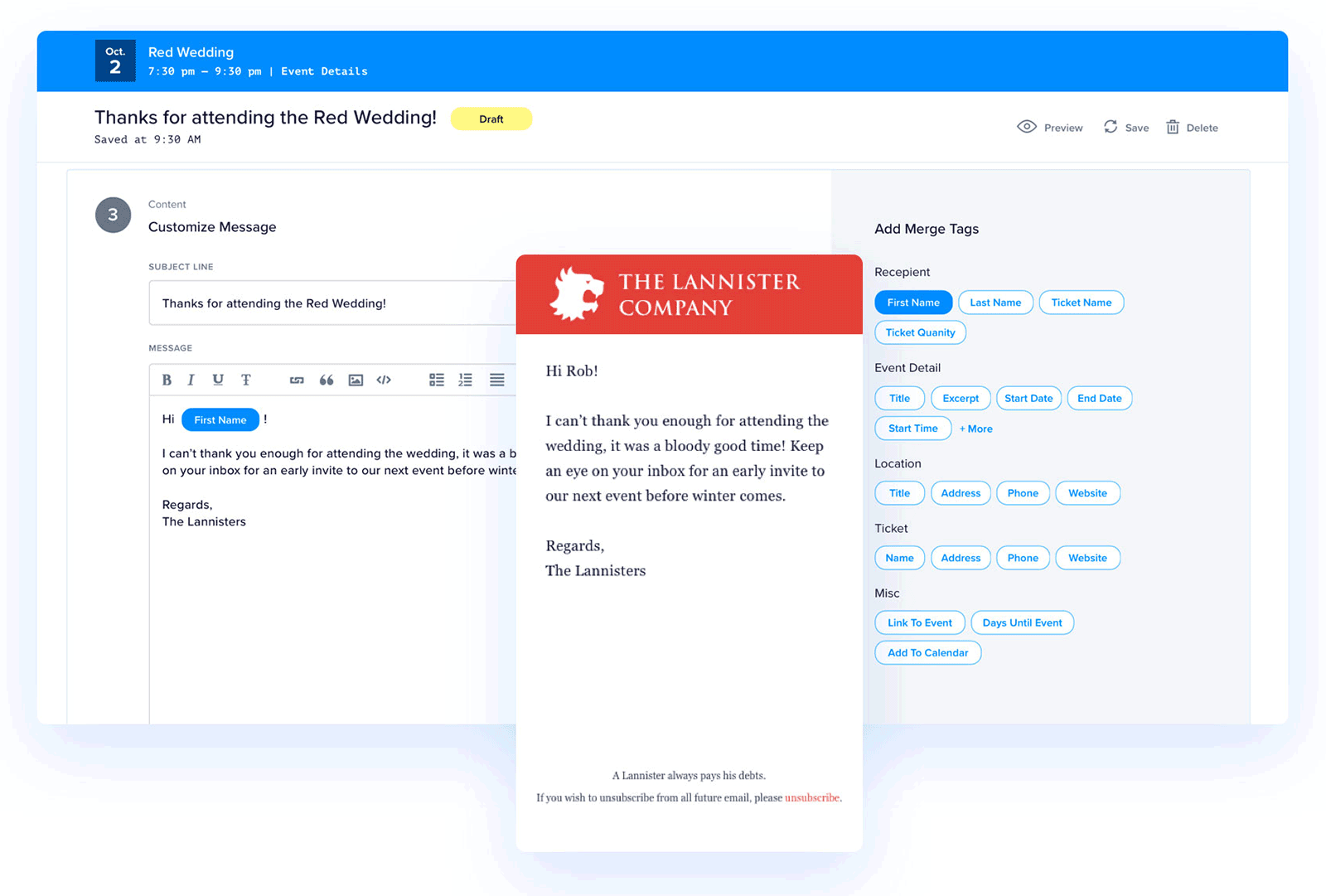 If you are not looking to spend any money, The Events Calendar and Event Tickets can be used as an event management setup that accepts payments via PayPal.
Where the plugin really comes into its own though is when you install the advanced addons that are available. If you are willing to spend some money, The Events Calendar is one of the best solutions available. Have a look at their bundles if you are planning on buying more than one premium addon as it will save you money.
Be sure to also check out some of the free plugin addons that are available for The Events Calendar from third-party developers. This includes The Events Calendar Shortcode & Block, The Events Calendar Category Colors, and The Events Calendar Shortcode and Templates (check out the pro version too).
Simple Calendar (FREE / $49+)
If you use Google Calendar to manage events, you should check out Simple Calendar. The WordPress plugin lets you display events from any public Google Calendar.
You can retrieve events from Google Calendar and change how your calendar looks. Colours can be changed and you can trim long titles to stop them overflowing onto other days. Date and time settings can be adjusted too.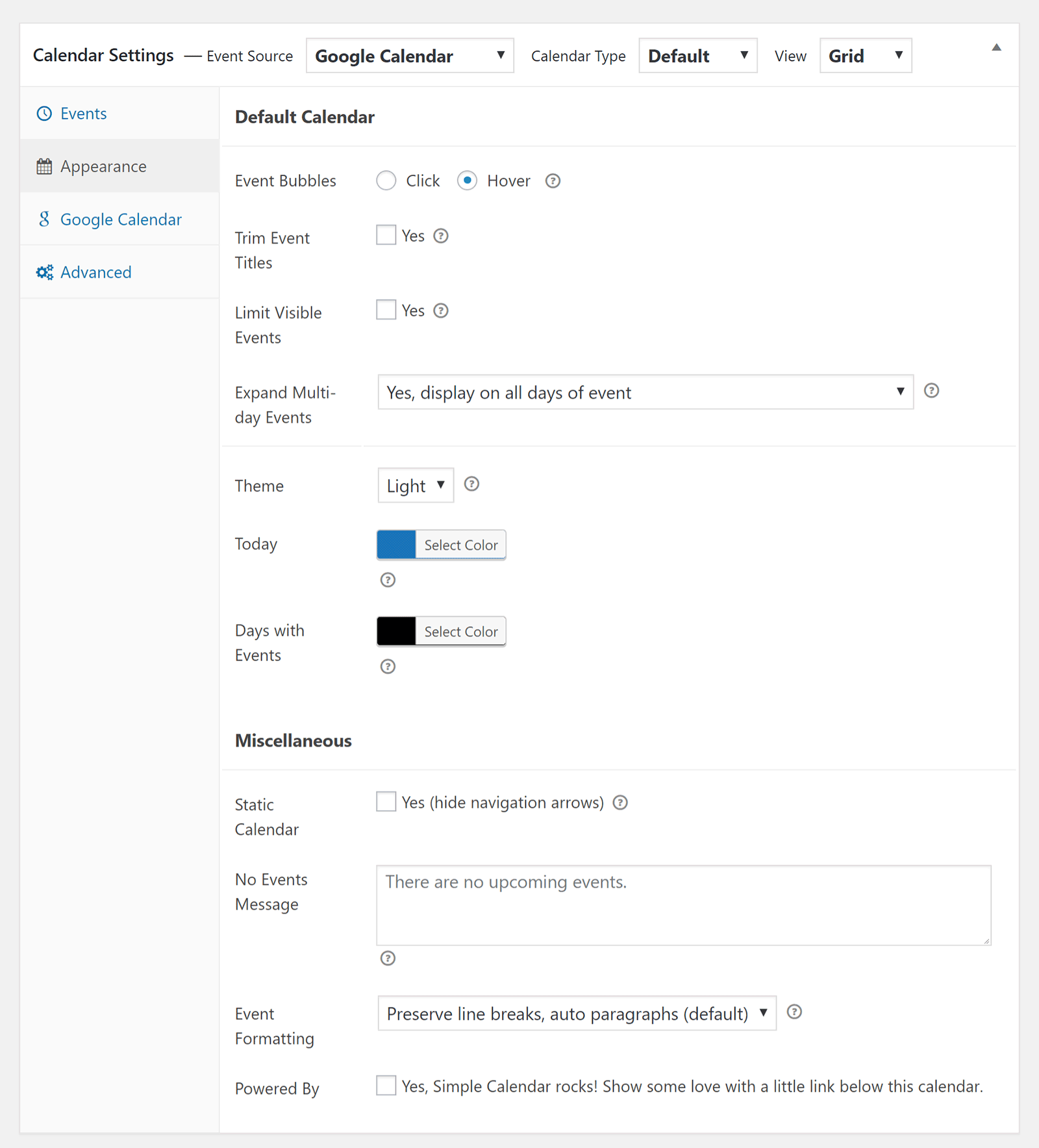 Make sure you enter your Google API key in the settings area so that Simple Calendar can retrieve events.
The settings area also allows you to delete plugin settings and remove calendar data.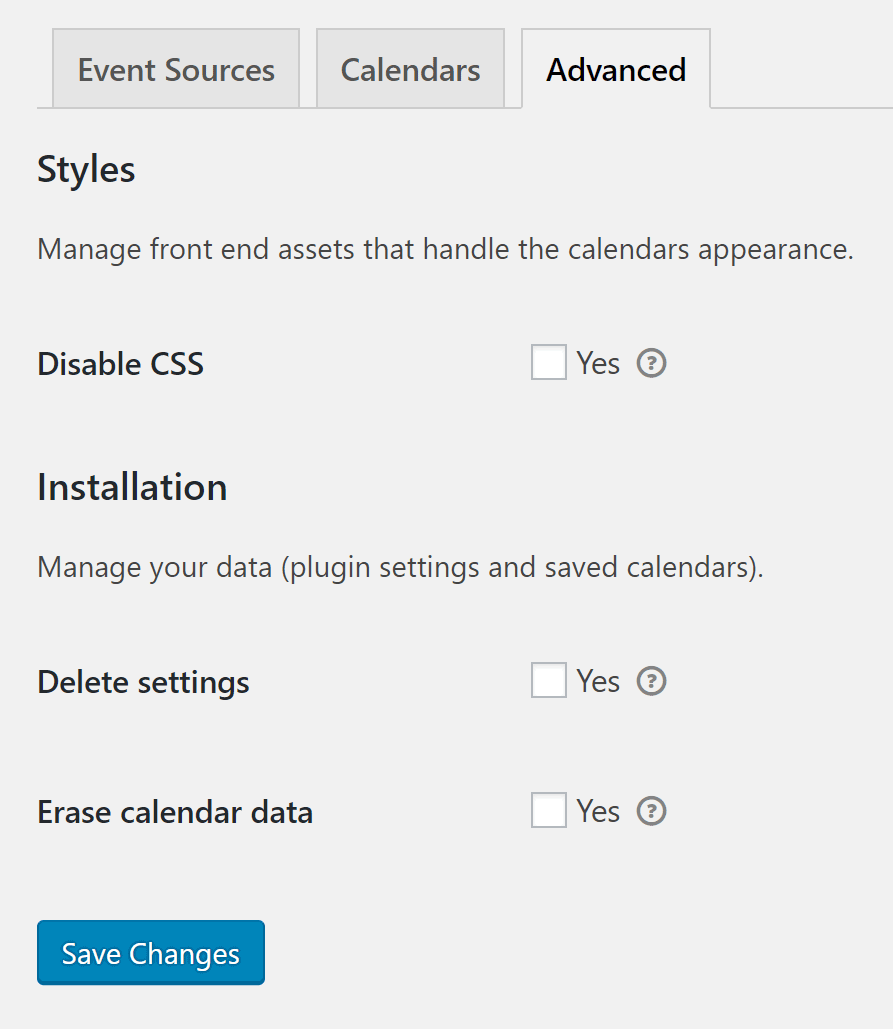 Two premium addons are available for Simple Calendar: FullCalendar and Google Calendar Pro. Both of these retail from $29 per year for a single license.
FullCalendar adds a host of new options such as weekly and daily views, improved calendar navigation, additional customisation options, and more.
Google Calendar Pro can be used to display both private and public Google Calendars. It also lets you highlight events with colours that match Google Calendar colours and display attendee names, avatars, and event organiser information.
These two addons work well together so it makes sense to buy both through their addon bundle. A single license retails at $49 per year for this bundle and comes with support and updates for both addons.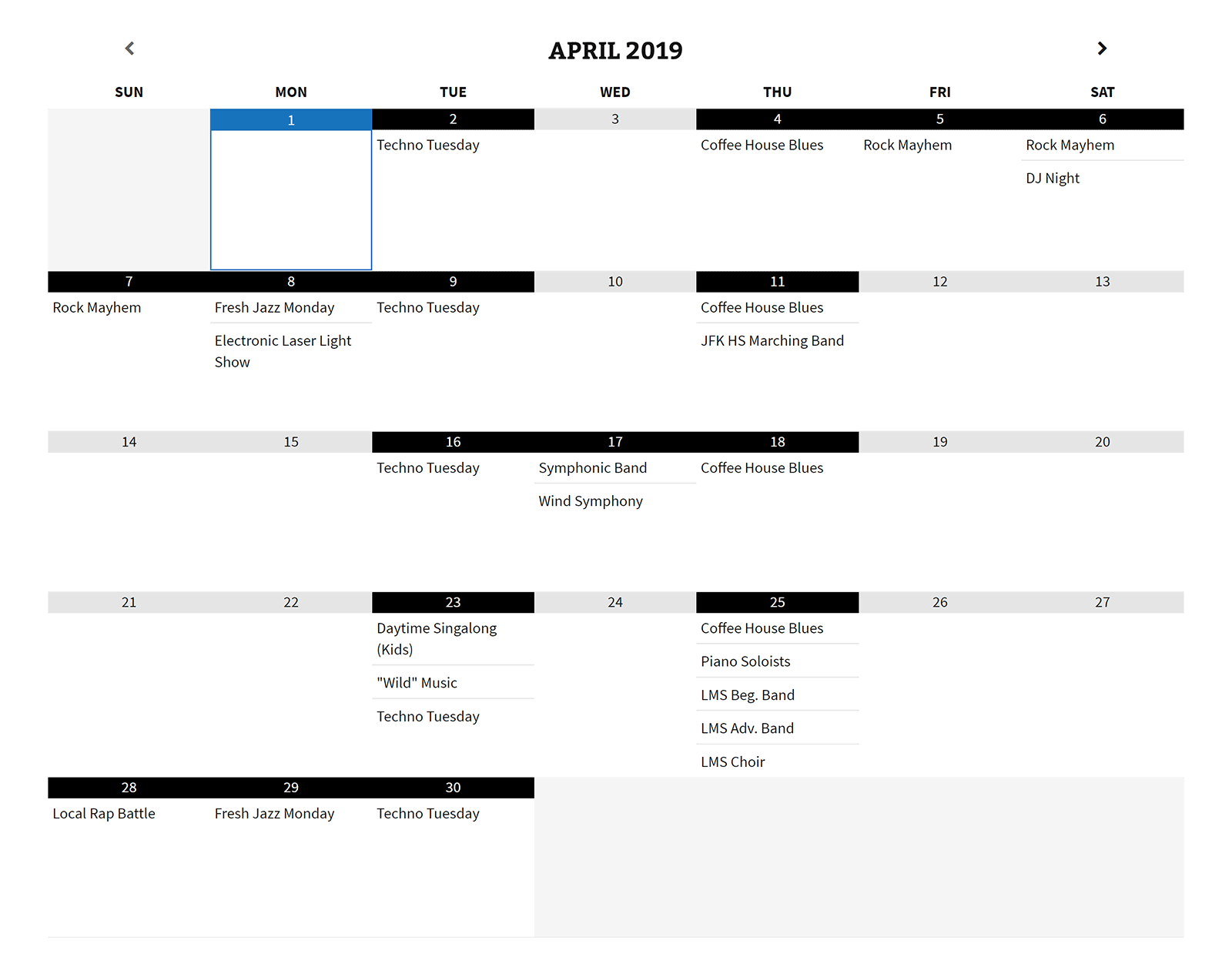 As someone who uses Google Calendar every day to plan my schedule, I can appreciate the possibilties of Simple Calendar.
By using Google Calendar you can continue to manage your event schedule with the official Google Calendar app on your smartphone or tablet; or via your browser. Simple Calendar can then be used to control how your calendar looks on your website.
My Calendar (FREE / $49+)
My Calendar is an easy to use event management solution that can be used in conjunction with the My Tickets WordPress plugin to sell tickets.
Events can be set as recurring and assigned into groups and categories. You can also set multiple start and end times and dates for events and there is an option to attach a logo or banner for each event as well.
One feature I love is event access. A series of tags are available to help you display whether the event supports those with disabilities. For example, you can note that your event has an audio description, support for sign language, or support for assisted learning devices.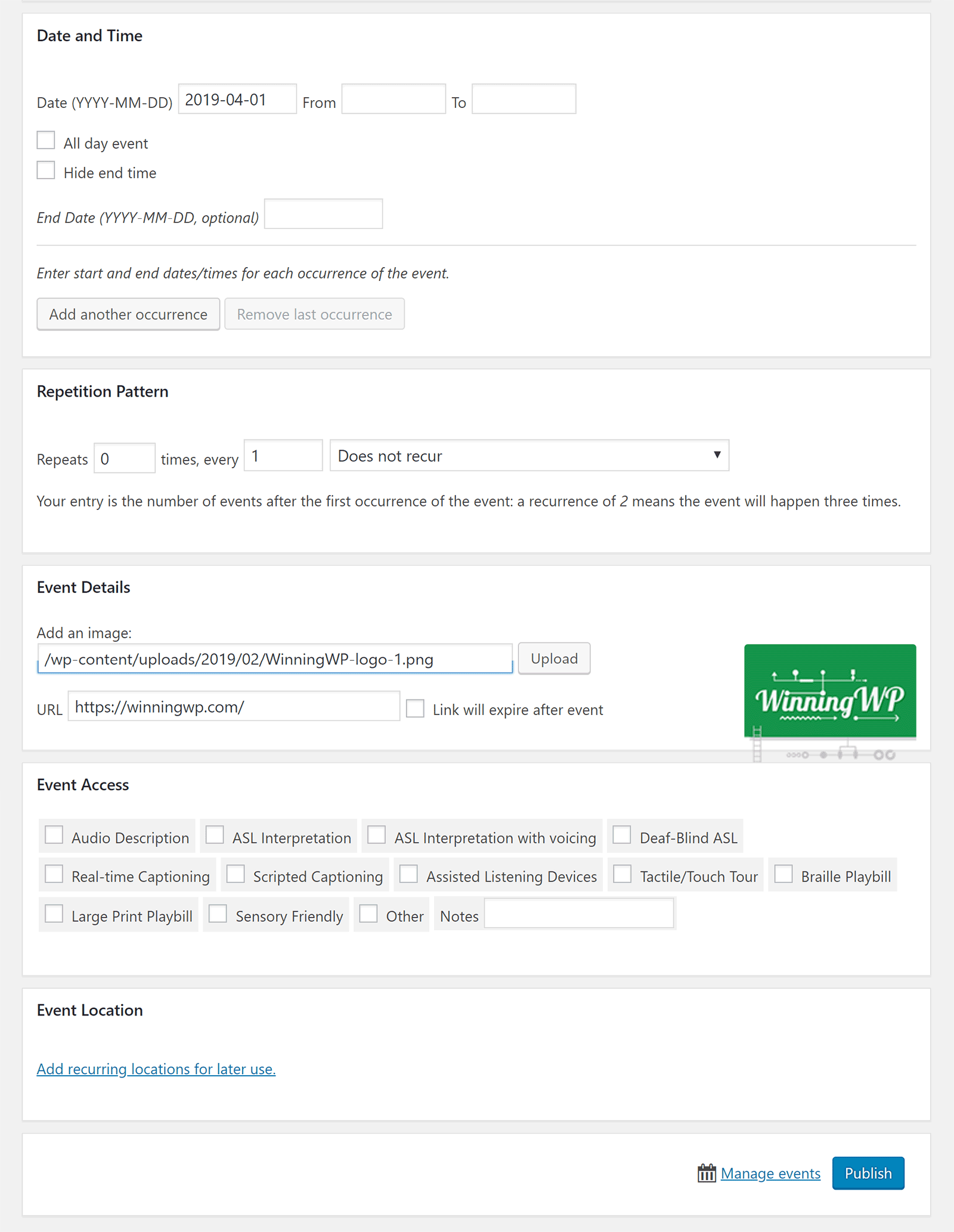 The location editor lets you add multiple locations and add details such the address, GPS coordinates, contact information, website address, accessibility, and more.
A built-in style editor and template editor lets you adjust the look and styling of your calendars with ease. There is also a script manager that can be used to apply custom Javascript into defined pages.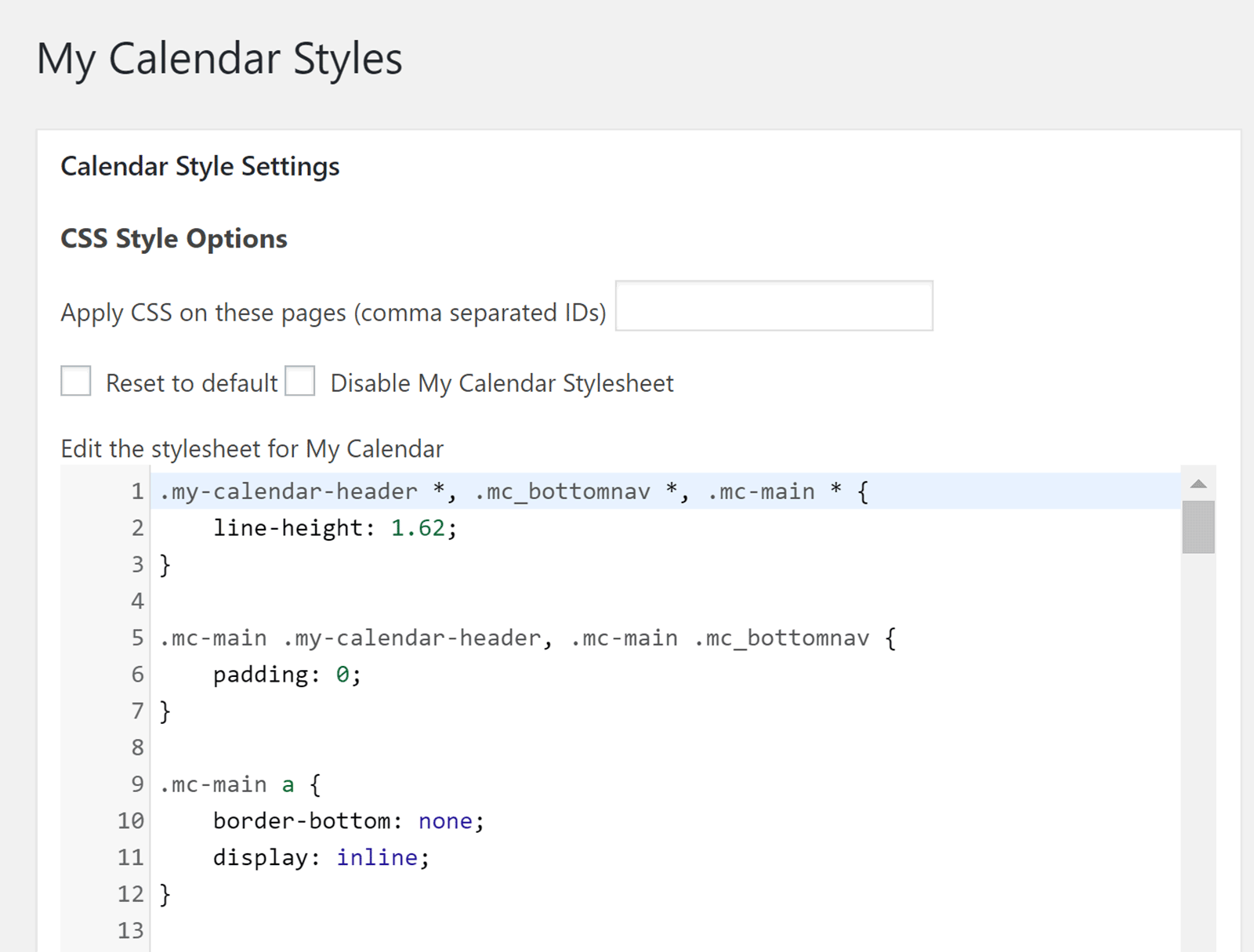 The main settings area has some useful options such as retrieving data from a remote database and removing data upon uninstalling My Calendar.
Date, time, and text formatting, can all be adjusted. You can also modify the emails that are issued and define what users can and cannot do using a user role editor.
The standout feature in the settings area is the calendar layout editor that allows you to change what order information is displayed in your calendars.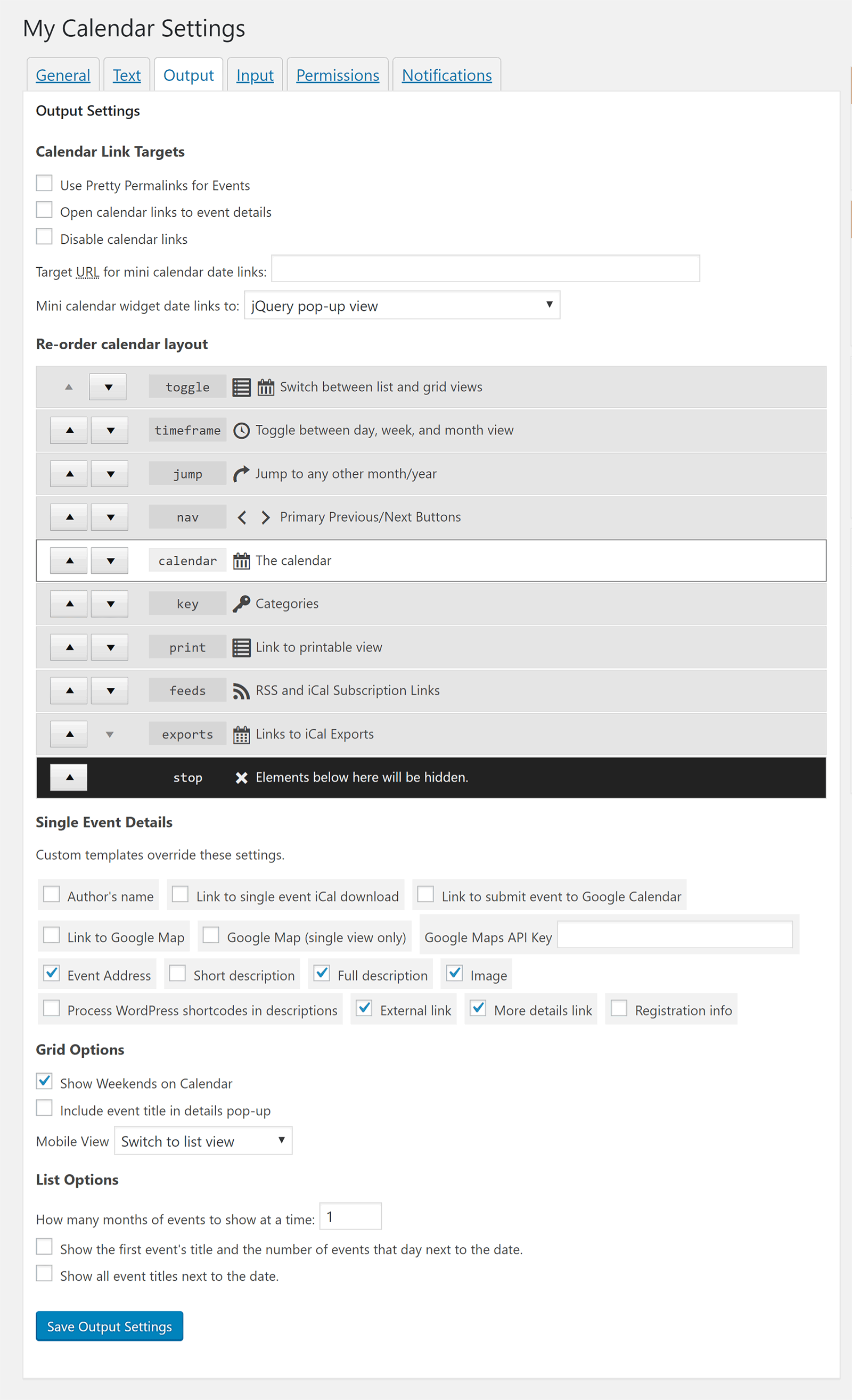 A single license for My Calendar Pro costs $49 per year.
Upgrading allows visitors to submit events and prevent events from being accepted that conflict with existing events. Blog posts can also be created automatically from events.
Advanced search filtering is also made available and you can import event data from CSV fles, from iCal, from file uploads, or from URLs.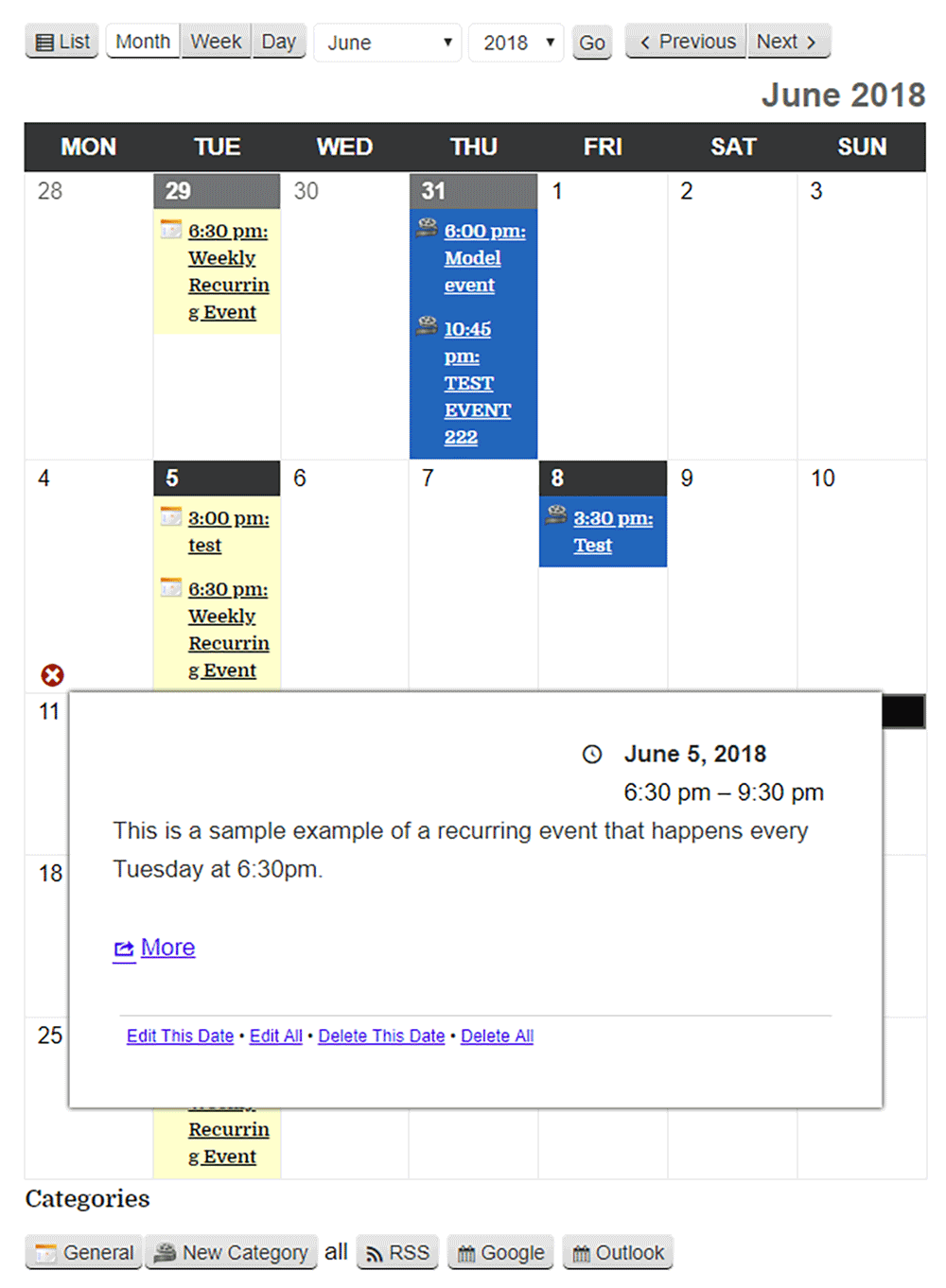 My Calendar has a lot to offer and if you install the developer's other plugin My Tickets you will be able to sell tickets to your events using PayPal Standard payments (other payment options are available as premium addons).
The developers have been generous with what is provided free of charge and I believe $49 is a fair price for adding user submissions, advanced search, and event import functionality.
Sugar Calendar (FREE / $29+)
If you are looking for a simple event management solution, check out Sugar Calendar.
To add an event you simply name the event, add a description, and define the location and start and end time and date. That's it.
A free Google Maps addon is available from the developers of Sugar Calendar that adds support for Google Maps. I am unsure as to why this additional functionality is not built directly into the core plugin.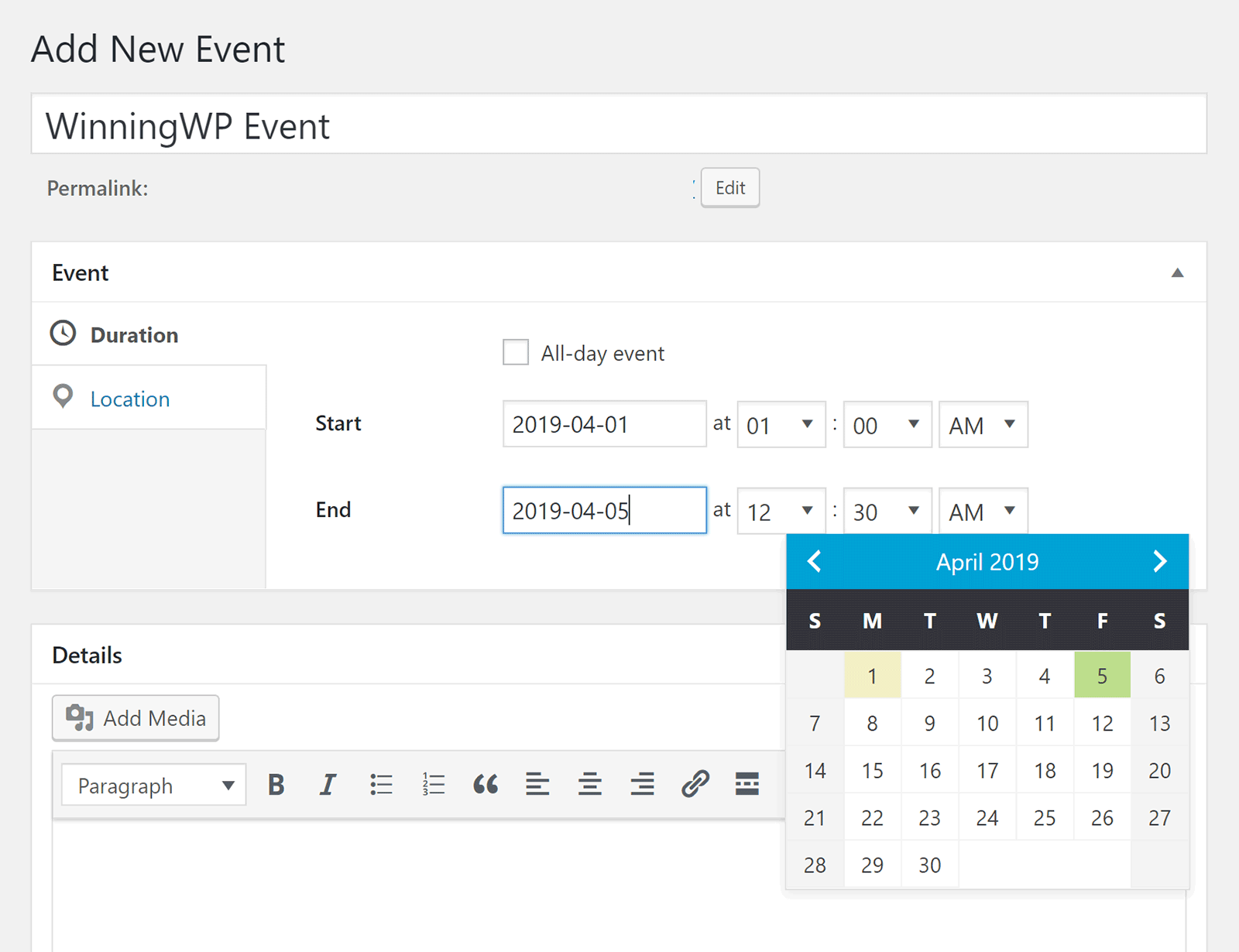 In the settings area there is an option to enter your plugin license key and some basic time and date options for your calendar.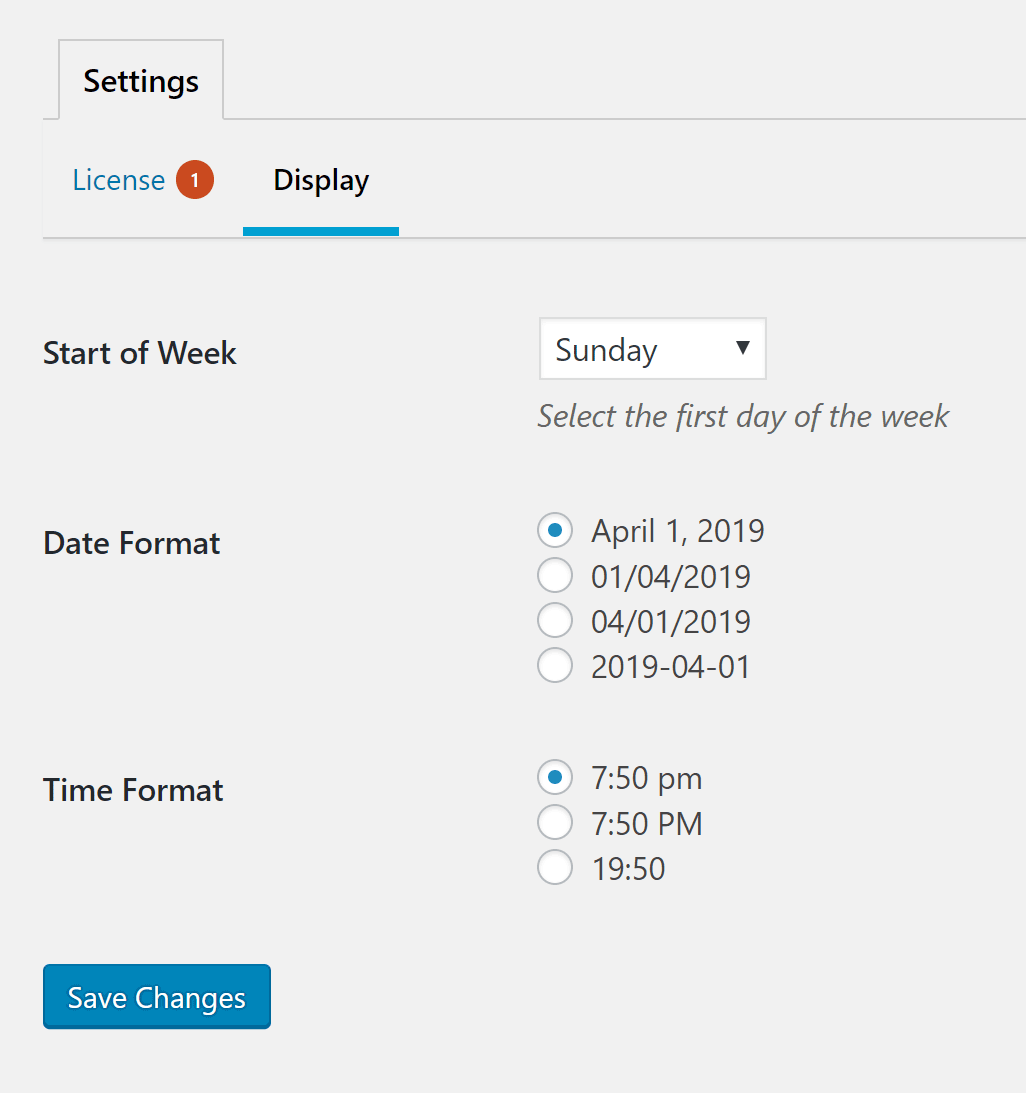 A pro version of Sugar Calendar is available from $29 per year that adds recurring events. It does not appear to offer any additional functionality, so I can only recommend upgrading if you need email support.
Those of you who are seeking a basic event management solution will appreciate how easy Sugar Calendar is to use.
Everyone else should look at alternative event management WordPress plugins that offer more customisation options.
Calendarize it! ($30)
Calendarize it! is a professional event management solution that is packed full of features. It sells for $30 on CodeCanyon.
You can add custom fields to events and select from from 15 pre-made layout styles. A total of 39 template elements are available to help you build the perfect event page and everything can be modified using a user-friendly drag and drop interface.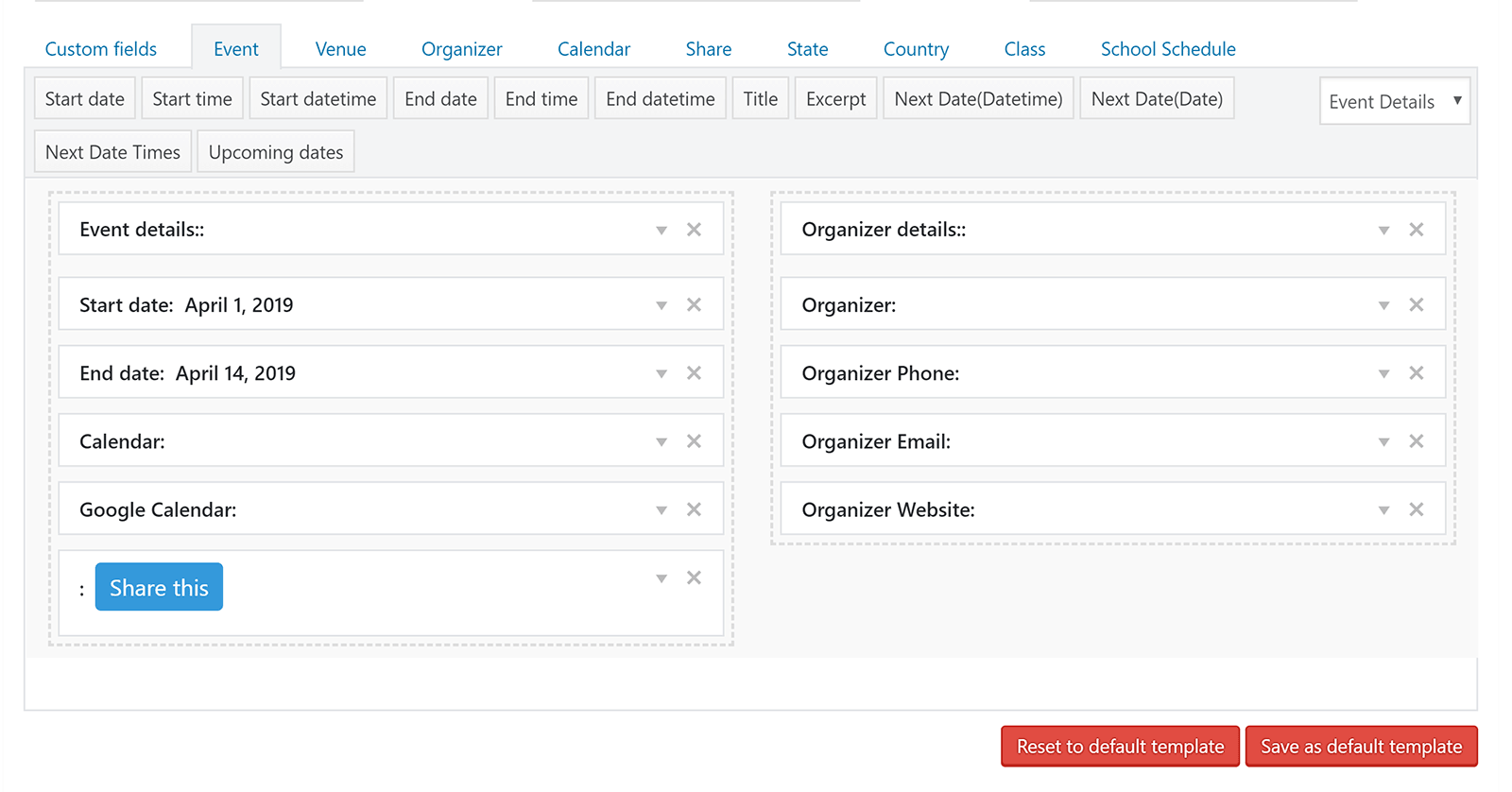 Calendarize it! is compatible with Gutenberg and WPBakery Page Builder.
This simplifies the process of creating event layouts as all settings can be found within blocks and changes can be previewed in real-time.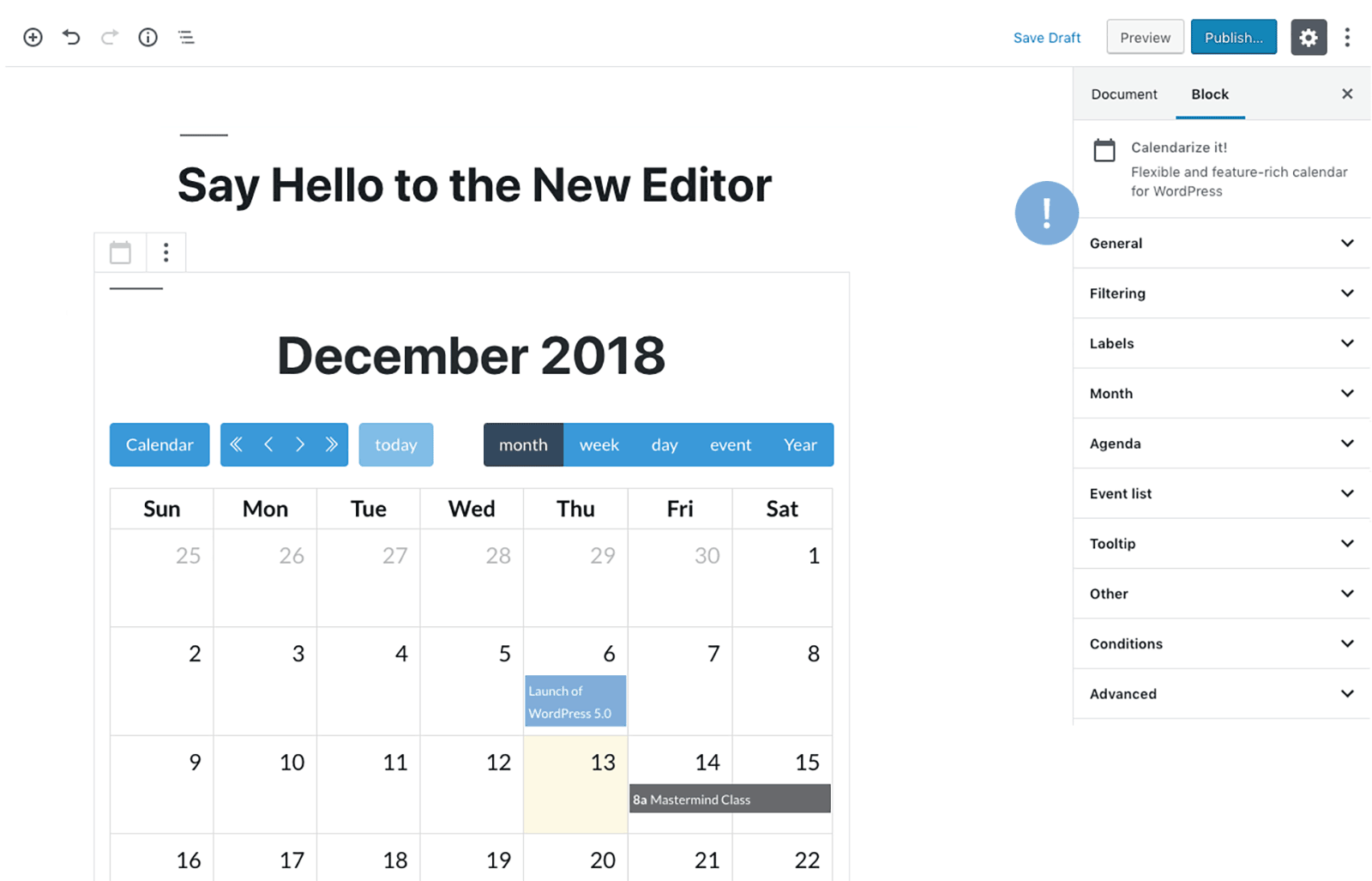 The support for Gutenberg is outstanding. Everything can be switched on and off at the click of a button.
A whopping 25 free plugin addons are available for Calendarize it! that extend functionality further. There is an addon to display events in a grid view, another that auto-publishes events to social media, and an importer that can be used to import large amounts of data from other event plugins.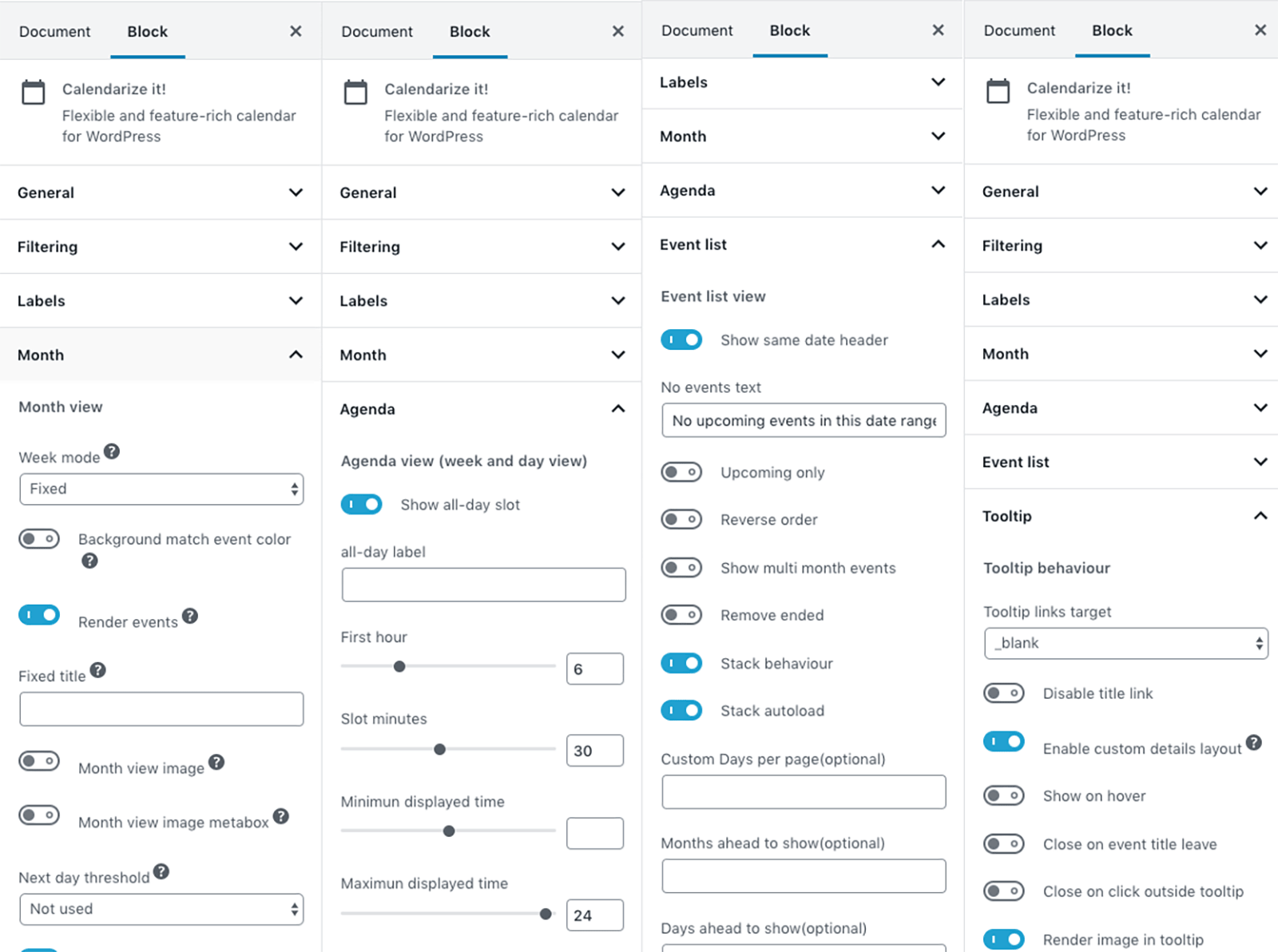 11 premium addons are also available. These premium addons can be used to add support for advertising, ticket sales, WooCommerce integration, and more. Prices for premium addons start from $10 and go all the way up to $89 for the Event Tickets WooCommerce addon.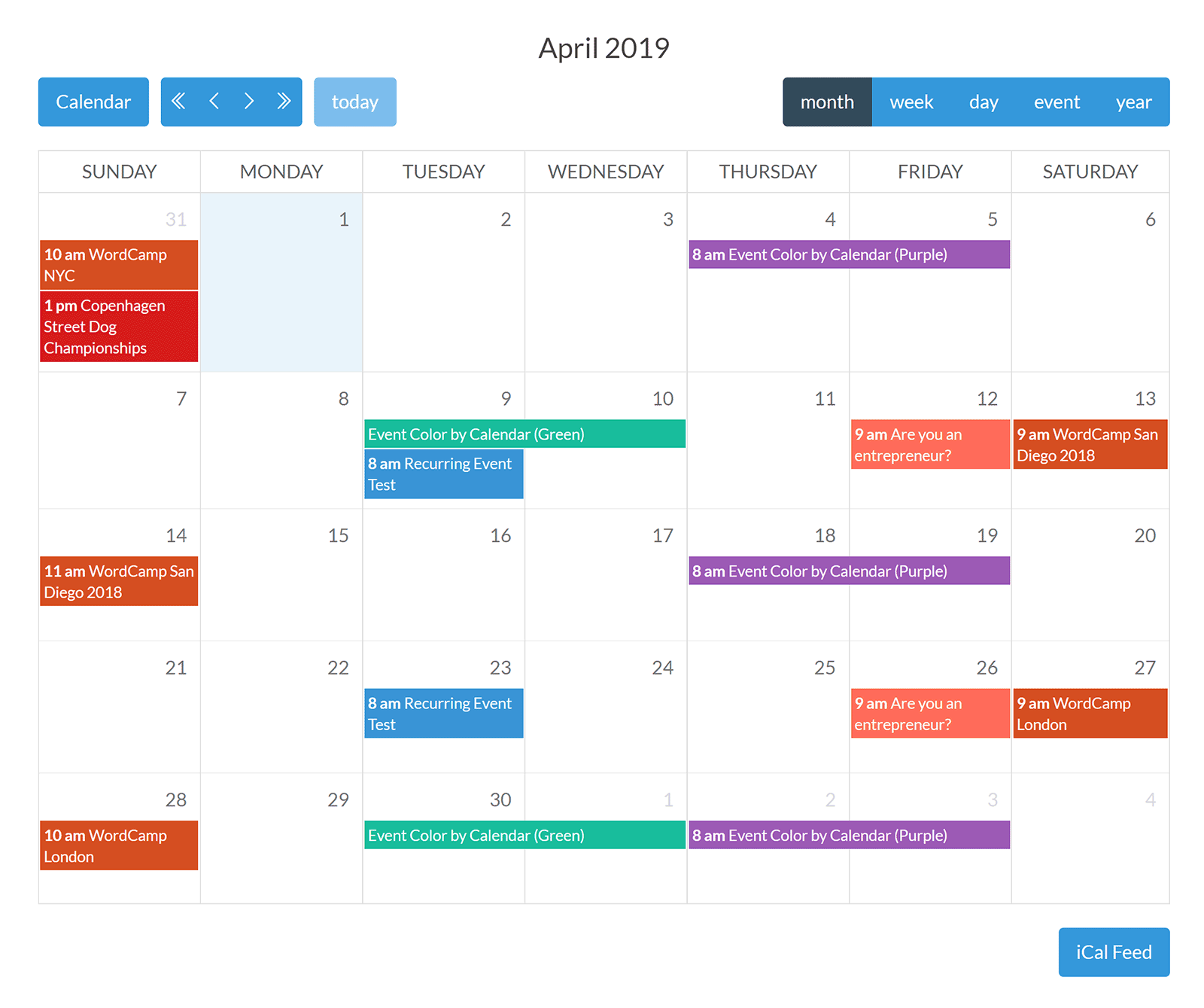 What sets Calendarize it! apart is the dozens of ways that events can be presented to visitors. It's a highly flexible plugin that can be improved by using any of the 36 plugin addons that are available.
I encourage you to check out the demo to get a full appreciation for what the plugin can do.
EventOn ($24)
EventOn is the biggest selling event management plugin on CodeCanyon. Like Calendarize it!, it was initially released in 2012, and continues to be updated regularly.
It supports Google Maps, multi-day events, repeat events, custom fields, event categories, and more.
The plugin can be used to display beautiful minimalistic event calendars. These calendars can be created with user-friendly shortcode generators. All you have to do is select which features you want to be used. For example, what order events are shown, whether the featured image is displayed, etc.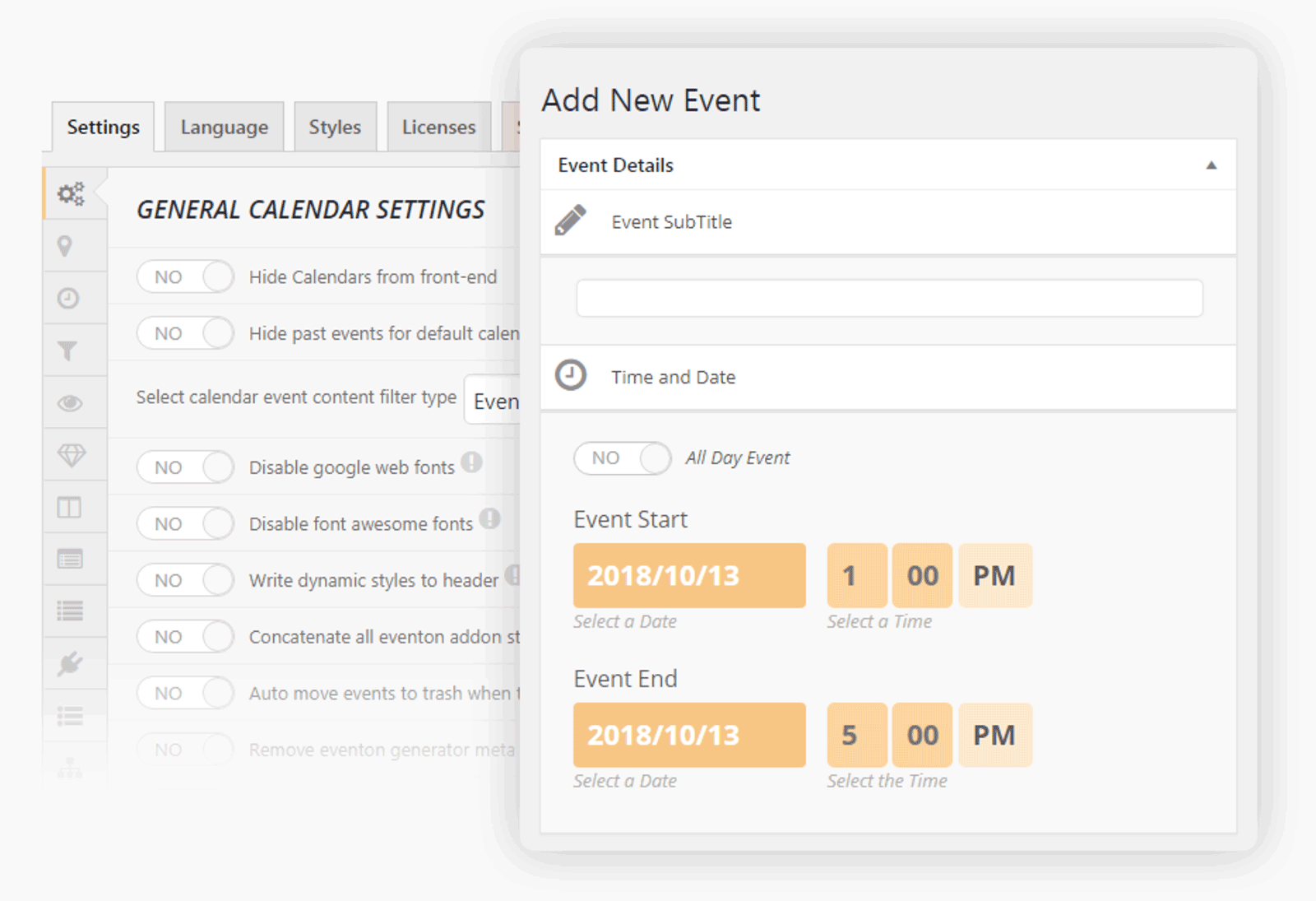 EventOn calendars look gorgeous. Featured images can be assigned for events and you can assign colours to particular events or event categories.
Visitors can use a search bar and filtering options to help find events quicker. There is also an option to display all events attached to specific locations.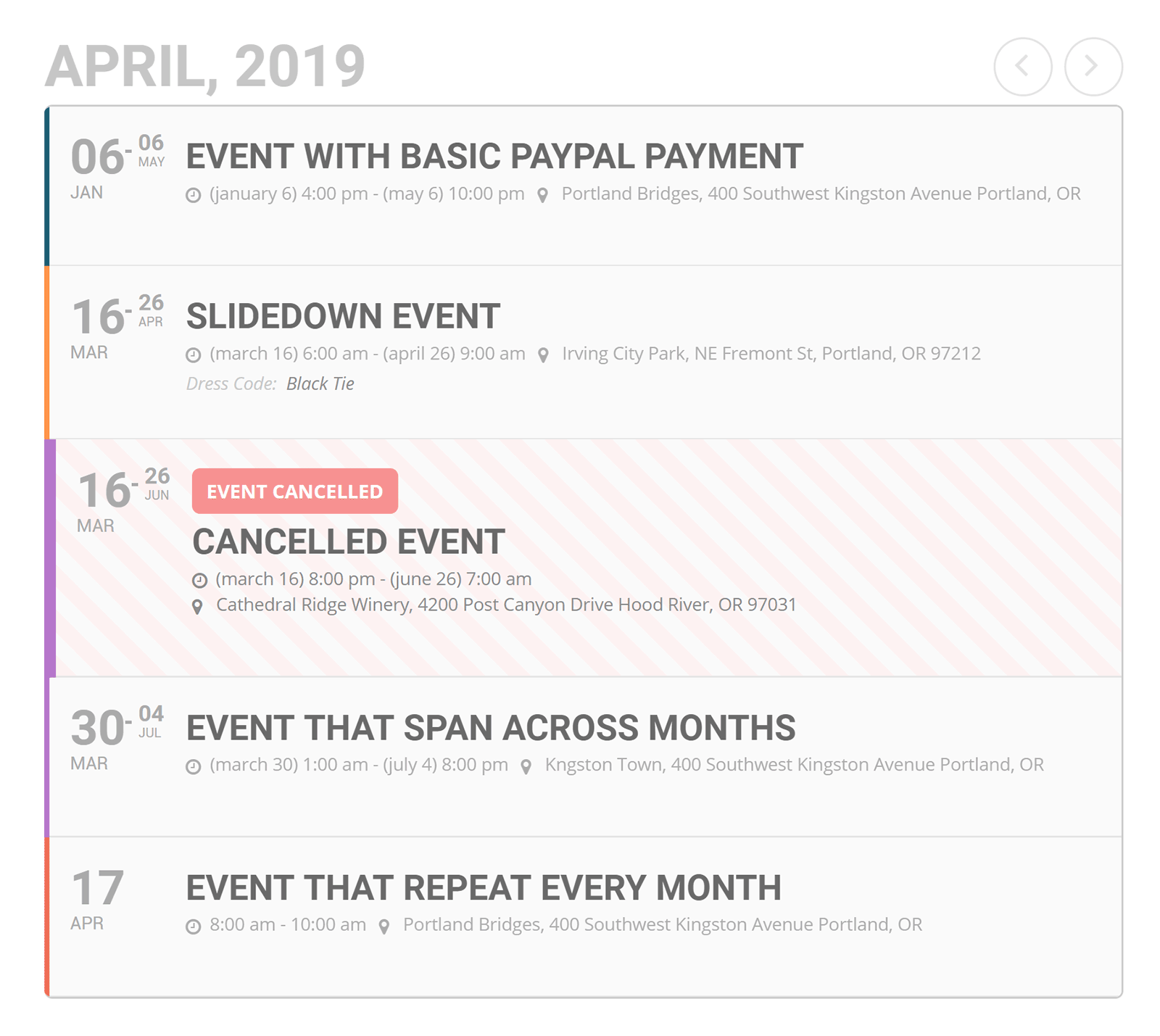 Events can be displayed as a list. Alternative, you can display events using tiles and assign background colours or images for each event. Both styles look great.
35 premium addons are available for EventOn. A few third-party addons are available too.
These addons can be used to add additional functionality such as ticket selling, RSVP support for events, event countdown timers, and an events wishlist. Different calendar viewing options can be purchased too.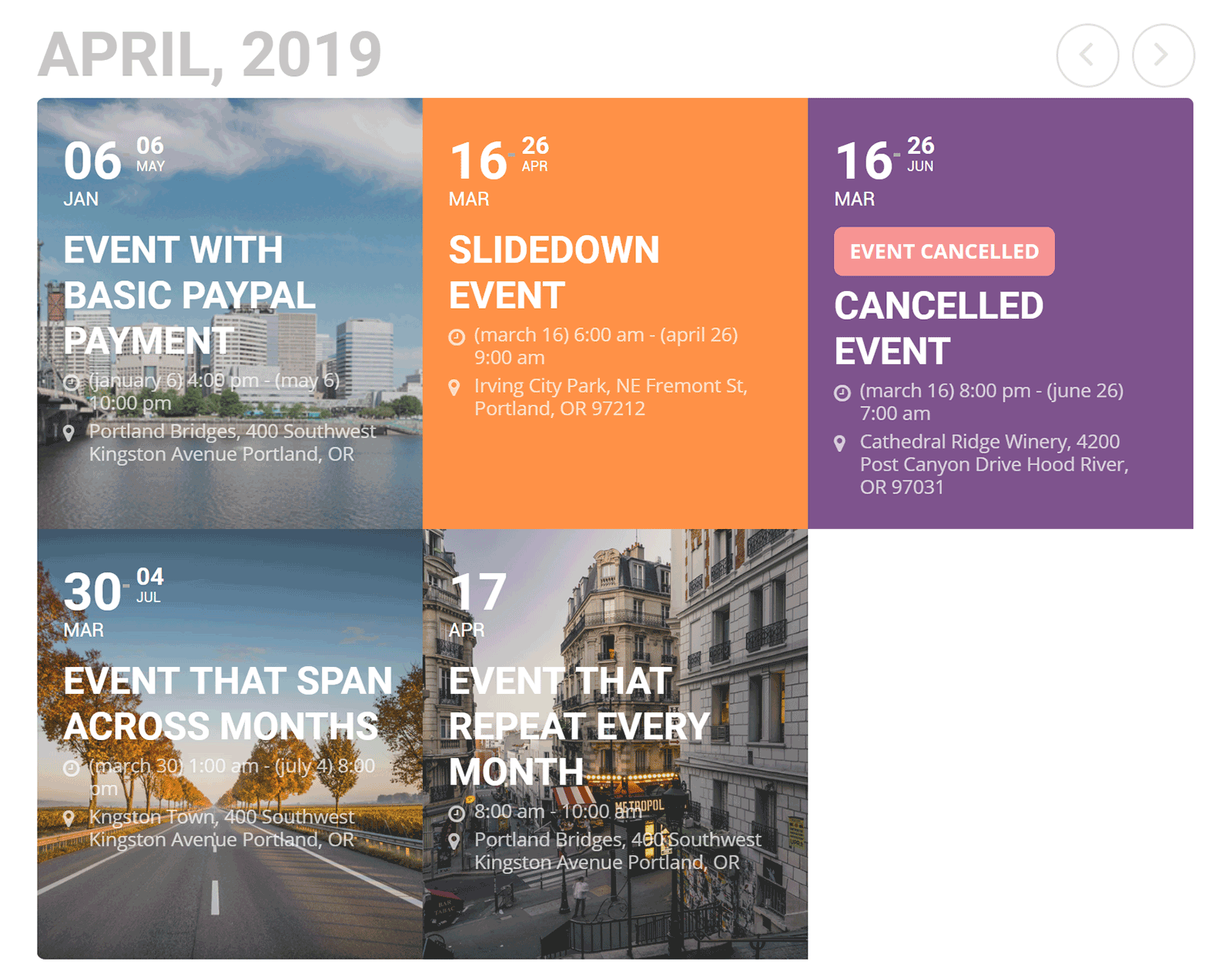 Offering beautiful event calendars, many customisation options, and additional functionality via a large collection of addons; it is easy to see why EventOn is the best selling calendar WordPress plugin on CodeCanyon.
All-in-One Event Calendar (FREE / $6.99/mo)
All-in-One Event Calendar is a popular event management WordPress plugin from Time.ly with over 100,000 active installations.
Although the plugin can work integrate with Time.ly and import calendars from Time.ly accounts, you are not forced to register in order to use All-in-One Event Calendar.
When you add a new event you can set the time and date and make the event recurring. Google Maps can be used to display the location of events and events can be assigned to tags and categories.
Ticketing can be handled via Time.ly if you wish. Doing so enables you to accept payment via PayPal; however it will cost you $59 per year for the privilege. Alternatively, you can display a link to a registration URL for buying tickets. This is a nice feature as it means that you can sell tickets using another WordPress plugin or third-party service.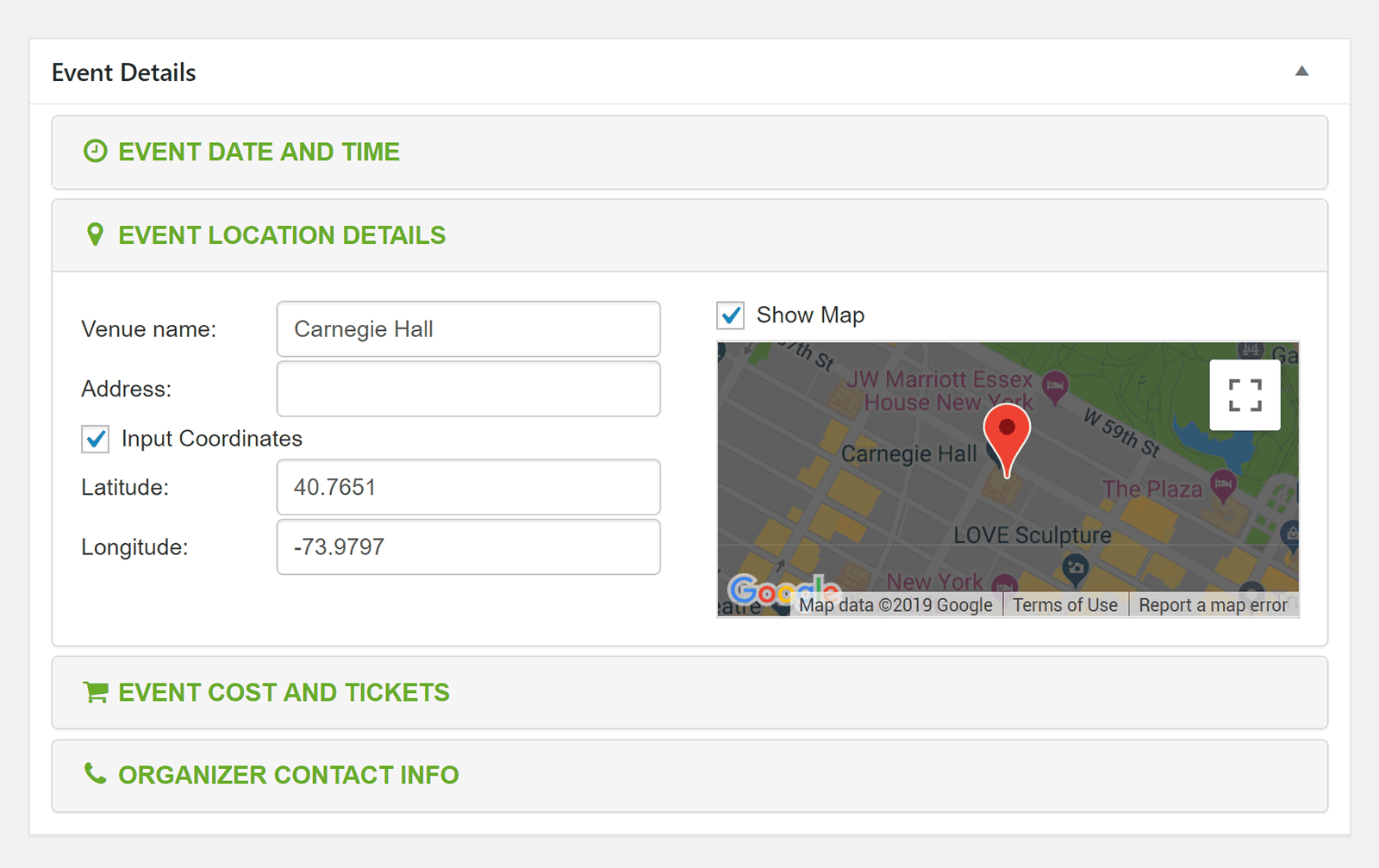 Four different calendar themes are available and are free to use. The theme options page lets you customise styling further.
You can adjust the colours of your background, buttons, fields, text, and more.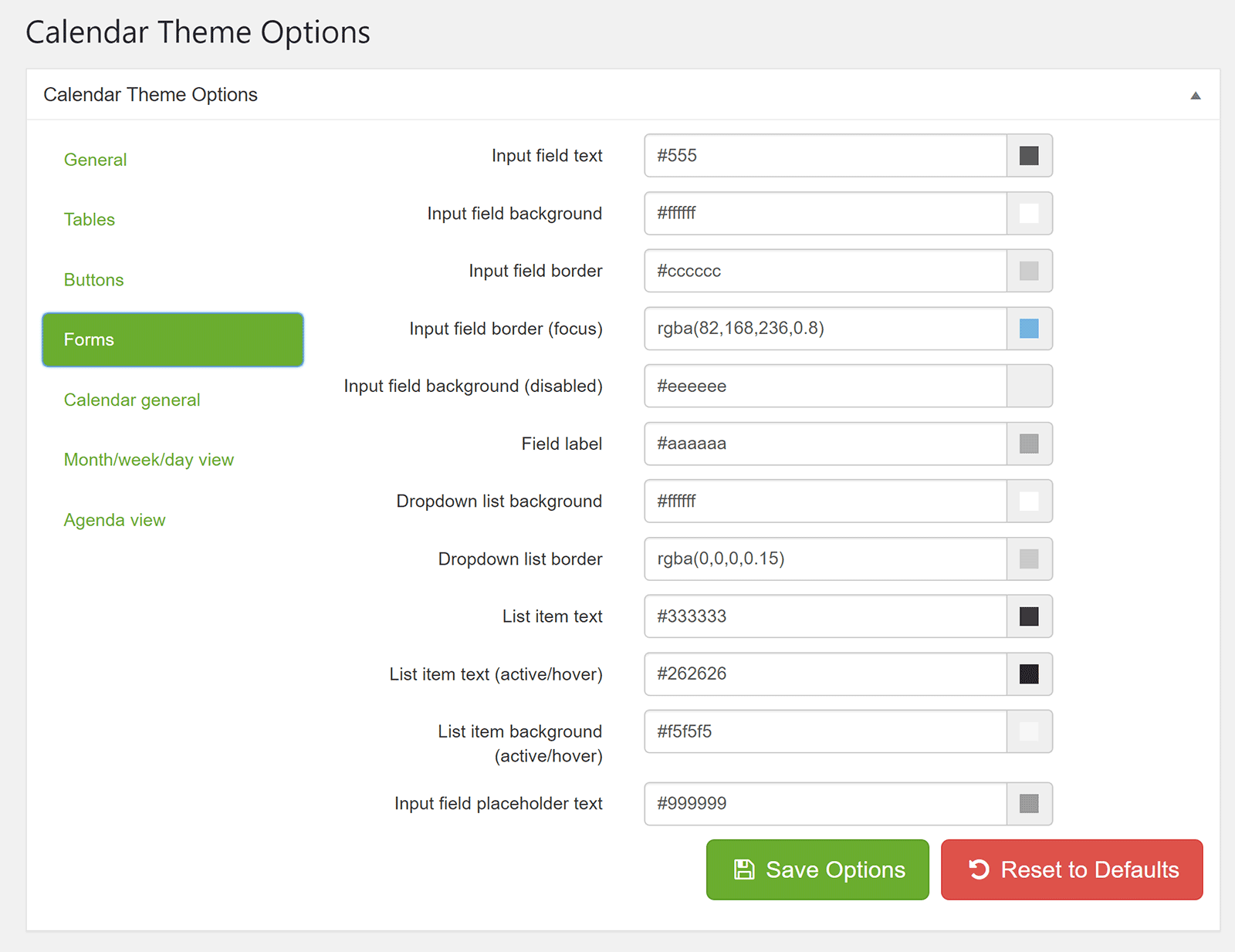 All-in-One Event Calendar gives you complete control over what is shown on your calendars. You will find developer options for gzip compression, caching, and CSS, too.
This area also lists available shortcodes that you can use to display events. If you prefer, you can use widgets instead.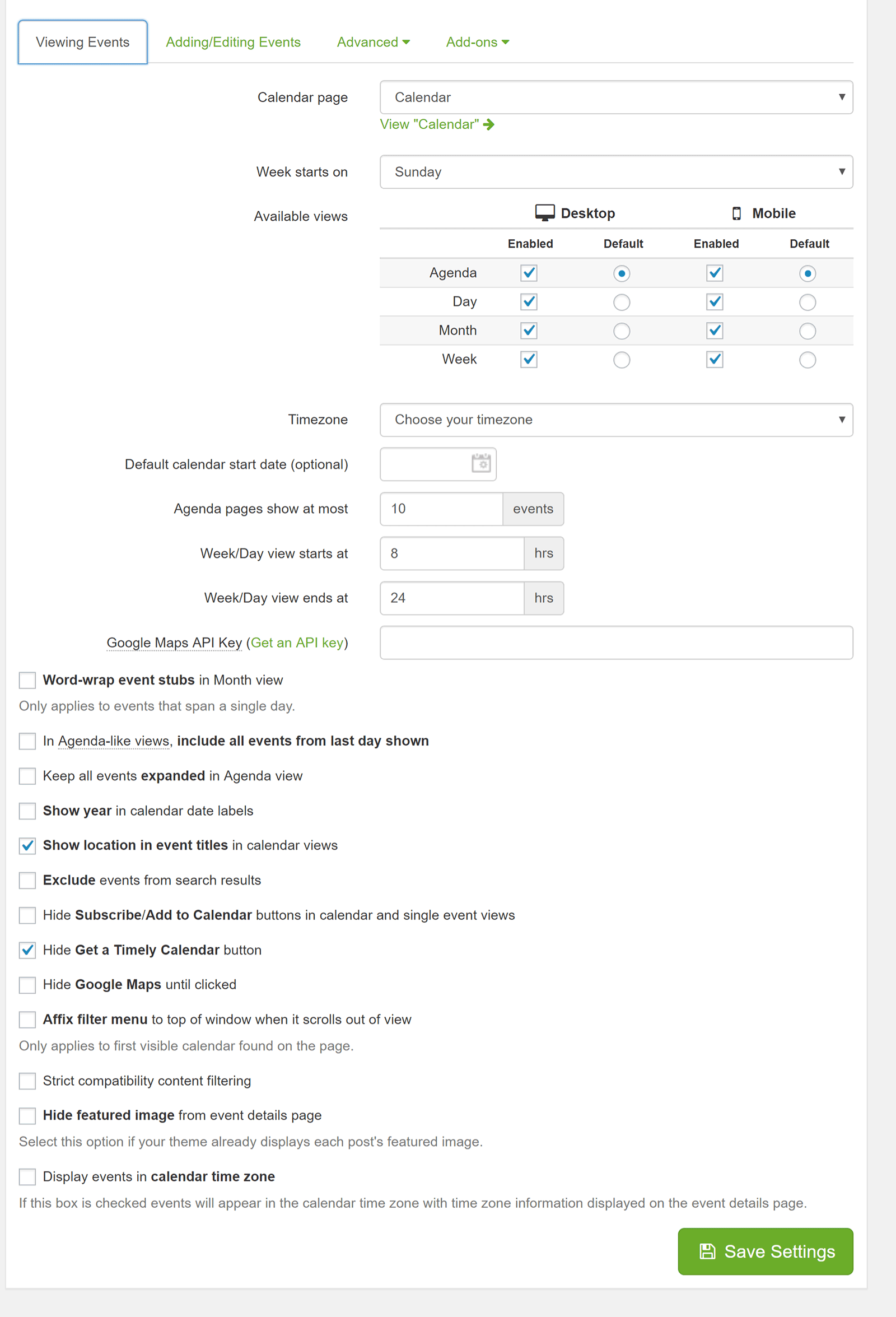 If you sign up for a free Time.ly account, you will be gain access to additional functionality such as importing calendars from Google Calendar, iCal, and Outlook. Their premium monthly plans start from $6.99 per month. Upgrading will unlock features such as Twitter auto-sharing and custom headers and footers.
Alternatively, you can purchase addons specifically for the All-in-One Event Calendar WordPress plugin.
Extended Views is free to download and will display views on your calendar. Ticking can be integrated for $59 per year, auto-tweeting costs $29 per year, and front-end submissions costs $59 per year.
Embedding your core calendar on other websites costs $59 per year, CSV Import costs $29 per year, and the ability to create and save venues is $59 per year. There are also options to import more feeds into your calendar.
On their own, these features are costly upgrades, but you can get most of them in a bundle at a cost of $99 per year.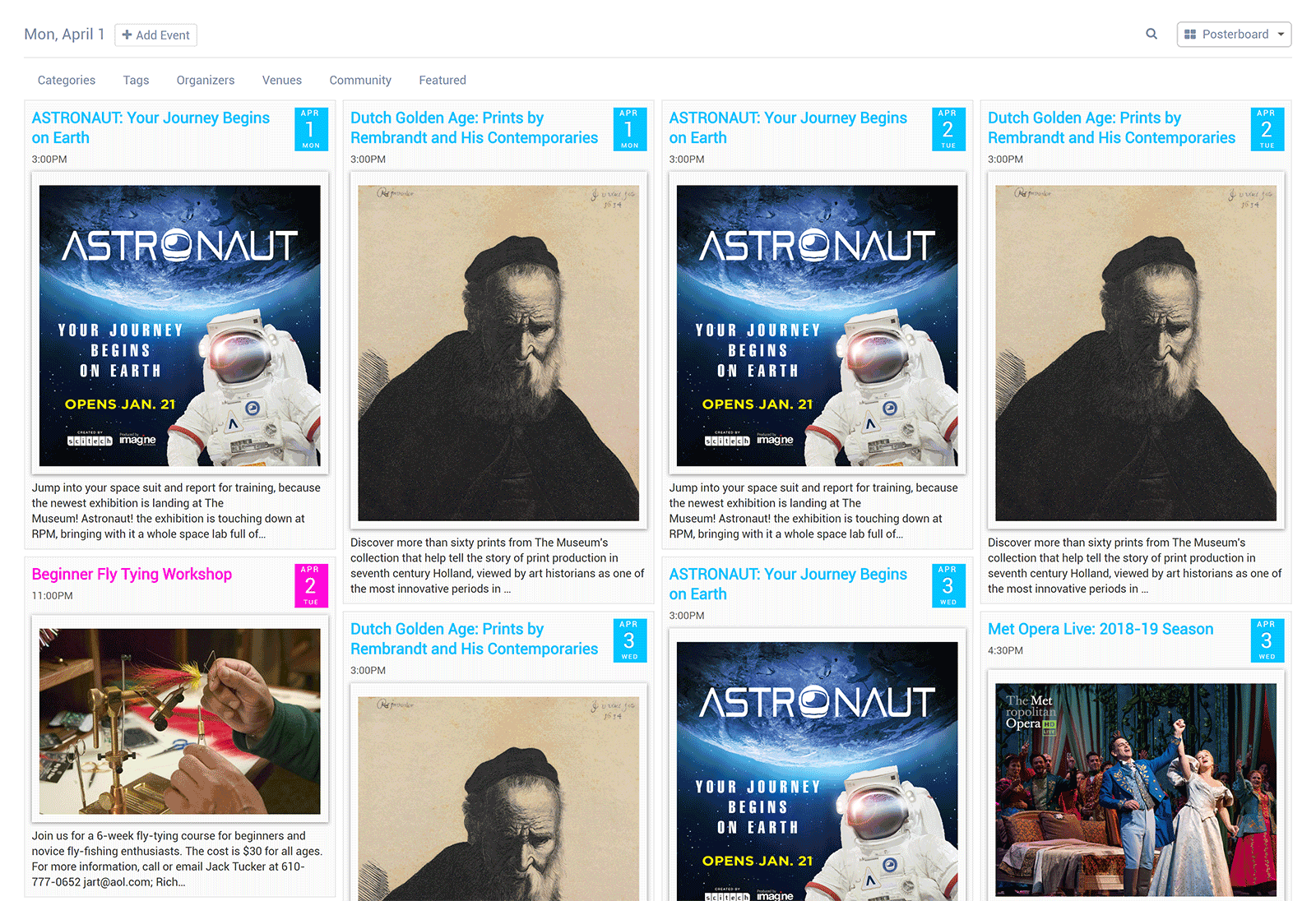 All-in-One Event Calendar is a versatile event management solution. It is frustrating that storing venues and selling tickets are premium upgrades, however the core plugin offers many unique calendar styling options and viewing options that you will not find elsewhere.
I recommend trying it out to see if it does what you need.
Honourable Mentions
When it comes to selecting an events management solution, WordPress users are spoiled for choice. In this section I would like to briefly mention some alternative solutions that just missed the list.
Event Calendar WD is a feature-rich WordPress event plugin that has support for recurring events and Google Maps integration. Advanced features such as ticket selling and third-party calendar integration is available to those that upgrade to Event Calendar WD Pro. The company also developed a similar WordPress plugin called WordPress Event Calendar.
Another flexible event management plugin to consider is Event Calendar. It features 10 unique calendar themes and more styling options can be unlocked from only $15.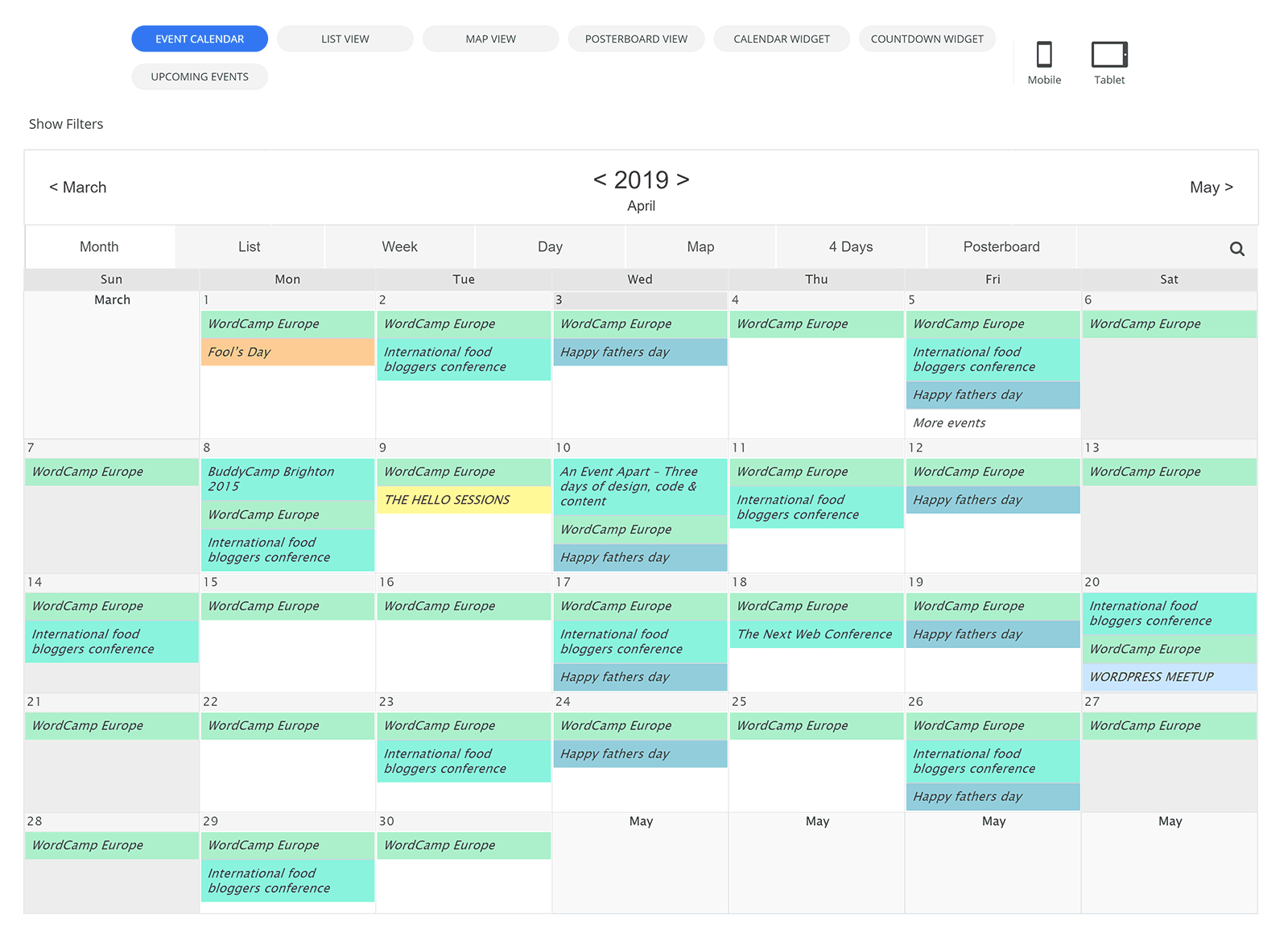 Timetable and Event Schedule by MotoPress offers beautiful calendars and a ton of filtering options and customisable parameters. Export and importing functionality is also provided.
Tockify Events Calendar is worth testing too. It offers a stylish mini-calendar widget, Google Calendar synchronisation, call to action buttons, and fantastic social media integration.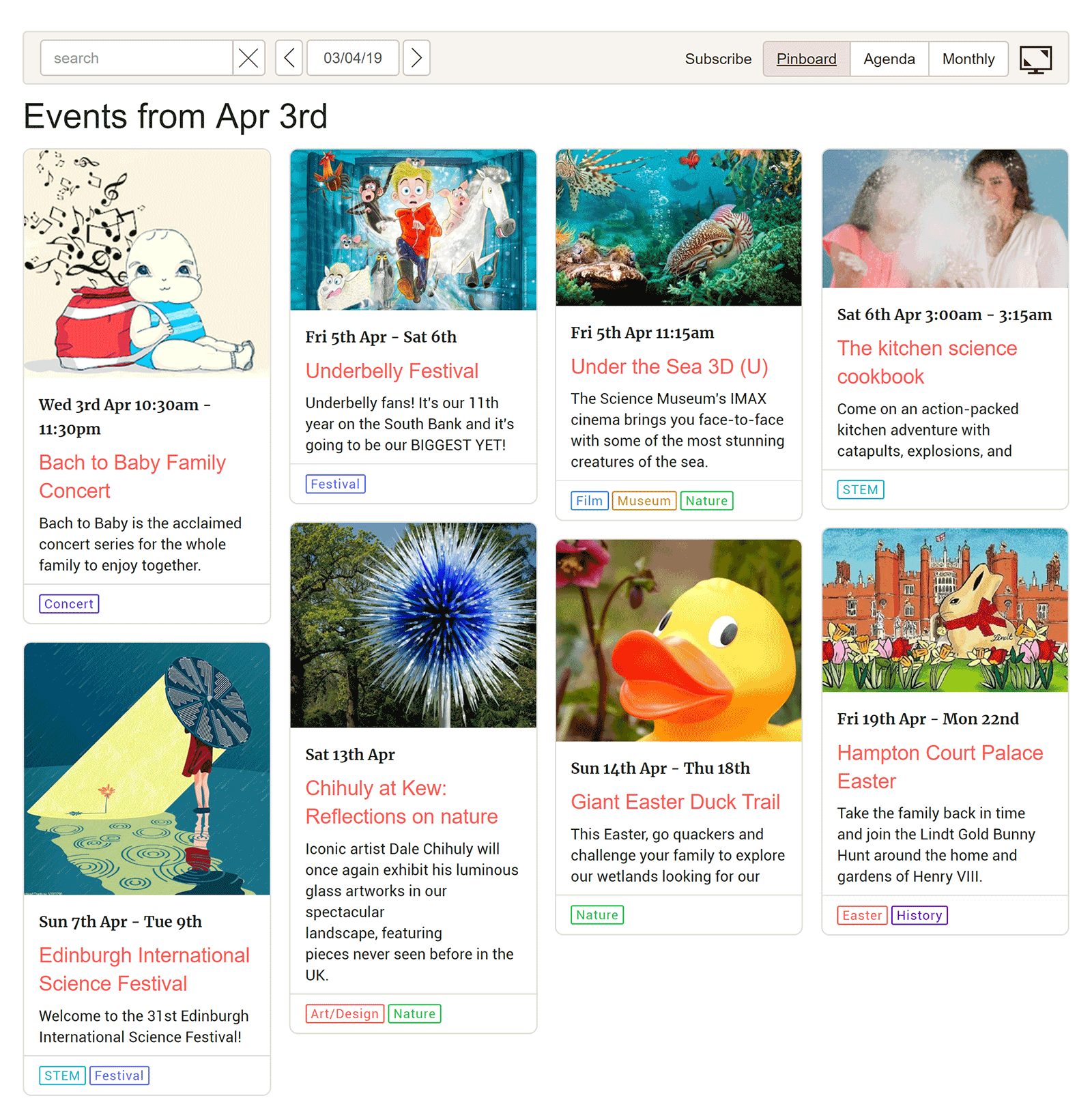 Calendarize it! and EventOn were rightfully included in our list of the best event calendar plugins for WordPress, however there are some good alternatives available on CodeCanyon.
Retailing at $29, FAT Event is an event management solution that has support for Google Maps, bookings via PayPal, WooCommerce integration support, coupon codes, and multiple ticket types for each event.
Eventer, which costs $39, is another advanced solution worth checking out. It utilises a beautiful drag and drop builder for creating new events and it is fully compatible with WooCommerce.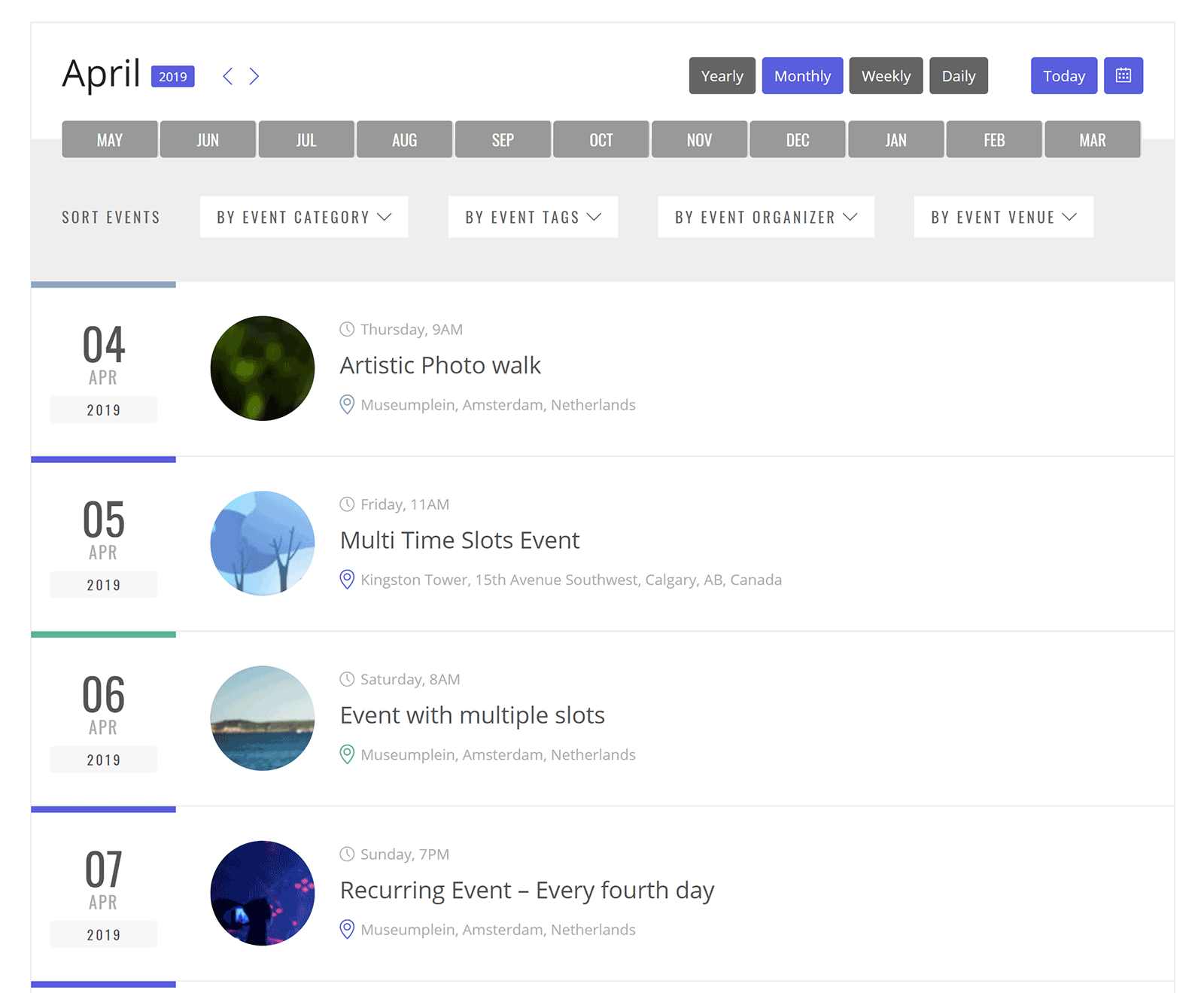 Those who want a simple solution should consider XO Event Calendar and Simple Event Calendar. They are good alternatives to Sugar Calendar and are also free to download.
Final Thoughts
I hope you have enjoyed this look at the best WordPress event calendar solutions.
It is difficult to single out a particular WordPress event calendar plugin as being the best as they all excel in some areas, but are limited in other ways. The core features of each plugin have many options, however in order to access full functionality of a plugin and unlock advanced features such as selling tickets, you must be willing to upgrade.
If you are not looking to put your hand in your pocket, Events Manager stands out for how many customisation options are available and Simple Calendar is a great option for those that use Google Calendar. Using My Calendar and My Tickets together, or The Events Calendar and Event Tickets, is a good free combination if you are looking to sell tickets.
Those of you who are willing to spend some money to get a more advanced solution should check out Calendarize it! and EventOn. They generate beautiful calendars and boast many advanced features. The Events Calendar is also a great option if you purchase some of their premium addons.
As always, do your research and test as many solutions as you can before selecting one to manage your events.
Used/using any of these plugins? Thoughts?
Related posts