This
article
was originally published on
this site
With hundreds of Shopify apps to sort through, how can you know which ones will actually help you increase sales?
Without the right tools, your revenue can't grow, and that's why we've done a ton of research to find the best Shopify apps to increase sales.
These apps will help you promote your store, reward your customers, and handle inventory and shipping so you can earn more revenue.
So, here it is, our list of must-have apps for Shopify store owners. We've even broken it down into three categories to make it easier, with our top picks for each. 🎁
Marketing and Promotions
Customer Service
Products and Inventory
Marketing and Promotions
First, let's start with the best Shopify apps to promote your store.
1. OptinMonster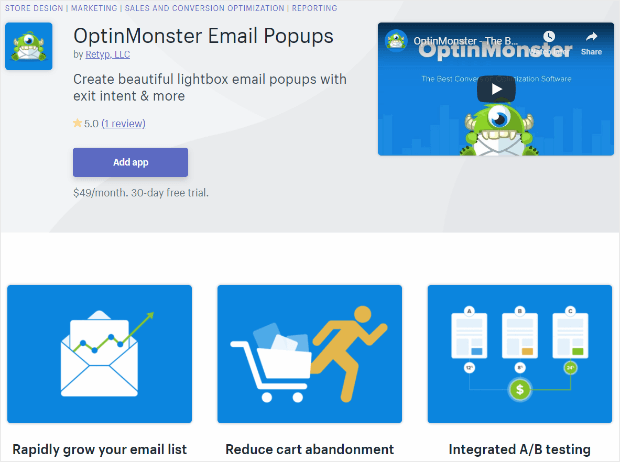 We've got no problem putting OptinMonster first on this list of the best Shopify apps to generate leads and increase sales. 🤩
Of all the marketing apps on this list, OptinMonster's ability to instantly lift sales easily makes it one of the top apps:
The results speak for themselves, but that's not all that makes OptinMonster top our list. Our Shopify app also provides a seamless integration of your OptinMonster account with Shopify, so you don't need to install any special code. You can even use an OptinMonster popup to automatically apply discount codes to Shopify carts!
OptinMonster is the best option to gather email addresses, boost eCommerce conversions, and make more sales. You can also target each optin to specific Shopify products, collections, pages, articles, and tags.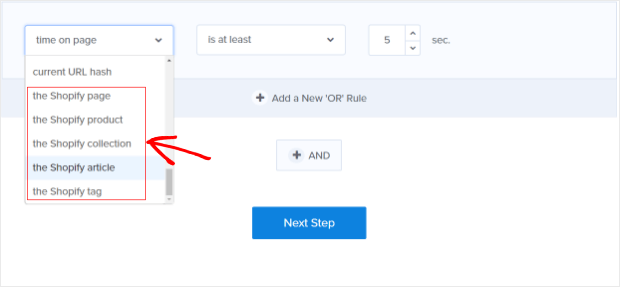 OptinMonster has all the advanced features you need to boost sales:
Here's our guide to integrating OptinMonster with Shopify to help you get started.
The OptinMonster Shopify app is $49 per month.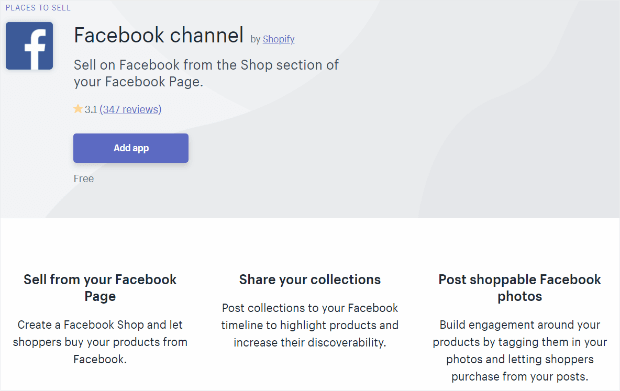 While email marketing is more effective than social media at driving sales, social media is still an important referral source for online stores. In fact, both Facebook and Twitter can help you gain product recommendations, and actual sales.
That's why Facebook Channel makes our list of the best Shopify apps to increase sales. It lets you use your Facebook presence to drive sales, setting a Facebook store up in just a few clicks. With Facebook Channel, you can highlight products on your Facebook timeline and let shoppers purchase products directly from your posts.
Facebook Channel is a free app. 🎉
Check out our guides to getting traffic from Facebook and how to use Facebook Messenger marketing to get even more sales from your Shopify store. You can also create a custom "Like Us On Facebook" popup to drive traffic from your website to your Facebook business page!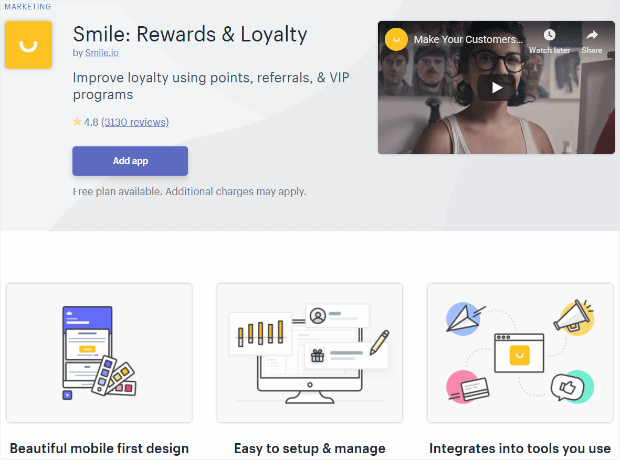 Whether customers stick to one brand or not, loyalty programs can be a huge draw. Customers enjoy engaging with brands, as well as the personalized service and rewards that come with these programs.
With Smile.io you can offer a loyalty program on your Shopify store to create more loyal customers who boost your bank balance with repeat purchases.
Smile.io lets you issue reward points based on creating accounts, sharing products on social media, following your brand, and more.
These features are available for free, but you can upgrade to give additional rewards to your VIP customers and to enjoy full customization of your reward program. Upgrade pricing starts at $50 per month.
Want to keep the interaction going after your customers open their accounts? Check out our guide to the 7 types of emails that keep customers coming back.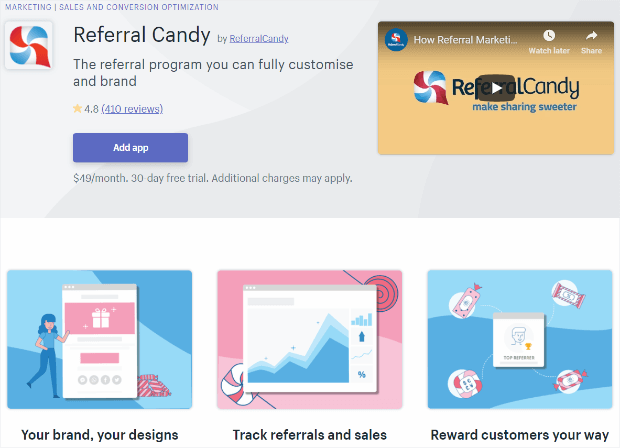 Did you know that every happy customer will tell nine more? So, if you're not finding a way to get referrals, you're missing out on sales.
Referral Candy is one of the best Shopify apps to give your customers incentives to refer their friends. You can choose the reward of your choice for unlimited referrals.
The Referral Candy system includes automatic reward delivery and referral reminders, as well as a dashboard where you can track referrals. This app starts at $49 per month.
Want to learn more about your customers' secret thoughts so you can drive even more sales? Here's how you can create a WordPress survey popup with OptinMonster.
5. Plug in SEO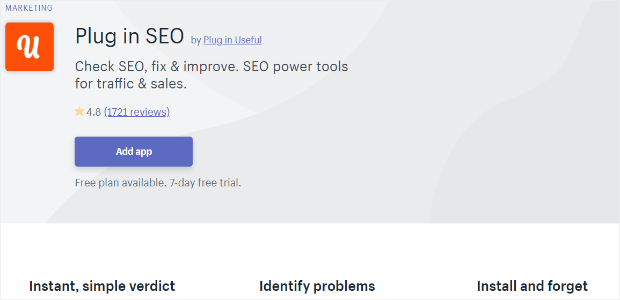 Plug in SEO is our pick for one of the best free Shopify apps because it helps you find, troubleshoot, and fix search engine optimization (SEO) issues so you can get more web traffic to your online store.
This free app automatically checks for issues with page titles and descriptions, structure, speed, and more. It includes code snippets you can use to fix any issues yourself.
If you need additional features, like bulk editing, structured data support, and multilingual SEO, you'll need to upgrade to the pro version of the app, which is $20 per month.
Learn more tips to rank higher in search results in our Shopify SEO guide. Or, breathe life into your outdated SEO with these new SEO best practices.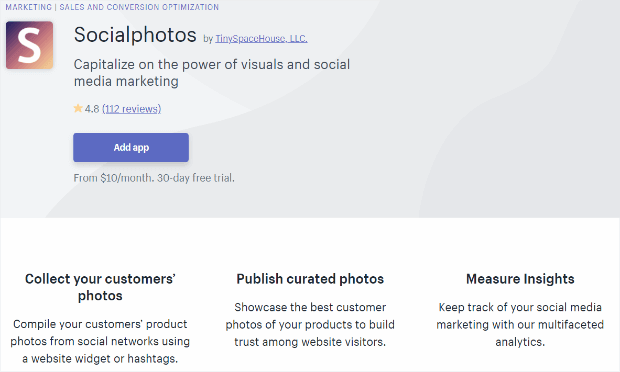 Want to drive more Shopify sales from Instagram? Social Photos could be the app you've been looking for. This app helps you feature your customers (making them happy) and get an awesome kind of social proof called user-generated content at the same time.
When customers tag photos of themselves using your products on Instagram, Social Photos automatically collates them into a gallery. Every photo can then be used to sell products through direct links, driving more sales.
You can highlight the best customer photos to encourage new customers to buy, and can also create themed products images galleries. Social Photos also lets you interact with Instagram photos from the page where the photos appear.
You can find Social Photos in the Shopify app store starting at $10 per month for the basic package, and it goes up to $50 per month for the full range of features.
Best Shopify Apps for Customer Service
Next, let's look at the top apps for customer service.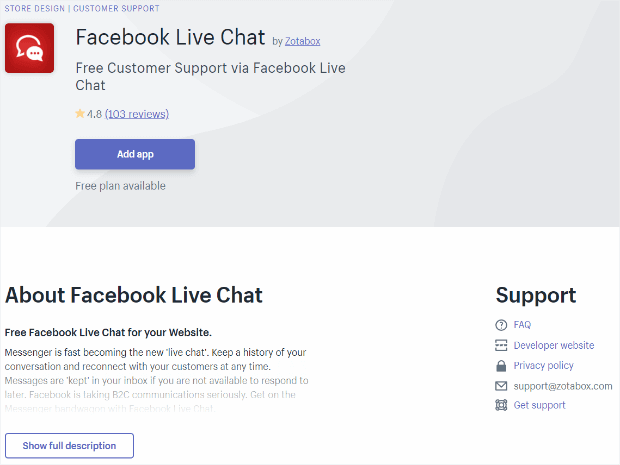 Live chat has become an important customer service and customer feedback tool. According to recent surveys, businesses say offering live chat has had a positive effect on sales, revenue, and customer loyalty. And with more than 2 billion users, Facebook is one of the best social media sites to connect with your customers.
The Facebook Live Chat Shopify app lets you support your customers on your Shopify site by using Facebook Messenger for customer service. The app also integrates with other social sites and features a user-friendly, responsive design.
This app is free for up to three websites, with upgrade packages ranging from $9.99 to $49.99 per month.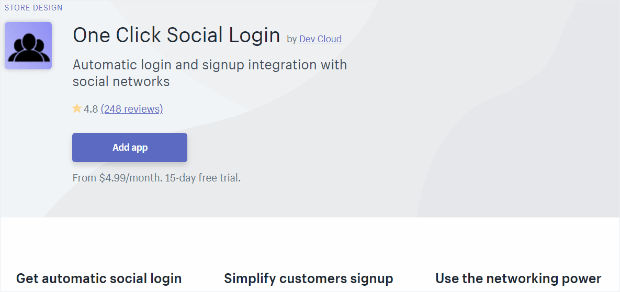 The easier you make it for customers to create accounts, the sooner you can offer them the right products and make sales.
One Click Social Login lets your customers create accounts on your Shopify store by logging in with their existing social media credentials. Accounts supported include Facebook, Twitter, LinkedIn, Pinterest, Amazon, and many more.
There's also an easy admin panel so you can easily configure the simple settings.
One Click Social Login starts at $4.99 per month, but you can upgrade to see your customers' social profiles and make additional customizations.
9. Yotpo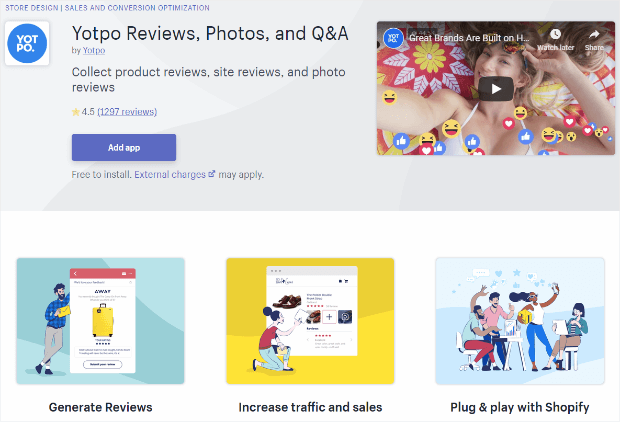 Yotpo consistently ranks among the best apps to increase sales because it helps you get more product reviews to drive purchases from social proof.
This app lets you easily send out requests for customer reviews and showcase reviews in widgets and store tabs. You can moderate all reviews received, and can also use Yotpo to get social media traffic to your store.
Yotpo is free, but if you want additional features such as user-generated photos, rich snippets, and more, pricing starts at $29 per month.
10. Rewards and Referrals by Swell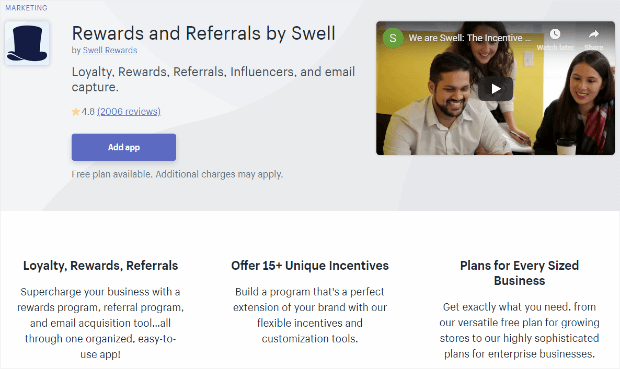 One of the reasons we've included Swell, even though there are both rewards and referrals apps already on the list, is because it has so many integrations. As well as working with Yotpo, which we mentioned above, it works with Facebook, Hubspot, Mailchimp, and more.
Swell says its users have doubled business from existing customers, thanks to rewards for writing reviews, referring new customers, creating accounts, making new purchases, and more. You can also reward social media interactions such as likes and follows.
Swell is free for up to 100 orders each month. After that, plans start at $29 per month.
11. Wishlist Plus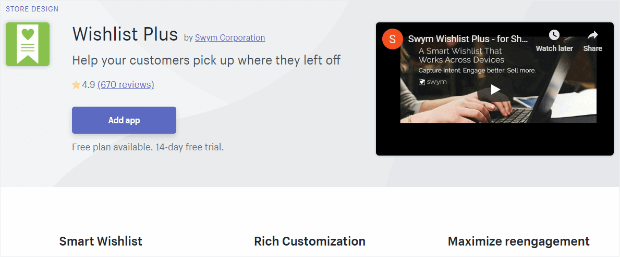 Wishlists are a great way to learn more about what your customers want, so you can connect with them to make more sales. Wishlist Plus lets you collect information about customer preferences, and they don't even have to be logged in. 🤯
This app integrates with your Shopify store and lets you keep track of items and engagement within a dashboard. For customers, Wishlist Plus is a hassle-free way to store their desired purchases and even share those with others.
Wishlist Plus is free for up to 100 items, then plans range from $9.99 to $29.99 per month.
Want to get even more from your online store? Check out our guide to how to write a sales page that converts.
Best Shopify Apps for Products and Inventory
Our last category includes apps to help you manage your product catalog, plus the periods before and after shipping.
12. Printful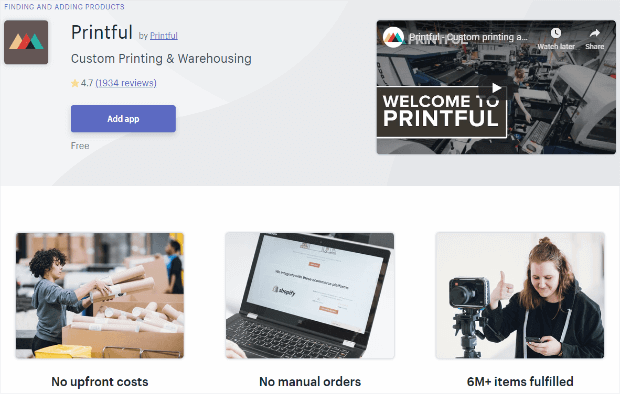 If you want a Shopify store without the need to warehouse your own products Printful can help. This app provides print-on-demand designs for T-shirts, bags, mugs, and almost anything else that can be printed. They've even got designers who'll help you create the most appealing products.
Once they're ready, just take orders from your store and Printful will send them out. No need to manage inventory or print shipping labels. It's a great way to make sales with no hassle. Cost varies depending on the product to sell.
13. Oberlo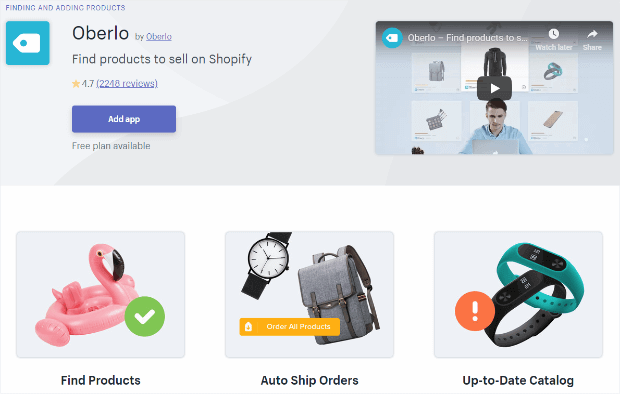 Oberlo offers a similar service to Printful by letting you add products to your store and dropshipping them straight to your customers.
But with this app, you're not limited to items that can be printed. You can choose products from AliExpress and the Oberlo Marketplace and add them to your store with a couple of clicks.
Oberlo offers automatic order fulfillment and inventory management. You can also customize products, connect Oberlo with your existing products, and even allow other people to help run your store.
Oberlo is free for 500 products and up to 50 orders per month. For additional products, orders and features, you can upgrade at between $29.90 and $79.90 per month.
To get more from using Oberlo products, check out our tips on how to skyrocket your eCommerce sales with email marketing.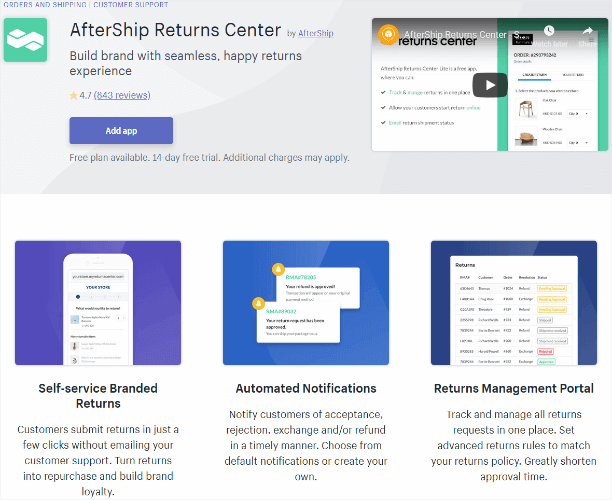 Sometimes your customers will want to return a product, but it can be a pain to manage the process. AfterShip makes managing product returns easy.
It gives you a branded returns center that lets customers submit returns in a couple of clicks. Later, it'll automatically inform them of the status of their returns and any refunds.
This is one of the best Shopify apps around, and it's free for 5 returns per month. Paid plans start at $9 per month.
15. Catalog Maker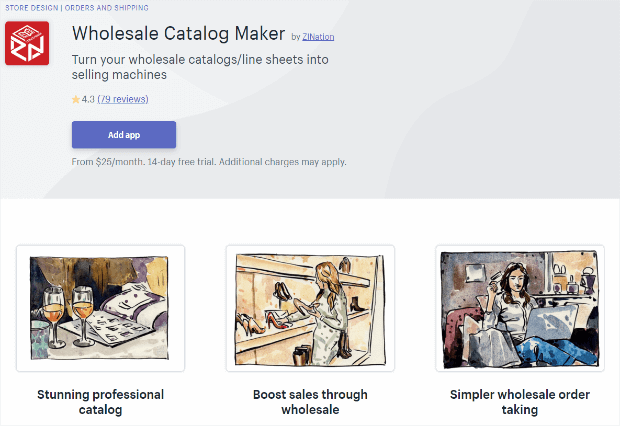 A product catalog is a great way to show off your products images and boost sales, but how do you create one? If you're not a great designer but have a lot of products, you need a tool that makes the process easy. Catalog Maker could be that tool.
It lets you quickly create professional looking catalogs from your Shopify collections, and you can use drag and drop editing to create a catalog with one of the app's templates.
In addition to catalogs, you can create invoices, receipts, product recommendations, and even thank you notes. Pricing starts at $25.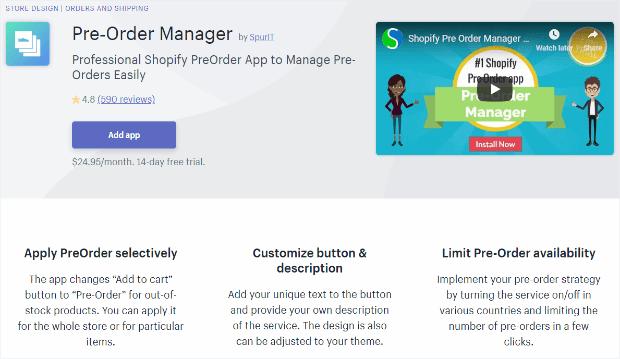 When you generate buzz with your seasonal or holiday email marketing, it's useful to let people pre-order items from your store. And pre-orders are a great way to figure out which products are most likely to be successful.
Pre-Order Manager lets you take advance orders from visitors to your store with a pre-order button for out of stock items. You can edit button text, change the setting by location, and even turn pre-orders on and off storewide. You can also limit the number of available pre-orders for any product.
Pricing for Pre-Order Manager starts at $24.95 per month after a 14-day free trial.
17. Back in Stock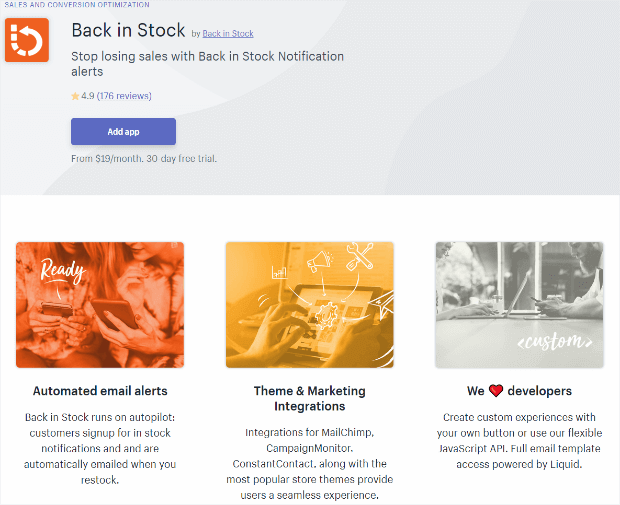 Sold out of your best products? With Back in Stock, you don't need to lose sales. Our last app in the list of best Shopify apps lets your customers sign up to be notified when a product they want is back in your store. Once it is, they get an automatic email notification.
This easy to install app also helps you understand which products are most popular so you can manage stock levels. You can also customize any aspect of the app to meet your needs.
Back in Stock starts at $19 per month, with plans up to $79 per month.
That's it! Now that you know the best Shopify apps to increase sales, why not get even more sales from your store with a successful email marketing campaign? You can also improve store promotion with these promotional email examples. And, check out our tips on Shopify abandoned cart recovery to boost your revenue.
Don't forget to follow us on Twitter, Facebook, and YouTube for more helpful guides, tutorials, and resource lists.